Victoria Pendleton and Anna Meares: The great sprint rivalry
Victoria Pendleton and Anna Meares are to of the greatest ever female sprinters and competed against each other throughout their careers.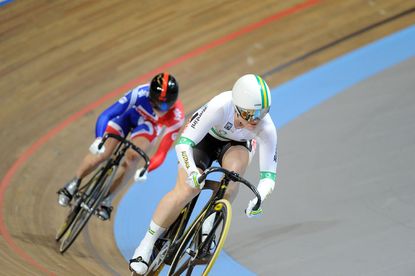 >>>> Track world championships 2012: Coverage index
Victoria Pendleton and Anna Meares have been playing down their rivalry the week before the 2012 Track Cycling World Championships in Melbourne. Pendleton said she would love to one day share a beer with Meares when speaking to the press earlier in the week, while Meares has said that rivalry is simply a fact of competitive life.
Speaking to Melbourne based newspaper The Age, Meares said; "sometimes with great rivalries you can't have great friendship, it's easier to just be competitors."
The two 'fell out' at the 2006 world track championships in Bordeaux following an aggressive piece of riding by Meares. Although the Australian apologised afterwards the relationship has always been a little frosty between the two.
"Perhaps it's going to be a case for Victoria and I to wait until we have retired and see where it goes from there. For me, I'm racing the world championships in a week's time [and] I really don't want to put my energy in to anything else at the moment."
Meares came out of the 2012 world championships with two world titles to her name while Pendleton won just one. Pendleton's title was however the sprint, the main title that is most coveted. She took it the hard way after losing out to Meares and crashing only to be reinstated after Meares was disqualified.
The pairs rivalry then moved on to the Olympics in London where they would face each other for the final time. Pendleton had announced long before that she would be retiring after the London Olympics and was determined to go out after defending her title.
Pendleton won a gold medal in the keirin ahead of the sprint competition and came up against Meares in the sprint final after the two comfortably disposed of everyone else in the field.
In the final Meares won out 2-0 having employed exactly the tactics that she knew Pendleton disliked. After a year out from competition following London 2012 Meares has resumed racing and took her 11th world title in the keirin in Paris last year.
Pendleton world titles
Sprint - 2005, 2007, 2008, 2009, 2010, 2012
Team sprint - 2007, 2008
Keirin - 2007
500m tt - N/A
Total - 9
Meares world titles
Sprint - 2011
Team sprint - 2009, 2010, 2011
Keirin - 2011, 2012, 2015
500m tt - 2004 2007, 2010, 2012
Total - 11

Related links
2011 track world championships
Thank you for reading 5 articles this month* Join now for unlimited access
Enjoy your first month for just £1 / $1 / €1
*Read 5 free articles per month without a subscription
Join now for unlimited access
Try first month for just £1 / $1 / €1