Schoolboy error spells early exit for Hoy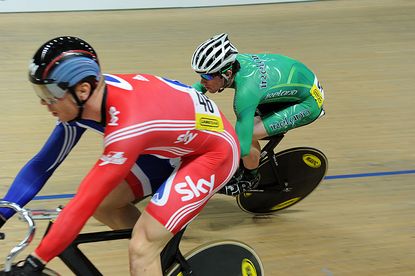 Apparent complacency in the opening match round of the individual sprint has cost Sir Chris Hoy any further part in the European Track Championships.
Despite having qualified fastest with a time of 9.999 seconds, the former British sports personality of the year was beaten to the line by the slowest qualifier.
At "just-turned 18" years of age, Ireland's Felix English is still officially a junior. In the qualifying 200m, he was 24th, 1.047 seconds slower than Hoy.
To add insult to the Olympic Champion's injured pride, English is also 'only' an endurance rider who was entered for the sprint to get in some (flying lap) practice for the Omnium (an event his team mate Martin Irvine is down for at the Euros).
The Brighton based rider was also once on the British Cycling talent team but didn't make it up onto the Olympic Development Plan and eventually switched allegience to Ireland. Adding one extra footnote, English noted "This is my first big track event".
Recalling his ride, English told Cycling Weekly:
"It's nuts, I'm not even sprinter. I was facing the best sprinter in the world and was just planning to take it from the front and expecting to lose."
But English's underdog status was Hoy's undoing. After hitting his rival with a lap and a quarter to go, the Scot immediately had a gap. Then uncharacteristically he made the beginner's mistake of thinking he had it in the bag.
"He just started cruising on the back straight," said English. "I've never seen him do that before. He must have thought he had a huge gap and started drifting up the track.
"The gap wasn't that big -about 3 lengths- so I rushed the gap on the last bend and came past him in the last 50m. He didn't notice until too late and that was it."
Indeed it was. With riders only facing each other once in the 1/16 round, the pair shook hands before Hoy disappeared off to his hotel. English was then beaten in the following round by Russian Denis Dmitriev and again in a repecharge.
Despite being World Champion, Hoy had not planned to ride in tomorrow's Keirin.
Yesterday he took a bronze medal in the team sprint after a changeover mistake in qualifying had cost Great Britain a ride in the final.
European Track Championships 2010: Cycling Weekly's coverage index
Thank you for reading 20 articles this month* Join now for unlimited access
Enjoy your first month for just £1 / $1 / €1
*Read 5 free articles per month without a subscription
Join now for unlimited access
Try first month for just £1 / $1 / €1