'Sometimes it's nice to shake the tree but it didn't work out': Doug Ryder on Steve Cummings's 2018 race programme
Dimension Data boss Doug Ryder says there were times when they had to ask Cummings to step up and accept change this year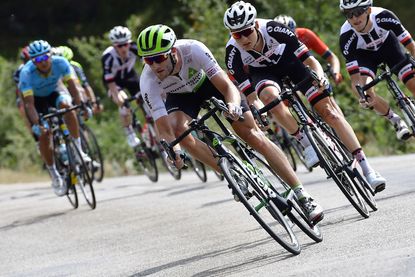 (Image credit: Yuzuru SUNADA)
An underwhelming season during which Team Dimension Data tried to 'shake the tree' with Steve Cummings's race programme ultimately 'didn't work', but the Brit remains a big brand at the South African registered outfit, according to manager Doug Ryder.
Speaking to Cycling Weekly ahead of the Vuelta a España, Cummings said: "it's been a s**t year... there's no use sugar coating it."
He blamed a change in his traditional race programme, stating "they wanted to take a risk with a race programme that didn't work."
Dimension Data's 2018 season has been marred with bad luck - the tale of misfortune includes Edvald Bossan Hagen's gall bladder removal in January, Bernie Eisel's brain surgery in April and Mark Cavendish's run of crashes.
These incidents, among others, meant that riders needed to be moved around, "the whole Classics programme, we had the wrong riders in the wrong races" Ryder admitted.
Cummings's 'blueprint' for success was therefore disrupted, taking him to areas of central Europe where he's suffered in the past - his appearance at the Tour de Romandie led to breathing problems that affected his Critérium du Dauphiné until a specialist was able to fix him up.
"We asked Steve to step in to certain races where we didn't have riders" explained Ryder, "there were times when we said 'Steve, we need you to step up'..."
Ryder pauses, and it's perhaps clear from Cummings's results that the team didn't quite get the desired result: he failed to finish after stage two in Romandie and after stage six in Dauphiné.
"Steve is one of the most knowledgable people about himself. There isn't anybody that is as critical and as focused and as determined and dedicated, in what he knows," said Ryder.
"But sometimes its nice to shake the tree a little bit and break the mould. I thought we could do good things together in that - and it just didn't work out."
Cummings claimed a stage win at the Tour de France, on his first year riding with Dimension Data in 2015 - and he repeated the success in 2016. He was disappointed not to make selection for the 2018 race.
The team instead took a squad which it felt could support Cavendish on his way to equalling the Tour wins of Eddy Merckx - a goal he fell short of after being eliminated on stage 11.
"It was sad not to take him to the Tour," says Ryder, "but we couldn't bring Steve in knowing what we wanted to do: the dream of the Eddy Merckx record with Cav. We were all in and sadly Steve didn't fit in with that."
"It was sad because Steve is a big brand in our team and kind of defined us in our first Tour de France," he says, referring to his win for the South African registered team on Mandela Day.
"Steve's been with us for years. We don't put a square peg in a round hole just because we can. We obviously have a team strategy, but if we can break it down, and motivate and inspire every single individual to give their best, we do.
"When Steve came to us from BMC, he was never going to ride the Tour. He came to us, we focused on his strengths, and he won a stage on Mandela Day.
"You can't write that story. You'd make a movie out of that and it would be a Hollywood. To that point.. we try, where possible, to do that."
The words "this year - it wasn't possible" aren't said but represent the obvious conclusion.
Ryder still believes in the 37-year-old's form for what is left of the year, though.
"I think he could still win a stage at the Vuelta I think he's motivated for that," he said on Thursday.
Thank you for reading 20 articles this month* Join now for unlimited access
Enjoy your first month for just £1 / $1 / €1
*Read 5 free articles per month without a subscription
Join now for unlimited access
Try first month for just £1 / $1 / €1