Taylor Phinney focuses on Olympics as comeback from horrific injury continues
American Taylor Phinney will spend time in the USA rather than Europe as he continues to rehabilitate from a serious leg injury ahead of Rio 2016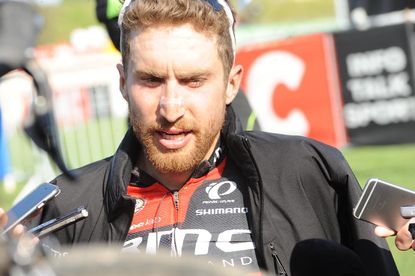 (Image credit: Yuzuru Sunada)
Comeback kid Taylor Phinney has chosen the USA over Europe as he narrows his focus on the 2016 Rio Olympic Games in August.
The 25-year-old left the continent for his native Colorado last Tuesday following an awaited return to the spring classics that concluded with a 49th place at Paris-Roubaix.
Phinney has not entirely reverted to the Eurocentric lifestyle he observed before a well-documented crash at the 2014 US National Road Championships in which he shattered his left leg and was side-lined for 15 months.
The off-contract BMC personality has observed personal changes throughout the recovery process but still has the same zeal for the Olympic time trial he finished fourth in at London 2012.
"I leased a vacation rental in Girona for the early part of the season but I'm going back to my house in Boulder, Colorado," he said.
"I have got to figure out where I'm going to be based in Europe but I've been having fun in Spain. The only thing though is that [with the way the season is] I'll be going home, home [to the US] a lot more often so I wasn't sure if I wanted to rent a place full-time.
"With the build-up to the Olympics it changes the way the schedule is, at least my schedule is, and allows more time to be in the US so this year is a little bit in limbo as to where I am going to be in Europe."
>>> Taylor Phinney takes first win since comeback from serious leg injury (video)
The trade team time trial world champion is set to postpone a Tour de France debut this season, mindful of his ongoing physical rehabilitation and an Olympic prize that is more recognised in America. Phinney finished fourth in the time trial and the road race at London 2012 on the back of preparation predominately on home soil.
"I would like to [race at the Tour de France] but it's a little bit early still for considering a Grand Tour. I noticed that in the stage races my left leg doesn't quite recover as fast as my right leg," he said.
"I'm not quite sure what my build-up will be for the Olympics. I'm going to do the Tour of California, nationals and then probably come back to Europe for a race like Tour de Suisse, or Poland. I'll then do a lot of really specific time trial work, mostly in Colorado."
Phinney may be more of a nomad this season but believes his career is still on the same trajectory as it was before the crash, which has had a physical and mental impact.
"I felt pretty comfortable being back at the classics and I still have passion for these races. On the same token, I'm really motivated to do the time trial at the Olympics so in that sense I'm definitely a similar rider to what I was a couple of years ago," he said.
"I'm a similar rider to what I was in the past physically but mentally I feel like I'm completely different and that's nice. It can also be difficult but I think with a more open mind you're bound to kind of jump all over the place."
>>> Why doesn't Taylor Phinney want to become a Grand Tour contender?
Phinney is unsure if he will regain full range of motion in his left leg but is confident racing will improve strength, which is now an integral part of the recovery and his road to Rio.
"I can lift myself out of a chair with my right leg but I couldn't do that with my left leg. I just don't have the quad strength and it's something I'm building on slowly," he said.
"I can handle a one-day race. My left leg starts to fatigue more than my right towards the end but that's not quite as much of a problem in a one-day race whereas it would be if you get five or six days into a stage race. I'm able to do week-long stage races but I definitely feel the difference towards the end."
Phinney marked a late start to the season at the Tour du Haut-Var in February with all things considered and said he is on the right track to another tilt at Olympic success.
Watch: Secrets of the toolbox - BMC
"I didn't want to go to the Middle East and risk crashing in one of those races, and I also wanted to make sure I had as much time as possible in the winter to continue strengthening and training on my own," he explained.
"The team allowed me to do that, which was great. I felt very fortunate that I could have that time and I knew I could come into the season, if I was training well and if I was doing everything properly, at a high level.
"I didn't want it to be too overbearing, the first part of the season, and this has been the perfect amount of time."
Thank you for reading 20 articles this month* Join now for unlimited access
Enjoy your first month for just £1 / $1 / €1
*Read 5 free articles per month without a subscription
Join now for unlimited access
Try first month for just £1 / $1 / €1