The refugee who could ride the Giro d'Italia: Awet Gebremedhin's extraordinary path into professional cycling
Eritrean climber signs for Israel Cycling Academy in 2018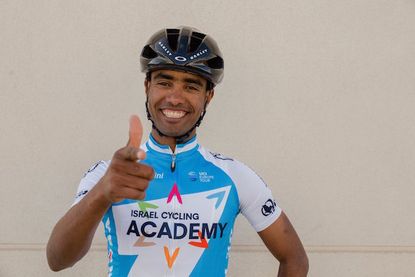 (Image credit: Israel Cycling Academy)
Three weeks on from having their only Muslim rider quit the team, Israel Cycling Academy have signed a replacement: Awet Gebremedhin, a 25-year-old Eritrean climber with an extraordinary backstory
Gebremedhin has had to deal with more setbacks than most young riders aiming to become a professional riders, running away after a stint of racing in Italy to hide in a friend's house in Sweden as he applied for asylum, fearing that he would be arrested and deported if he was discovered by the authorities.
"It was by far the worst time in my life," Gebremedhin explained. "I could not go out and forced myself to eat very little, actually starving.
"It was the only way to keep my body lean as I hardly moved. I knew that with not riding for a long period I was risking my future as a pro so I just had to starve many times."
>>> Tom Dumoulin could challenge Chris Froome in quest for Giro/Tour double in 2018
Gebremedhin was finally granted refugee status in November 2015, and began to scrape together enough money to buy the kit he needed to restart his pursuit of a professional cycling contract.
"For three months, I collected empty beer bottles and sold them," Gebremedhin continued. "Eventually I had enough to buy a bike, shoes, and a helmet, and I could go out training again. I would train for hours and hours to get back in shape."
Back in training, Gebremedhin signed for the Marco Polo amateur team in 2016, before stepping up to Continental level in 2017 with Kuwait-Cartucho.es, delivering consistent results in a number of French, Spanish, and Portuguese races.
Watch: Giro d'Italia 2018 route guide
But when the team folded at the end of last season, Gebremedhin again found himself in trouble: "I could not even call home because I knew they expected help from me and I could not [provide it]," he recalls.
However Gebremedhin had clearly made an impression at his former team, as staff at Marco Polo called round in an attempt to find him a team, eventually helping him to secure a spot on the Israel Cycling Academy development team for the 2018 season.
And the 25-year-old's luck was clearly improving, as Turkish rider Ahmet Orken decided to leave the team following Donald Trump's decision to recognise Jerusalem as the capital of Israel, leaving a spot open for Gebremedhin to move up to Professional Continental senior squad.
>>> Merhawi Kudus: The Ertirean sensation dreaming of turning his love of riding into Grand Tour success
"This is really all that the Israel Cycling Academy is about," said Rob Baron, the team's founder and co-owner. "Here is a rider who deserves an opportunity to fulfil the dreams that seemed almost lost.
"That's why for us it's an exciting moment. We feel privileged to give Awet this chance and confident that he will show the world of cycling his unique qualities."
With the Giro d'Italia starting in Jerusalem in 2018, Israel Cycling Academy is expected to be granted a wildcard spot and make its Grand Tour debut, raising the possibility of Gebremedhin taking to the start line of one of the biggest races in the cycling calendar less than three years after hiding in a house in Sweden trying to avoid deportation.
"I still cannot believe it," Gebremedhin said. "I waited for this opportunity almost all my life and there were moments of darkness and despair when I almost lost any hope that this miracle could actually happen.
"But now, everything that I had to go through, it all seems worth it."
Thank you for reading 20 articles this month* Join now for unlimited access
Enjoy your first month for just £1 / $1 / €1
*Read 5 free articles per month without a subscription
Join now for unlimited access
Try first month for just £1 / $1 / €1