Arrival, mishaps and French success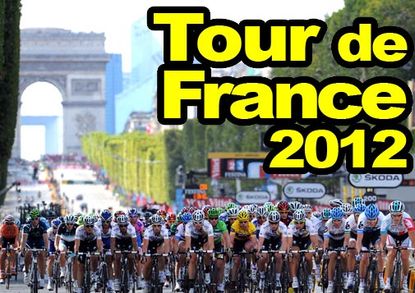 Get The Leadout Newsletter
The latest race content, interviews, features, reviews and expert buying guides, direct to your inbox!
Thank you for signing up to The Pick. You will receive a verification email shortly.
There was a problem. Please refresh the page and try again.
In our Tour preview issue of Cycling Weekly on June 21st, we introduced the three Tour de France veterans who'll be joining us in the magazine each week for analysis of how this year's race is taking shape.
Just to get them into pundit mode before the race kicks off, we gave them a quick call to see what they're predicting and looking forward to from this year's Tour.


Stephen Roche
1987 Tour winner. Father and uncle to two of this year's competitors
"When I saw Cadel Evans attacking on descents at the Dauphine, I thought 'that's the last straw' really. Why do that? Is it because he's limited on climbs? Was the race training or a goal? At the same time, you don't take risks of crashing out two weeks before the Tour.
"I think Wiggins and Evans will wait for that [first] long time trial, then we'll know who is superior and what the other has to do. With two mountain-top finishes, Wiggins has a good chance. The only thing I can see stopping those two is a fall in the first week.
"It's shaping up to be an interesting first week. There could be surprise attacks while the race is waiting for some kind of pattern.
"In the way of surprise packages, Denis Menchov has had a good few Tours. Then there's Samuel Sanchez or anyone from last year's top six really.
"There's even Tommy Voeckler or someone like [Sylvain] Chavanel who could get into a good break and gain four or five minutes while the big teams look at one another.
"I reckon [nephew] Dan Martin will definitely win a stage and can finish top fifteen overall. Look at how he did at last year's Vuelta: he's matured well for the Grand Tours. He's an opportunist; if there's a chance, he'll take it. The Pyrenees perhaps suit him better than the Alps.
"Right now I'm waiting for my flight to Brussels, it's been delayed. My Tour's already off to a good start!"
Charly Wegelius
Former domestique for Cadel Evans. Now a Garmin-Sharp team sports director who's recently become a father
"I wasn't going to be going to the Tour but it looks like I might be heading out for four days to cover for someone around the time of the first rest day.
"The rest of the time I'll be back at home at Finland. I'm a bit of a tight-arse, so each day I'll be going round and watching it on my father-in-law's Eurosport so I don't have to pay for it myself. He's not a big cycling fan but he used to watch it when I was racing.
"Actually, when I was racing, I never used to watch cycing on TV. I actively avoided it. But then I've discovered a little cycling fan in me again since I've stopped. I get terribly excited about the races and enjoy watching them. It's like going back to when I was a teenager again, skipping my homework so I could watch the highlights on Channel 4.
"To be honest, I'm the worst kind of spectator there is. I sit there hoping that unfortunate things will happen.
"I don't want anyone to get hurt obviously because I know first hand what that means. But anything random that mixes up a race can make it much better for a spectator. You know: strange attacks, cross winds, split bunches because of horses in the field.
"Races are so controlled nowadays you almost need things like that to happen - something to throw a spanner in the works. These things are all pretty much the opposite what I wanted to happen when I was racing...or when I'll be on the race myself, working as a DS!
"The two clear favourites are Bradley Wiggins and Cadel Evans. But I do think having such a narrow group of realistic favourites and a race that outwardly seems so easy to predict could actually create a problem for some people in the race.
"There's going to be such concentration on those two, that there's a wider of group of riders who are extremely strong that could benefit.
"Maybe they'll get in a breakaway when those two are busy looking at each other. Riders who you typically expect to finish say fifth to eleventh could benefit from some kind of stale mate. Guys like Leipheimer: good time triallists but not at the centre of everyone's attention.
"Beyond that, the scenario looks quite clear. Sky have got a really strong team, so have BMC. I think Bradley has to be the top favourite but I don't think people should get too carried away by the times at the Dauphine.
"I haven't looked at the exact differences, but I don't think Cadel was pulling up any trees at the Dauphine last year either. He knows how to prepare for the Tour and he's done it before.
"As for my team, we've got a real broad range of talent. Ryder [Hesjedal] takes pole position after what happened in May [when he won the Tour of Italy]. If Ryder doesn't manage to hold his form then there are guys like Tom Danielson and Christian Vande Velde who could both potentially step up to the mark overall.
"There's also Tyler Farrar. He could really benefit from the tactical situation Cav's going to find himself in inside his team.
"The way Tyler seems to be developing into more of a classics type of rider means he could be a good candidate for the green jersey. I wouldn't put it out of the question that he'd go in a breakaway."
Cédric Vasseur
Former stage winner and yellow jersey wearer. Works on the race for Belgian TV
"The time trials are going to be so important, starting with the prologue. Even if it's just 6km, you will already have the favourites sorted and have an idea of who's arrived in top shape and who's not. If you're there to win the race overall, you must finish in the first 20.
"Wiggins was strong in the Dauphiné and Paris-Nice, but he'll have everyone against him. That's a big pressure on the Sky boys. When you want to win the Tour, you have one leader and put eight helpers around him. You'd have to dig deep through the past results to see if a team ever won with a sprint king in the ranks. Those guys who work for Cavendish in the first week won't be in top shape in the last week.
"As a Frenchman I think we'll be happy if we have a guy in the top 10. The results have not been great lately, we are 14th in the UCI's rankings. Pierre Rolland went very well last year and can do better this time. But I don't think he'll me in the top five not with Wiggins, Evans, Froome, Menchov, Schleck, Horner..."
Related links
Tour de France 2012: Coverage index
Thank you for reading 20 articles this month* Join now for unlimited access
Enjoy your first month for just £1 / $1 / €1
*Read 5 free articles per month without a subscription
Join now for unlimited access
Try first month for just £1 / $1 / €1