Cancellara's Specialized Shiv time trial bike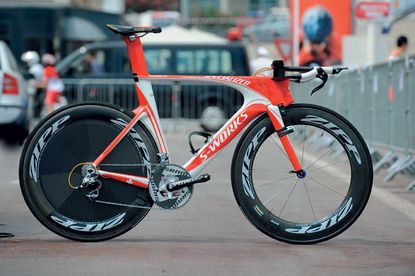 There have been plenty of spy shots of Specialized's new Shiv time trial frame but at the Tour de France, Saxo Bank where presented with the completed product.
The Shiv's huge front section complies to the UCI 3:1 ratio rule as it is classed as structural. The intergrated section makes up the stem, head tube and front brake attachment. The tri bars and extension are aslo integrated into the stem.
>>> The best time trial bikes and triathlon bikes
Using shims, the extensions and arm rests can be adjusted as one, although Cancellara barely needs this as he can put out optimum power whilst having an incredibly low front end.
Using the same custom brakes as the Transition these provide ample stopping power whilst the new S-Works Wave Spline spider is stiffer allowing for improved power transfer.
Short seat stays and rear facing seat clamp, internal routing and brake behind the bottom bracket all aim to cheat the wind. SRAM Red with R2C (Return to centre) shifters makes up the drive train after the teams recent departure from Shimano. A fast Zipp Zed Tech Sub-9 disc and 808 front wheel complete Cancellara's rig.
Pictured in Monaco the new Shiv TT bike from Specialized takes over from the Transition as the TT bike of choice for Saxo Bank and Quick Step.
The front end of the Shiv shows how much effort Specialized have put in to aerodynamics. Can you spot the cables sticking out?
Cancellara uses Speeplay pedals
Nokon cables allow the cables to be squeezed in to tighter lines. Note the ring that keeps the cable close to the frame and out of the wind.
The man with a hundred nicknames choses Spartacus for his Olympic saddle.
The cables route straight back in to the handlebars keeping the cables out of the wind.
Cables run straight in to the frame. The Nokon outers allow them to the be shaped around tighter angles than more traditional outers.
RELATED LINKS
Garmin Slipstream: Dan Martin's Felt F1
Heinrich Haussler' Cervelo S3
Skil Shimano's full pro team Koga
Thank you for reading 5 articles this month* Join now for unlimited access
Enjoy your first month for just £1 / $1 / €1
*Read 5 free articles per month without a subscription
Join now for unlimited access
Try first month for just £1 / $1 / €1