Cavendish enjoying new Tour role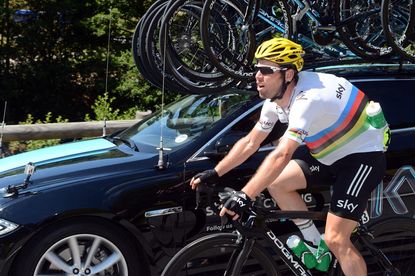 It's hardly the curse of the rainbow jersey, but World Champion Mark Cavendish has been fetching his fair share of waterbottles in aid of Bradley Wiggins' bid for the yellow jersey at the 2012 Tour de France.
Despite making no secret of his passion for winning stages at the Tour, Cavendish revealed at Team Sky's press conference on yesterday's rest day that he is relishing his new role away from the usual limelight.
"It's nice," he said. "I wouldn't say there's more pleasure, but it's definitely been a different type of pleasure. It's been refreshing to not be the centre of attention, the centre of anticipation, and actually be relaxed going into the sprint days."
Although he has lost four kilograms since completing the Giro d'Italia in May, a Sky squad which includes significant climbing talent in the form of Richie Porte, Mick Rogers and Chris Froome means Cavendish has often found himself on domestique duty on the flats.
"Obviously I can't pace a group up a climb, but if I can help by fetching bottles or moving riders up, I can do that, and be part of trying to win the Tour de France. It's a different way to ride the Tour, but I'm thoroughly enjoying it."
Of course his weight loss was not to help Wiggins at the Tour but to maximise his chances of surviving nine ascents of Box Hill the Olympic Games road race on July 28.
It also aimed to reduce the fatigue Cavendish would accumulate over three weeks of the Tour, which finishes just six days before the Games. So far it seems to be working.
"It's felt a lot easier, with ten days in I've never felt so unfatigued," Cavendish added. "It doesn't mean I'm not going to feel fatigued by the end and it certainly doesn't mean I'm fresh, but it's nice to get to a rest day without having to lie on my bed all day.
"Uphill, I wasn't in the last group yesterday, not because I was fighting for it, but just because I felt comfortable. We haven't hit the high mountains yet, so we'll have to see how that goes."
He revealed he feared that his top-end speed had fallen along with his weight at the ZLM Toer, which he won overall but failed to win a stage, but soon realised it was in fact a heavy training block which blunted the edge of his sprint.
The next sprint stage on offer at the Tour comes on Saturday's stage 15 to Cap d'Agde and Cavendish is typically confident that he can challenge for his second stage win of the race.
"I've only won one stage, but if you look at how far back I had to come from on the stage Greipel won [stage five], I was a lot faster than the others."
Related links
Tour de France 2012: Cycling Weekly's coverage index
Thank you for reading 20 articles this month* Join now for unlimited access
Enjoy your first month for just £1 / $1 / €1
*Read 5 free articles per month without a subscription
Join now for unlimited access
Try first month for just £1 / $1 / €1