David Moncoutie's Look 596 Tri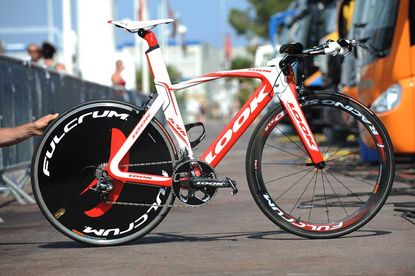 Through extensive testing, Look has found with its 596 that the rear wheel does not need to tucked tightly into the frame as many would assume and often rather than improve aerodynamics can have a counter effect.
Looks research found that if the wheel is not moving then the gap needs to be as tight as possible but when it is rotating a gap is crucial to allow a cleaner exit path for rotational air exiting off the wheel. This is something Zipp has also recently researched and found to correspond with its wheels.
David Moncoutie's 596 has a sleek side on view
Using its own bottom bracket and crank system, the Look ZED Monobloc Trilobe carbon crank is completely one piece as an old style BMX crank and uses an ultra stiff 65mm axle that Look claim to be 25% stiffer than Shimano Dura-Ace. The OETrilobe1 Tech design of the crank also allows for its length to be adjusted with spacers from 170mm to 175mm without actually having to change the crank itself.
Another unique Look characteristic is its integrated stem. The stem uses two carbon arms that can be rotated to achieve the correct height for Moncoutie. These arms are also attached to an insert that can be flipped to offer a higher or lower position, with a difference of 4cms from top to bottom.
Using Looks E-Post, the frame uses one of the cleanest integrated posts that has been developed and makes use of British company, USE's seat clamp with its easy one bolt adjustment.
A complete Record groupset is courtesy of sponsor, Campagnolo and the its associated company Fulcrum supplies a Racing Speed XLR front wheel and disc that is effectively a re-branded Campagnolo disc. A mix of Vittoria tubes are used, a 23mm Corsa CX tubular on the front, presumably for use of the road bikes as well and a 21mm Vittoria Chrono CX on the rear.
External cables at the headtube - starting to look old fashioned


XED Monobloc cranks use a massive bottom bracket shell and only come in one length
David's Vision bars has a foam cover around the horizontal element to increase the diameter and ensure they are UCI 3:1 legal
ZED cranks also feature a carbon fibre spider


Whose bike?
All pictures by Andy Jones
RELATED LINKS


Cancellara's Specialized Shiv time trial bike
Garmin Slipstream: Dan Martin's Felt F1
Skil Shimano full pro team Koga
Heinrich Haussler's Cervelo S3
Thank you for reading 20 articles this month* Join now for unlimited access
Enjoy your first month for just £1 / $1 / €1
*Read 5 free articles per month without a subscription
Join now for unlimited access
Try first month for just £1 / $1 / €1