Everyone on Twitter loves Steve Cummings
The reaction to the British rider's victory just shows how popular he is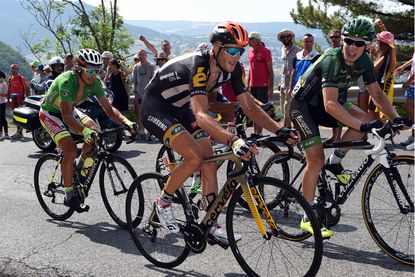 Steve Cummings (MTN-Qhubeka) helped his team celebrate Mandela Day in the best way possible, by getting a stage win in the wildcard's maiden Tour de France.
As is the way these days, plenty of people had their say on his win and for once the overwhelming social media theme was positive. This raft of tweets shows just what a popular rider Cummings is. Chapeau.
Get your scrolling fingers ready, because there are quite a lot of tweets... and this isn't even all of them.
His own team were particularly pleased, as you might imagine. This was one of several tweets celebrating their rider's victory.
As per usual, Chris Boardman is spot on.
Fellow Tour rider Dan Martin, himself close to a stage victory earlier in the race, was beaming when he heard Cummings had won.
Already in the British stage winners' club at this year's race, Mark Cavendish was as pleased as he would have been to see a teammate win.
Cav's wife Peta also offered her congratulations... and a questionable gourmet treat.
Busy having the Grand Tour of his life, the ever-affable Geraint Thomas was simply 'made up'.
Former British National Champion, TV presenter and Belgian-impersonator Matt Stephens hinted at the cunning of the move that gained Cummings his stage victory.
Stephens's fellow retiree Rob Hayles enjoyed the victory salute as much as the rest of us. That is to say, a lot.
Absent from racing after his crash at the Tour de Yorkshire, Ben Swift is obviously still keeping track of the Tour de France and was pleased with today's outcome.
We know how you feel, Matt.
Matt Brammeier will likely be drinking some of the beers he won at the Tour of Flanders earlier this year to toast his teammate's win.
Watch: highlights of stage 14 of the Tour de France
Thank you for reading 20 articles this month* Join now for unlimited access
Enjoy your first month for just £1 / $1 / €1
*Read 5 free articles per month without a subscription
Join now for unlimited access
Try first month for just £1 / $1 / €1