David Millar: I think about the Olympics all the time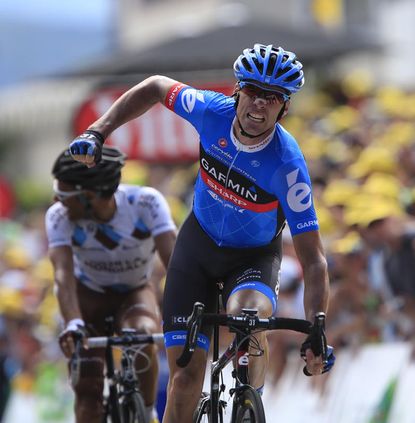 David Millar celebrated a stage win in what was a gruelling Tour de France for his Garmin-Sharp team but the London 2012 Olympic Games was never too far from this mind.
Millar leaves Paris for the UK this morning where he is set to join the rest of the GB road team ahead of Saturday's 250km race that compatriot Mark Cavendish is a favourite for.
"I think about the Olympics all the time," Millar told Cycling Weekly.
"I kind of came in here with the Olympics on my mind so it's been very much a case of getting ready for it. I feel good."
The road race captain said he was in better form during the third week of the Tour compared to previous editions adding it was in part due to skipping the Giro d'Italia.
Millar was made eligible for GB Olympic team selection after the Court of Arbitration for Sport (CAS) earlier this year overturned a British Olympic Association (BOA) bylaw that enabled lifetime bans to athletes found guilty of doping.
The 35-year-old was part of the national team that delivered Cavendish to his first world championship title in Denmark last year.
Cavendish has sent an ominous warning to his Olympic rivals winning three stages at the Tour. The 27-year-old has 70 race days to his name - just short of an average of 77.4 over five years - this season having been one of the only gold medal hopeful sprinters to complete the Giro in May.
Two of Cavendish's stage victories came in the third and final week of the Tour and Millar is confident his teammate will be able to carry that form up until July 28.
"It's a whole different ball game when you talk about a 250K race, especially six days after a Grand Tour," Millar said.
"I think the actual added work load and stress on his body is going to do him a favour - he'll be able to cope with it better I think. He'll feel like shit, but he'll be going good."
However, the Commonwealth Games time-trial gold medalist Millar anticipates Cavendish could be taken to line with arch-rival and former teammate Andre Greipel (Germany) also showing red-hot form at the Tour winning three stages.
"Greipel has obviously shown that he's as much a potential winner as Cav, which is good for us," Millar said.
"The fact is we're going to have two very strong teams that are united in force with the same goal in mind, which is a sprint finish. That works in our favour."
Twitter: @SophieSmith86
Thank you for reading 20 articles this month* Join now for unlimited access
Enjoy your first month for just £1 / $1 / €1
*Read 5 free articles per month without a subscription
Join now for unlimited access
Try first month for just £1 / $1 / €1