Ted King cut from his debut Tour de France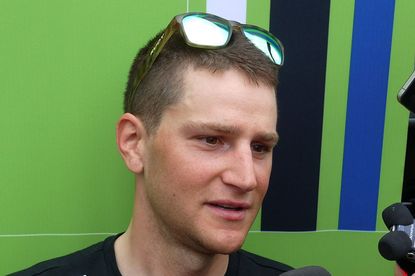 The Tour de France disqualified American Ted King (Cannondale) from its race amid controversial circumstances. He failed to finish within the time cut in yesterday's team time trial, but by a mere seven seconds. Given other re-instatements in the Tour's history, followers have questioned the decision.
"There's ambiguity," an emotional King said outside the team bus this morning in Cagnes-sur-Mer.
He referred to an unclear line, to other instances were the Tour adjusted its time limit to allow larger groups to continue racing.
"They're exceptions made here and there," King added. "There are rules for reasons and you have a line in the sand, this is what has to be done, but then if exceptions are made then that's where I'm torn up."
In time trials, the Tour's race jury sets the cut off at 25 per cent of the winning time. Orica-GreenEdge rode 25-56.28 minutes, the fasted ever pace, averaging 57.841 in 25 kilometres. King finished in 32-32 minutes, just seven seconds outside the limit at 32-25 minutes.
King is recovering from a separated shoulder, which he suffered in the stage one chaos in Bastia. He survived the other two Corsican stages, but lost pace in the first two kilometres yesterday in Nice.
Standing in his casual clothes with 20 journalists listening, he explained that he rode an individual time trial to continue in his debut Tour.
"I was proud of myself," King said of his ride.
"I put in a good time, but it was insult to injury because I was doing an individual time trial against a team time trial, on top of that, the fastest team time trial in Tour history."
He had to wait until Orica won to calculate the cut off and to know his fate.
"That was just the beginning of the roller coaster, and it's been heart breaking," explained King.
"It's been a gnarly 12 hours, I truly woke up half-dozen at times thinking it's a bad dream. I wanted to wake up and hear a different story."
Cannondale's top brass talked to jury president, Vicente Tortajada Villarroya and ASO's Jean-François Pescheux.
"I want to race, exceptions have been made in the past," he added. "I'm looking for some empathy, some understanding of the situation."
Some exceptions may be made for "unlucky riders," according to the rule book. One factor would be the average speed of the race, which yesterday reached record heights.
The Tour would not budge for King, however, who saw off his eight team-mates this morning along the seaside.
King became choked up thinking of his parents. They travelled from the USA to follow a few stages. He thought of his father and his difficulties due to a stroke suffered 10 years ago.
"I wanted to race for them," he said. "It's tough."
Related links
Tour de France 2013: Cycling Weekly's coverage index
Read Cycling Weekly magazine on the day of release wherever you are in the world with our iPad and iPhone edition - International digital edition, UK digital edition. And if you like us, rate us!
Thank you for reading 20 articles this month* Join now for unlimited access
Enjoy your first month for just £1 / $1 / €1
*Read 5 free articles per month without a subscription
Join now for unlimited access
Try first month for just £1 / $1 / €1