The Tour de France Comment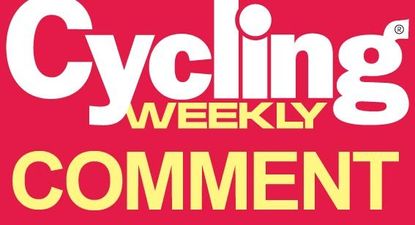 Follow us on Twitter
www.twitter.com/cyclingweekly
www.twitter.com/cyclesportmag
www.twitter.com/lionelbirnie
THE RADIO BAN CAUSES TENSION
It is no surprise the teams have decided the ban on earpiece radios proposed for Tuesday and Friday's stages is not in their interests, but it is disappointing they have waited until so soon before the experiment to raise their objections.
Astana's Johan Bruyneel is one of those leading the campaign to scrap the plan which would see the umbilical cord that joins the riders with their team managers cut for the stages to Issoudun and Colmar.
In fairness, the great majority of the peloton are in agreement. Lance Armstrong, one of the few riders in the peloton who can actually remember the days before constant radio communication, is not in favour of losing the radios.
The critics of the radio system, of which I am one, say that they take the responsibility for decision-making out of the hands of the riders and give the managers too much scope to dictate tactics on the road.
The managers are able to watch on television and give accurate information to their riders. This enables decisions to be made swiftly and, to an extent, caps the ability for riders to cause a surprise.
ASO's decision, made with the agreement of the UCI, was a bold one, and well intentioned. They wish to introduce a little uncertainty, but I can't help feeling that to do it on two stages is bizarre.
It's a bit like telling the players at the Wimbledon tennis tournament: "Okay, for the semi-finals, but only the semi-finals, you must play with wooden rackets."
All the radio technology in the world couldn't help Columbia and co reel in Thomas Voeckler on the road to Perpignan. And being without race radios would not have made the three days in the Pyrenees any less predictable for the favourites.
What kind of effect would it have on the Tour if something remarkable happened on either of those two stages. Say someone semi-important sneaked away and, starved of information on who was in the break and how far ahead they were, the tables were turned? Do we want a situation where the race result is skewed because two of the stages have been run under different conditions to the other 19?
The concern now is that the riders will protest by quietly agreeing to neutralise the racing on the two days in question.
It's rare for so many of the teams to agree on something and although it would be good to see the use of radio technology limited to see if it does indeed encourage more exciting racing, it has to be applied on an all or nothing basis.
PATIENCE NEEDS TO BE REWARDED
Hinging the entire Tour de France on the anticipated battle on Mont Ventoux is all very well, but the viewing public is not used to being so patient.
Three days in the Pyrenees struggled to reward spectators hoping for fireworks from the favourites.
Unfortunately, the recent decade or so has conditioned us to focus to such an extent on the general classification when the race reaches the mountains, that the heroics of supposedly lesser lights tend to pass us by.
Before everyone writes in claiming this is an unnecessary dig at Lance Armstrong, this is partly a result of his domination.
One of the by-products of his era as the undisputed boss of the peloton, was that the Tour story centred on him almost to the exclusion of others. The storyline became that the plucky trier was caught on the line or the escape that stayed away did so because of His will. The yellow jersey went out on loan, but remained tethered to Armstrong by elastic.
And so it still is, to an extent. Brice Feillu's win at Arcalis was amazing. A second-year professional, riding his first Tour de France, got in the day's break and then summoned the strength to attack and win the stage. There is some talent in La Famille Feillu. Brice, tall and stick-thin, the climber. Romain, stocky and punchy, is the sprinter. Their interview on French television afterwards was moving as they celebrated. Brice looked stunned, Romain as proud as punch at what his younger brother had achieved.
Of course, Alberto Contador's attack and Armstrong's (lack of) reaction was the story of the day, but the weekend offered slim pickings for those waiting for the race to explode.
Rinaldo Nocentini is seen as merely keeping the yellow jersey warm, and while it is true he will certainly not win the Tour, can his spell in the limelight not be celebrated for what it is?
The tactical battle at the front on Saturday was exciting to watch. Vladimir Efimkin's attack was full of suspense as he held off the chase for so long. The way Sandy Casar had fought to get back to the leading trio was courageous, as was the way he refused to give in even when he allowed himself to be exploited by Luis Leon Sanchez in the closing kilometres. But because the television camera kept switching back to the Astana-led group, which was doing nothing but setting a constant tempo, the perception is it was a boring day.
Again, on Sunday, Pierrick Fedrigo got the better of Franco Pellizotti with the good old-fashioned trick of forcing the Italian to do the bulk of the work while sandbagging during his own turns at the front. It was gripping stuff, unless you consider these guys to be also-rans taking up air time before the real racing starts. Feillu, Sanchez and Fedrigo may not have changed the overall picture, but isn't there beauty to be seen in these deeds too?
GOOD ON CADEL
You have to feel for Cadel Evans. He effectively lost the Tour in the team time trial at Montpellier on Tuesday and his efforts to recoup his losses have been thwarted.
Critcising Evans for his lack of adventurous spirit is a bit like kicking a lame dog, so let's give praise where it's due.
He was the first of the favourites to attack on Arcalis and then on Saturday he tried to sneak away with the early break, in the hope that he might get away with it.
It was a long shot. A very long shot. The bunch were never going to let him get away with it, and the other riders in the break were clearly unhappy with him going along for the ride.
The way they saw it, Evans was jeopardising their attempts to get away and wanted him to sit up and go backwards to the main group.
That's fair enough, but Evans had as much right to try to escape as anyone else. If the favourites for the Tour are only to be play their cards in short bursts on the summit finishes, is it any wonder people complain the mountain stages are one-dimensional?
CONTADOR VERSUS ARMSTRONG
After watching Alberto Contador's turn of pace on Arcalis, does anyone really believe Lance Armstrong can beat him in this Tour?
Seriously? Contador's jump is not just faster than anyone else's, he can sustain it for that bit longer to open the gap, then recovers quickly and gets into his rhythm.
Okay, so he only attacked for two kilometres and only gained 21 seconds, but is there any way Armstrong can match him on Ventoux?
The only way Armstrong can win is if he puts real time into Contador in the Annecy time trial, which is unlikely.
Either that, or Contador gets food poisoning.
GOING FOR GREEN
Mark Cavendish spent the build-up to the Tour talking down his chances of winning the green jersey, saying he's concentrating on stage wins and reaching Paris, where he dreams of winning on the Champs-Elysees.
The way he dug deep to sprint to 16th place in Barcelona, on an uphill finish far less suited to his abilities, suggested otherwise. The 10 points he gained there were crucial, and kept him in the lead by a single point over Thor Hushovd.
Hushovd then pulled a tactical masterstroke by getting in the break over the Port d'Envalira on Saturday and winning the two intermediate sprints before the Col de Port to go 11 points ahead of Cavendish overall.
And Oscar Freire got over the Tourmalet to win the sprint for third place on Sunday to haul himself back into the equation, even though he's still a long way behind.
The green jersey competition is a fine example of two very different riders approaching the same objective in two very different ways. Cavendish, all pure speed, will try to win again this week, hoping that Hushovd finishes outside the top two or three. Hushovd has to think around the problem and pick up points where he can. It promises to be a battle every bit as fascinating as the one for the yellow jersey.
THE KLÖDEN QUESTION
Shortly before the Tour, the former T-Mobile rider Patrik Sinkewitz re-asserted his allegation that Andreas Klöden travelled to the University of Freiburg at the start of the 2006 Tour de France to have a transfusion of his own blood.
Klöden has denied ever doping, but the clouds refuse to go away.
Astana's directeur sportif was effusive in his praise for the German rider after a strong showing in the team time trial and opening mountain stages.
Innocent until proven guilty and all that, but if Contador or Armstrong wins this Tour with Klöden playing such a key role, and if Klöden is subsequently found guilty of any wrong-doing, wouldn't that totally undermine the victory?
TOUR DE FRANCE 2009 LINKS
Tour de France 2009 - the hub: Index to reports, photos, previews and more.
STAGE REPORTS
Stage nine: Third French win as contenders content with ceasefire
stage eight: Sanchez wins from break as Tour favourites cancel each other out
Stage seven: Feillu wins at Arcalis, Nocentini takes yellow, Contador leap-frogs Lance
Stage six: Millar's brave bid denied on Barcelona hill as Hushovd triumphs
Stage five: Voeckler survives chase to win his first Tour stage
Stage four: Astana on top but Armstrong misses yellow by hundredths of a second
Live Tour de France stage four TTT coverage
Stage three: Cavendish wins second stage as Armstrong distances Contador
Stage two: Cavendish takes first sprint
Stage one: Cancellara wins opening time trial
LATEST TOUR NEWS

Tour de France 2009 News Index>>

How the favourites are doing (first rest day)
Wiggins stays with leaders at Tour
Armstrong: 'If Contador wins, I'll be second'
Wiggins 'on cloud nine' at Tour de France
Armstrong says Contador attack wasn't in the plan
Cavendish survives the first Tour mountain stage with ease
Wiggins, the Tour de France overall contender, has arrived
The Feed Zone: Friday, July 10
Millar happy with Tour performance despite no stage win
Analysis: Fight for green jersey is between Cavendish and Hushovd
Wiggins looking ahead to Friday's mountain stage
Analysis: Why Contador's chances rose when Armstrong missed yellow
Delgado criticises Astana for Armstrong manoeuvre
Armstrong: Gaining time on Contador was not the objective
Stage three analysis: Why the bunch split and who gained the most
EXCLUSIVE VIDEOS
Garmin-Slipstream's HQ before the Tour
David Zabriskie's time trial bike
Mark Cavendish on the Tour's team time trial
David Brailsford interview
Mark Cavendish on the Tour
Jonathan Vaughters on Bradley Wiggins' chances
TOUR DE FRANCE 2009 PHOTOS
Stage eight photo gallery by Graham Watson
Stage seven photo gallery by Graham Watson
Stage six photo gallery by Graham Watson
Stage five photo gallery by Graham Watson
Stage four TTT photo gallery by Graham Watson
Stage three photo gallery by Graham Watson
Stage two photo gallery by Graham Watson
Stage one photo gallery by Andy Jones
Stage one photo gallery by Graham Watson
Team presentation by Andy Jones
Team presentation by Graham Watson
TOUR GUIDE

Tour de France 2009 - the hub
Tour de France 2009: Who's riding
Tour de France 2009: Team guide
About the Tour de France
FEATURES
Tour de France 2009: Who will win?

Tour de France 2009 on TV: Eurosport and ITV4 schedules

Big names missing from 2009 Tour de France

Tour de France anti-doping measures explained

Brits in the Tours: From Robinson to Cavendish
Cycling Weekly's rider profiles
TWITTER
Follow the Tour on Cycling Weekly's Twitter feed
Thank you for reading 10 articles this month* Join now for unlimited access
Enjoy your first month for just £1 / $1 / €1
*Read 5 free articles per month without a subscription
Join now for unlimited access
Try first month for just £1 / $1 / €1
Sports journalist Lionel Birnie has written professionally for Sunday Times, Procycling and of course Cycling Weekly. He is also an author, publisher, and co-founder of The Cycling Podcast. His first experience covering the Tour de France came in 1999, and he has presented The Cycling Podcast with Richard Moore and Daniel Friebe since 2013. He founded Peloton Publishing in 2010 and has ghostwritten and published the autobiography of Sean Kelly, as well as a number of other sports icons.