"There's going to be a bottle shortage": Tour riders battle the heat
The peloton faced temperatures pushing 40°C en route to Rodez today - and more of the same is expected through to Paris.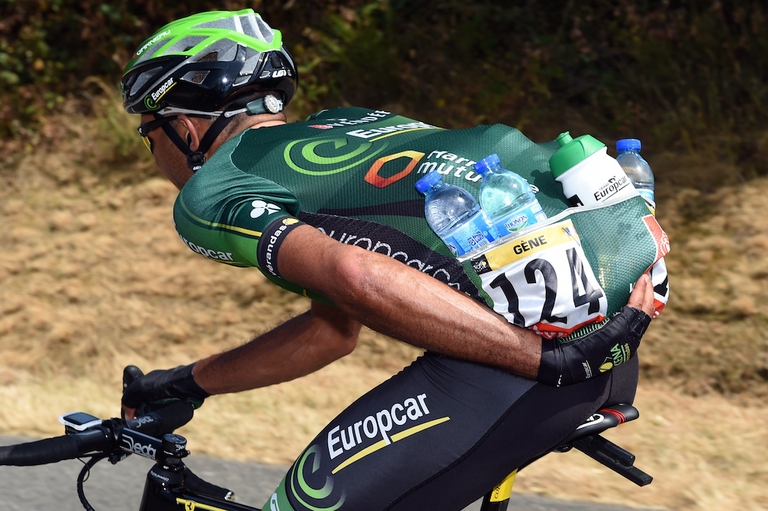 Former Hour Record holder Matthias Brändle had an ice pack shoved down his jersey by a soigneur seconds after crossing the finish line. Stage escapee Wilco Keldermann downed a can of drink as if somebody was trying to take it away from him, while Frenchman Jérome Coppel tipped a bottle of Vittel over his head in such a way a modelling contract can't be far off.
Everywhere you looked after the finish line of today's Tour de France stage to Rodez, riders were desperately seeking to cool themselves down, regardless of how acclimatised they are to racing in near 40°C heat.
"There's going to be a world shortage of bottles after this race, I reckon," joked Cannondale-Garmin's Dan Martin. "I don't know how many I drank today. It was a lot."
Spare a thought for Katusha's soigneurs: this morning they made up 200 bidons their seven riders, akin to 28 each.
"I'd drink a bidon, go back to the team car 10 minutes later, drink another," said IAM's Martin Elmiger. "Maybe tomorrow I will cope better, but I was terrible today."
Giant-Alpecin's riders cooled down post-stage under the team bus's awning, with some opting to wear ice vests for their short time on the turbo.
"I was putting ice down my jersey all the time today," said rider Roy Curvers. "But they melt within 10 kilometres! You throw water over yourself, you try to stay hydrated, but in this heat you cannot drink enough."
Cannondale's Nathan Haas was also in the day's escape group that got caught in the closing kilometres, but despite being born in Brisbane and based in Girona (average July high of 30°C) during the season, he found the going tough.
>>> Tweets of the week: Mark Cavendish, Michal Kwiatkowski, Luke Rowe and more
"It's very attritious," he said. "It's something you can't describe, the feeling that when the heat gets so deep within you that it feels like it's in your bones. It can happen before you realise and it can take a long time to cool down."
Forecasts suggests that riders will be greeted by similarly hot weather until they reach the Champs Elysées (albeit another thunderstorm is predicted for the finish in Mende tomorrow), something that could impact heavily on the final top 10.
"I think the heat is going to be a deciding factor in the race," said Martin. "Looking at the forecast, it's going to be hot until the last weekend - and that has a big impact on recovery."
Curvers added: "The heat makes the race an extra per cent harder. How much harder I don't know exactly - it's just as s**t riding in the rain all day."
Tour de France stage 13 highlights