Tour de France boss criticises UCI for lack of action on anti-doping rules
Christian Prudhomme hopes for quick conclusion to Froome case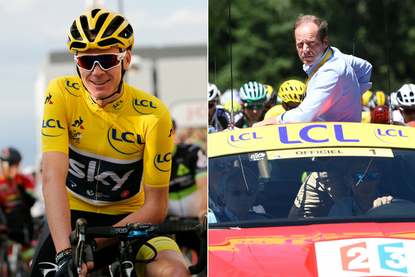 (Image credit: Yuzuru Sunada)
Tour de France race director Christian Prudhomme has criticised the UCI's lack of action on anti-doping rules as uncertainty continues to surround Chris Froome's salbutamol case.
Froome and Team Sky are currently working with lawyers and medical experts to explain an adverse analytical finding for a high concentration of salbutamol at the 2017 Vuelta a España, but in the meantime Froome is allowed to continue racing due to the nature of the substance.
In Prudhomme's opinion the case has similarities to that of Alberto Contador, who tested positive for clenbuterol at the 2010 Tour de France but continued to race after he was initially cleared by the Spanish federation until a Court of Arbitration for Sport (CAS) decision in until February 2012 confirmed a retrospective two-year ban, meaning that he was stripped of the 2011 Giro d'Italia title.
>>> Everything you need to know about Chris Froome's salbutamol case
Six years on from the CAS decision on the Contador case, Prudhomme is critical of the UCI's approach to anti-doping, calling on the sport's international governing body to prevent all riders who have delivered adverse tests to continue to ride.
"What we want, like all the organizers, is that the UCI gives an answer," Prudhomme told French television station BFM at Paris-Nice. "I was saying in December that we wanted a quick answer. We want an answer, the organizers need an answer."
"What strikes me is that the previous administrations of the UCI, with the Contador case in 2010, said that he should not have participated [while the case was ongoing].
"Since 2010, eight years ago, nothing has been done to change the rules. The rules are incomprehensible to people. 'Abnormal finding'? It does not mean anything. It must be black and white and the rest does not matter. We want an answer."
Prudhomme's call for a swift conclusion to the case echoes that of Mauro Vegni, race director of the Giro d'Italia, who has called on the UCI to reach a decision ahead of the first Grand Tour of the year in May.
Thank you for reading 20 articles this month* Join now for unlimited access
Enjoy your first month for just £1 / $1 / €1
*Read 5 free articles per month without a subscription
Join now for unlimited access
Try first month for just £1 / $1 / €1