Tour teams presented in Rotterdam: What the riders said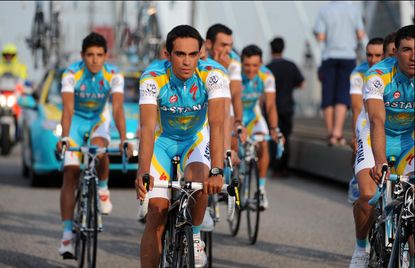 As the 22 teams taking part in the 2010 Tour de France were presented to huge crowds in the centre of Rotterdam under sunny skies on Thursday evening, Cycling Weekly set up camp in a prime position next to the 'down ramp' off the presentation stage, tiny tape recorder in hand, to do battle with the evil TV crews using their cameras as weapons, and came up with some good, honest, old-school quotes.
Britain's Mark Cavendish has had a slower start to his season than many have come to expect of him, but the HTC-Columbia sprinter rolled to a stop in front of us to assure everyone that he was ready to go.
"I'm feeling good, and I'm excited to be here. It's nice to finally be here, ready to get under way," Cavendish told Cycling Weekly. "I hope to win as many stages as possible and just hope that the race goes well.
"There are plenty of other good sprinters here, even without Tom Boonen or Heinrich Haussler," he continued when asked whether life could be made easier for him by the non-presence of two riders who might otherwise have threatened were it not for injuries sidelining them. "We've got a great team, I've got the form, and we'll see how it goes."
Mark Cavendish and HTC-Columbia
Sky captain Bradley Wiggins, however, was in no mood to chat, and theatrically waved away the waiting press pack, riding off without speaking to anyone. We love you, too, Wiggo.
Lance Armstrong, conversely, conversed with the waiting media, looking as lean close-up as he did in his heyday.
"It wasn't particularly emotional up there," Armstrong said of what will be his last Tour team presentation after recently announcing that this would be his last season riding in the pro peloton.
"But I was certainly appreciative of the moment and the fact that these times - the team presentation, the prologue, a ride over the pavé, a ride through the Pyrenées to the Alps and then on to the Champs Elysees - they're never going to happen again for me. I want to be competitive, I want to try to win, but at the same time I want to look around and say... Well, it's like I'm saying good-bye, too. It's a nice balance."
Like Cavendish, Armstrong has had a slow start to the season, but said that his form was on the up.
"I've come up - I admit that. The team's come up, too. We had some complications - illnesses and crashes during the spring - but we've got a good team here: nine good guys, and I'd love to go out as the Tour victor - no doubt about it. I don't know if that's possible, but I do know that I'll be giving it my best, so we'll see."
Asked about the first few days of the race, Armstrong admitted that it will be no walk in the park.
"I expect a big turn-out for the prologue, and a great atmosphere, but then after that I think that the first stage is not exactly what you could call straightforward. If the wind blows... Well, we saw what happened at the start of the Giro. It's a factor - with that stage into Brussels, the stage in the Ardennes, and then the cobblestones [on stage three], it's not your normal first four days of a Tour de France.
"I don't know how good I'll be. Pretty good," he smiled, adding, "I know I'm good, but I don't know how good. At 39, you can't be as good as you are when you're 30, but I'm as good as I can be at 39."
Andreas Kloden (left) and Lance Armstrong make their wasy to the stage in Rotterdam
Frank Schleck, fifth last year, appeared clad in his Luxembourg national road-race champion jersey, and seemed relaxed despite the rumours about which team he might be riding for next season.
"I don't think the form is going to disappear in a week," he said, having recently won the Tour of Switzerland, "so hopefully I'll be good."
As for his brother and team-mate, Andy, runner-up to Alberto Contador in 2009, the Saxo Bank rider described his form as "very good". Time will tell as to which brother is best in 2010.
As defending champion, Contador, followed by his Astana team-mates, was last to take the enthusiastic applause from the crowd.
"I'm feeling much better now," he told Cycling Weekly, regarding the 2007 and 2009 Tour champ's recent bout of flu. "I haven't really been able to train too well this past week, but now things are perfect again, I think, and I'll hopefully go well on Saturday.
"I've felt good for the last few days," he continued, "and the team has been working really hard, and will be very strong - they did a great job in the training camp they did prior to this race, so we're ready."
Presentation over, the countdown begins to the start of the 97th edition of the Tour de France on Saturday at 16.15 CET. Stay tuned to ww.cyclingweekly.co.uk every step of the way.
Tour de France 2010: Latest news
Riis: Tour is the goal for Schlecks despite sponsor problems
Armstrong on Arenberg: There will be carnage
Cavendish set for green jersey battle at the Tour
Hunt and Lloyd look forward to making their Tour debuts
Tour de France 2010: Race guide
Tour de France 2010: Cycling Weekly's coverage index
Official start list, with race numbers
Brits at the Tour 2010
Tout team guide
Tour jerseys: What they are and what they mean
Brits in the Tours: From Robinson to Wiggins
Tour de France 2010: Pictures
Tour team presentation, Rotterdam
Tour teams take to the cobbles: Photo special
Thank you for reading 20 articles this month* Join now for unlimited access
Enjoy your first month for just £1 / $1 / €1
*Read 5 free articles per month without a subscription
Join now for unlimited access
Try first month for just £1 / $1 / €1