What's it like to ride the Tour de France? (video)
British cycling legend Malcolm Elliott sheds some light on what it's really like to compete in the biggest race of them all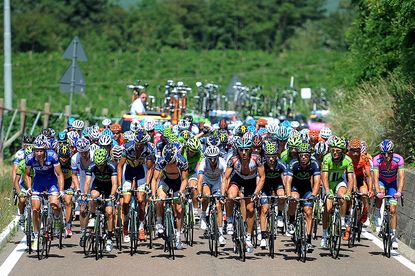 (Image credit: Watson)
For all of us sitting at home watching the Tour de France on television, it's hard to imagine just what it's like to race for five to six hours a day, every day for three weeks. Factor in the mountains, the crowds, and around 200 other men all trying to win, and completing a Grand Tour seems an inconceivable task.
You can only truly understand it if you've done it — and that's where Malcolm Elliott (opens in new tab) comes in. Elliott, 1993 National Champion and double Commonwealth Games gold medallist, rode the Tour with British squad ANC-Halfords (opens in new tab) in 1987. Subsequent moves to continental teams Fagor and Teka saw him win three stages of the Vuelta a España and take the points jersey in the 1989 edition.
So this is a man who knows exactly what he's talking about. In our chat with the Yorkshireman, he talks about how the sheer pace of the race was a shock to the team. "It was a wide open race which meant every stage was ridden flat out," Elliott says. "We were just there to try and win a stage, but the closest I got was third in Bordeaux."
Then there are the mountain stages, in which Elliott acknowledges that he had no chance of competing for the win. "They were all about trying to survive and conserve as much strength as possible for the stages I did have a chance on," he says.
Surviving the mountains meant riding with the gruppetto, or autobus. It's a unique experience, with riders balancing the need to measure their effort with the need to stay within the time cut, and the constant calculations that doing so entails.
After all that's over and done with, there's just the matter of rolling into Paris and the famed cobbled roads of the Champs-Élysées. There's the rise in the road, barely noticeable on television, but certainly something Elliott felt after three weeks of hard racing, along with a euphoria that the suffering is almost over.
Thank you for reading 10 articles this month* Join now for unlimited access
Enjoy your first month for just £1 / $1 / €1
*Read 5 free articles per month without a subscription
Join now for unlimited access
Try first month for just £1 / $1 / €1