Two-time Olympic rowing champion wins national time trial medal
Hamish Bond, in only his first year as a professional cyclist, finishes third at the New Zealand Time Trial Championships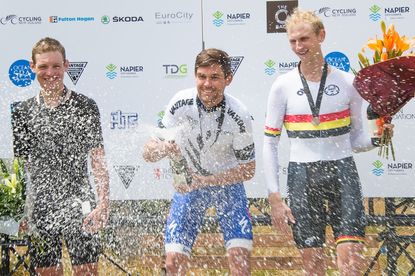 (Image credit: BRUCE JENKINS)
A New Zealand rower who has won two Olympic medals, the most recent in Rio, has made a spectacular transition to cycling, finishing third at his home country's National Time Trial Championships.
Hamish Bond, who has won gold in the coxless pair at both the 2012 and 2016 Games and also counts eight world championship medals in the discipline, switched to cycling in the aftermath of Rio and rode to an incredible podium place in Napier yesterday.
Jack Bauer, in his first race wearing the colours of Quick-Step Floors, was the fastest around the hilly 40km course, posting a time of 51:54. Bond was 71 seconds adrift, separated by Jason Christie in second.
What makes Bond's result even more remarkable is that he suffered an accident on a training ride on New Year's Day when going around a roundabout that featured in the race.
One of his ribs was fractured and he also fractured a bone in his hand. However, he was able to get his bike fixed, train the day before and compete.
Bond, who is racing the road race nationals on Sunday, said: "I came here to learn really. I was hoping to do a little better to be honest but I am new to all of this. That took more out of me than I expected, so now I need to recover for the road race on Sunday.
However, any permanent venture into cycling is not on the cards for Bond: he has described this as a sabbatical year before he resumes his rowing career.
Bauer, Quick-Step's first winner of the 2017 season and the 2010 Kiwi national road champion, said: "I am so thrilled to win this national title and to be able to take the national jersey back to Europe for my new team. I had no expectations today as it was more of a 40 kilometre hit-out for my major goal of the road championship on Sunday."
Jaime Nielsen won her third women's time trial, beating Georgia Williams to the crown by 24 seconds on the 20km course.
Thank you for reading 20 articles this month* Join now for unlimited access
Enjoy your first month for just £1 / $1 / €1
*Read 5 free articles per month without a subscription
Join now for unlimited access
Try first month for just £1 / $1 / €1