UCI announces complete overhaul of WorldTour points system
From the start of 2017, the men's WorldTour will use the same points system as the World Ranking - Mountains and points classification winners recognised for first time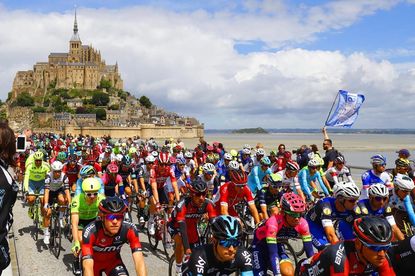 (Image credit: Watson)
The Union Cycliste Internationale (UCI) announced on Thursday that it has made major changes to the men's WorldTour road race ranking points system for the 2017 season.
Confusingly, the UCI WorldTour ranking used a completely different points scale to the similarly-named UCI World Ranking, which was introduced for the 2016 season.
Now, the WorldTour will use the same points scale as used for the World Ranking.
This means that riders will now get points for placing in the top 60 rather than top 20 of a race. In addition, points will be allocated to riders who top the final points and mountain classifications in Grand Tours, and points are awarded to a rider wearing a race leader's jersey per stage.
>>> UCI WorldTour 2017 calendar
"A greater number of riders will therefore be able to score points," said the UCI. "Which will improve the spectacle, benefit teams in the team ranking and reward riders who previously received no points when finishing below 20th place."
The WorldTour nation ranking has been scrapped all together, and the WorldTour team ranking will also been changed.
>>> New WorldTour seems like 'total chaos', says race director
Previously, only the top five riders in each team had their points added together to give the team's figure. Now, all members of a team will have their points put forward to their team's ranking.
"This change should encourage better performances from the whole team because results achieved by all a team's riders will be taken into account," says the UCI.
The WorldTour ranking only tallies points from races in the WorldTour calendar, while the World Ranking includes points gained from any event in the UCI road calendar. This comprises: UCI WorldTour, UCI Continental Circuits, UCI World Championships, National and Continental Championships, Olympic Games and Continental Games. There are currently 2,952 riders in the World Ranking.
The UCI also reports that the 11 newly-introduced 2017 WorldTour events – including the RideLondon-Surrey Classic – will have their own points scale.
The 2017 men's WorldTour kicks off with the Tour Down Under over January 17-22. Peter Sagan (Tinkoff) topped the 2016 WorldTour ranking.
UCI WorldTour points allocation 2017
Source: UCI race regulations
Thank you for reading 20 articles this month* Join now for unlimited access
Enjoy your first month for just £1 / $1 / €1
*Read 5 free articles per month without a subscription
Join now for unlimited access
Try first month for just £1 / $1 / €1