UCI announces minimum pay for pro women riders in new WorldTeams division
The new UCI Women's WorldTeams division will start from 2020 and will be similar to men's teams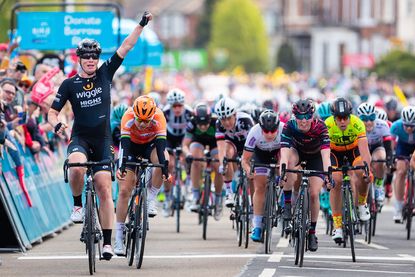 (Image credit: Alex Whitehead/SWpix.com)
The UCI has announced that professional women riders will be paid a minimum wage in a new division from 2020.
Cycling's governing body said a new top tier of women's racing, UCI WorldTeams, will be introduced and will be "comparable" to men's teams.
Women riding for these teams, which will be similar to men's WorldTeams, will be paid a minimum salary and contracts will be thoroughly examined in the same way as men's.
The UCI has not said how much the minimum salary for women's WorldTeam riders will be.
President of the UCI, David Lappartient, said: "I welcome this fundamental development for women's cycling and the strengthening of the position of women in our sport's governance, two subjects which are among the central points of the UCI's agenda 2022.
"The decisions taken today increase the professionalisation of this sector by drawing inspiration from, but adapting appropriately, from the model that led men's professional road cycling to become one of the most popular spots in the world."
The women' racing calendar will also be restructured, with the introduction of a new UCI ProSeries class of races.
From 2020, women's races will fall into four classes: UCI Women's WorldTour, UCI ProSeries, Class 1 and Class 2.
The UCI said this is closer to the model that exists for men and ensures the development of women's cycling.
These announcements form part of the UCI's Agenda 2022, which sets out of the objectives for professional cycling.
Included in the document are plans to increase the attractiveness of the Women's WorldTour and give equal access for men and women to races.
Equalising prize money is also included in the document.
The UCI hopes to reach equal prize money for men and women by the Paris 2024 Olympic Games.
UCI officials are meeting from September 25 to 27 in Innsbruck, Austria during the 2018 UCI Road World Championships, to discuss the future of the sport.
Thank you for reading 20 articles this month* Join now for unlimited access
Enjoy your first month for just £1 / $1 / €1
*Read 5 free articles per month without a subscription
Join now for unlimited access
Try first month for just £1 / $1 / €1