Fabio Aru apologises to Ernesto Colnago over reaction to Vuelta crash
Aru crashed on a descent on stage 17 of the Vuelta, and could be heard on television criticising his Colnago bicycle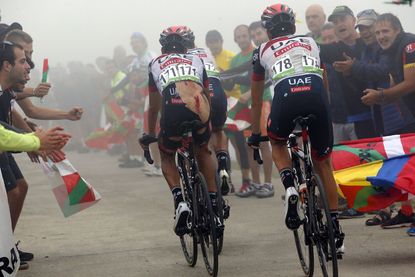 (Image credit: Yuzuru SUNADA)
Italian Fabio Aru (UAE Team Emirates) apologised to famous bicycle builder Ernesto Colnago overnight for his comments after crashing in the Vuelta a España's stage 17.
"Cazzo di bici!" Aru yelled several times after crashing in a curve. The television camera had immediately stopped with Aru and picked up the phrase – sh*t bike! – for all viewers to hear. Aru added the rear derailleur had blocked, yelling at team manager Joxean Fernández Matxin.
>>> Burgos-BH rider Jordi Simón taken to hospital after crash with team car on Vuelta a España stage 17
"If you crash a 70 kilometres an hour you certainly don't say, 'Ah, such a crash, bummer!'" Matxin told Cycling Weekly. "No this is the proper reaction to crash because you're upset when you hit the ground so quickly.
"It was a reaction based on how he felt at the time and afterwards he said sorry to the team and to Ernesto and to everyone. But we know that this happens and it's not just him but everybody else it's just a reaction when you crash as 70 kilometres an hour. I've heard many worse things out there on the road."
The negative publicity certainly does not help relations in between the Italian builder and the UAE team. Earlier this year, reports had the team giving up Colnago bikes to use Bianchi for 2019. However, over the last month they agreed with Ernesto Colnago to continue into 2019.
Aru telephoned Cambiago, Italy, last night to speak with Signor Colnago and make amends.
"He was deeply sorry for what happened," Colnago told Tutto Bici. "I know that in these moments, you're full of nerves. I told him to look ahead, to think only of keeping calm and riding like he has in his best days.
"You know how many riders in these 60 years who've raced on my bikes. You know our story. I understand everything and everyone, but this is a very bad episode, which hurt me. I accept the apologies, but I ask everyone for respect. Fabio understood."
Aru hit the curb hard, his shorts were ripped and blood ran down his backside. He continued, finishing 14-14 minutes behind the stage winner Michael Woods (EF Education First-Drapac) on the Balcón de Bizkaia climb.
"I took an impact to my lower back, which worries me, as well as the pain," Aru said. "We were descending at 70kmh and it could have been a lot worse.
"I apologise for how I reacted after the crash but adrenaline was running, I was aching and you lose the control sometimes. I hope to recover quickly."
The Sardinian is struggling this 2018 season, not showing the same form that won him the Vuelta in 2015.
He began the Giro d'Italia in May to give his new team a win. He seemed off the entire race and abandoned on stage 19. After several exams, he said that he is not gluten intolerant, but his body struggles to absorb pasta and carbohydrates well.
The Vuelta, which was meant to be his comeback, has not made the 2018 season any better for Aru.
"We are in the Vuelta now and at the end of the season we will sit down calmly and think about how we're going to approach the new season," Matxin continued. "We haven't yet had a chance to sit and think about that."
Thank you for reading 20 articles this month* Join now for unlimited access
Enjoy your first month for just £1 / $1 / €1
*Read 5 free articles per month without a subscription
Join now for unlimited access
Try first month for just £1 / $1 / €1