This video of a Giant-Alpecin rider flicking a bottle away with his wheel is mesmerising
Tobias Ludgivsson shows off his skills by calmly flicking a stray water bottle off the road with his wheel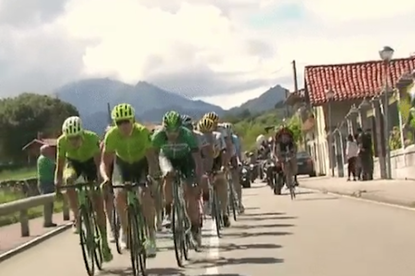 A bottle rolling out onto the road is enough to cause a huge pile-up in the peloton, but with Giant-Alpecin's Tobias Ludvigsson around it creates an opportunity to show off your bike handling skills.
As the breakaway rolled along on Monday's stage 10 of the Vuelta a España, several riders took the opportunity to dispose of their bottles.
One of the bidons hit the pavement and bounced back into the road towards the oncoming Ludvigsson, who nonchalantly flicked his wheel at it and knocked it to the side of the road.
It's a pretty mesmerising GIF, I can't stop watching it. Does he flick it with his front wheel or perform a tail-whip to knock it away with his rear one?
It's like watching a deft backheel flick in football or a switch-hit in cricket - it looks simple, but you'll do yourself an injury even attempting to replicate it at home.
Ludgivsson put the technique down to his days as a mountain biker. He's probably been waiting for an opportunity like this to come up for months.
Thank you for reading 20 articles this month* Join now for unlimited access
Enjoy your first month for just £1 / $1 / €1
*Read 5 free articles per month without a subscription
Join now for unlimited access
Try first month for just £1 / $1 / €1