Watch: Drama in national team pursuit final as Team KGF suffer mechanical (video)
100% ME take the national men's team pursuit title after defending champions Team KGF are caught due to a mechanical issue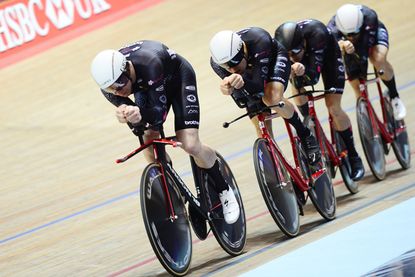 (Image credit: Simon Wilkinson/SWpix.com)
Defending champions Team KGF suffered an ill-timed mechanical issue to falter in the gold medal final of the HSBC UK British Track National Championships men's team pursuit in Manchester on Sunday.
An issue with a wheel meant that the squad of Jacob Tipper, Dan Bigham, Charlie Tanfield and Jonathan Wale was left with two riders and they were subsequently easily caught by rivals 100% ME consisting of Ethan Hayter, Matt Walls, Jake Stewart and Fred Wright, who therefore claimed the national title.
Team KGF had fielded two line-ups in the team pursuit, an A and B team.
>>> Katie Archibald, Katy Marchant and Charlie Tanfield among winners at British Track National Championships 2018
The A team had to settle for silver while the B team consisting of John Archibald, Ethan Vernon, Harry Tanfield and Simon Wilson went on to win the bronze medal final after catching the University of Derby Cycling Club team to give the squad two places on the podium as consolation.
KGF had been the favourites to take a resounding victory in the event after recently winning the final round of the UCI World Cup in Minsk, Belarus.
Earlier in the championships KGF had dominated the individual pursuit, with Charlie Tanfield, Bigham and Archibald placing first, second and third. Archibald also claimed his first national title in the men's points race.
Thank you for reading 20 articles this month* Join now for unlimited access
Enjoy your first month for just £1 / $1 / €1
*Read 5 free articles per month without a subscription
Join now for unlimited access
Try first month for just £1 / $1 / €1