Katie Archibald, Katy Marchant and Charlie Tanfield among winners at British Track National Championships 2018
Round-up of results from the British Track National Championships 2018 at the Manchester Velodrome, January 26-28 - Photos by Andy Jones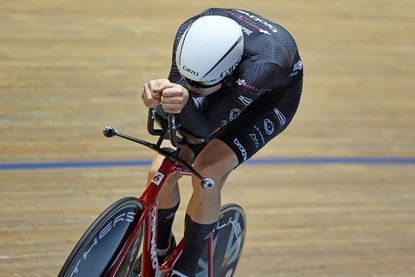 (Image credit: Andy Jones)
Katie Archibald (Wiggle-High5) took three national titles at the 2018 British track championships, winning the individual pursuit, points race and scratch race.
The three events were all ones that the 23-year-old Scot had gone into the championships as defending champion. She also added bronze in the sprint – a discipline that she does not normally compete in.
There was more success for the Archibald family, as Katie's brother John took his first national title in the men's points race.
Team KGF continued their collective strong performances, with the squad's riders filling all three positions on the individual pursuit podium.
Recent World Cup round winner Charlie Tanfield caught defending champion Dan Bigham in the gold medal final, while John Archibald took bronze.
However, there was upset in the men's team pursuit final as Team KGF's A line-up suffered a mechanical issue and dropped to riders, leaving 100% ME to take the title. KGF's B team took bronze to give them second and third places on the podium.
Team Breeze won the women's team pursuit with Backstedt-Hotchillee in second and Liv CC-Halo Cycles in third.
Katy Marchant (Yorkshire Lass CC) enjoyed success in the sprint disciplines, coming away with both the individual sprint and 500-metre time trial titles.
Jason Kenny joined Jack Carlin and Philip Hindes (North West Region A) in winning the men's team sprint title ahead of Matt and Tom Rotherham and Joel Partington (Sportcity Velo). North West Region B (Alex Jolliffe, Lewis Stewart and Hamish Turnbull) took bronze.
North West Region A's duo of Lauren Bate and Georgia Hilleard also took the women's team sprint.
Jack Carlin won men's sprint title, with Jess Crampton (Sportcity Velo) and Lewis Oliva (Team Wales) claiming the women's and men's keirin crowns respectively.
>>> Charlie Tanfield could aim for Bradley Wiggins's UCI Hour Record
Joe Truman (I-Team CC) won the men's kilo time trial.
Men's individual pursuit
1. Charlie Tanfield (Team KGF)
2. Dan Bigham (Team KGF)
3. John Archibald (Team KGF)
Women's individual pursuit
1. Katie Archibald (Wiggle-High5)
2. Emily Nelson (Storey Racing)
3. Emily Kay
Men's team pursuit
1. 100% ME
2. Team KGF A
3. Team KGF B
Women's team pursuit
1. Team Breeze
2. Team Backstedt-Hotchillee
3. Liv CC-Halo Cycles
Men's 1000m time trial
1. Joe Truman (I-Team CC)
2. Callum Skinner (100% ME)
3. Kian Emadi
Women's 500m time trial
1. Katy Marchant (Yorkshire Lass CC)
2. Lauren Bate (Team Terminator)
3. Jessica Crampton (Sportcity Velo)
Men's sprint
1. Jack Carlin
2. Lewis Oliva (Team Wales)
3. Matt Rotherham (Sportcity Velo)
Women's sprint
1. Katy Marchant (Yorkshire Lass CC)
2. Sophie Capewell (Team Terminator)
3. Katie Archibald (Wiggle-High5)
Men's points race
1. John Archibald (Team KGF)
2. Ethan Hayter (100% ME)
3. Fred Wirght (100% ME)
Women's points race
1. Katie Archibald (Wiggle-High5)
2. Emily Kay
3. Jessica Roberts (Team Breeze)
Men's scratch race
1. Ollie Wood (JLT Condor)
2. Rhys Britton (100% ME)
3. Matt Walles (100% ME)
Women's scratch race
1. Katie Archibald (Wiggle-High5)
2. Eleanor Dickinson (Team Breeze)
3. Emily Nelson (Storey Racing)
Men's keirin
1. Lewis Oliva (Team Wales)
2. Joe Truman (I-Team CC)
3. Alex Joliffe (Team Terminator)
Women's keirin
1. Jessica Crampton (Sportcity Velo)
2. Lauren Bate (Team Terminator)
3. Sophie Capewell (Team Terminator)
Men's team sprint
1. North West Region A
2. Sportcity Velo
3. North West Region B
Women's team sprint
1. North West Region A (Lauren Bate/Georgia Hilleard)
2. Scotland (Lucy Grant/Lusia Steele)
3. North West Region B (Sophie Capewell/Blaine Ridge-Davis)
Paracycling B time trial
1. Sophie Thornhill/Helen Scott
2. Neil Fachie/Matt Rotherham
3. James Ball/Peter Mitchell
Paracycling C1-5 time trial
1. Jon-Allan Butterworth
2. Blaine Hunt
3. Katie Toft
Paracycling C1-5 pursuit
1. Louis Rolfe
2. Jon Gildea
3. Katie Toft
Paracycling B pursuit
1. Lora Fachie/Corrine Hall
2. Laura Cluxton/Emma Baird
3. Jack Garner/Joshua Dunham
Paracycling B 200m flying start
1. Sophie Thornhill/Helen Scott
2. Neil Fachie/Matt Rotherham
3. Laura Cluxton/Emma Baird
Paracycling C1-5 200m flying start
1. Blaine Hunt
2. Katie Toft
3. Matthew Robertson
Thank you for reading 5 articles this month* Join now for unlimited access
Enjoy your first month for just £1 / $1 / €1
*Read 5 free articles per month without a subscription
Join now for unlimited access
Try first month for just £1 / $1 / €1