'What's the point in a breakaway in cycling?' - you asked Google and we've got the answer
It's not just to get an extra training session in....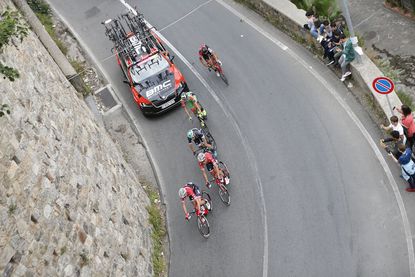 (Image credit: Yuzuru SUNADA)
At Cycling Weekly, we love a good snoop around Google's autocorrect function - which (apparently, though we're suspicious), tells us what the rest of the world is burning to know about cyclists.
There's been some real gems, the highlight perhaps is the world's preoccupation with how cyclists pee on the bike, whilst some questions are a bit more troubling - like why we don't use cycle lane or have insurance.
One of our recent favourites? 'What's the point of a breakaway in cycling?'
Well - never fear, world: we have the answer.
To highlight sponsors
Ever wondered why the breakaway that consistently 'goes from the flag drop' is made up of Pro Continental riders and wildcard teams?
Well, firstly, no one is going to let a likely winner get a gap in the opening kilometres - whilst those in the lower ranks are a lot more likely to be given free reign.
Secondly: if you're not particularly likely to be snapped with arms raised, taking the win, then what better opportunity to get your jersey and sponsors some TV time than with a day long four-up?
To make way for a team mate
Sometimes the rider up the road is a strategically placed decoy.
Let the peloton chase. The teams eager for the win can do the work, whilst a dangerous lurker lies in wait within the bunch. As soon as the carrot on the stick is caught: bam, the true protected rider will taste the wind for the very first time that day.
Cervelo-Bigla did exactly this by sending Cecilie Uttrup Ludwig off the front at La Course this year, team-mate Ashleigh Moolman-Pasio made her move exactly as her jersey partner was caught - eventually holding on for third place.
Because the race travels through their home town
If the rider in question isn't really a threat, the peloton might well let them play out a theatrical home town breakaway. Because who hasn't dreamed of passing their own home, two minutes clear of the bunch?
Because: young, bored, cold
The longest stage of the Tour de France this year was 230 kilometres. The result was a sprint finish, eventually won by Dylan Groenewegen who pushed Fernando Gaviria into second - but during the course of the day, four breakaways formed, only to be caught as the finish line neared.
"Days of 230km are boring and make no sense," Alejandro Valverde said after the race. Peter Sagan backed him up, stating "it was boring today."
Now, the sprinters are never going to put themselves out in the wind all day just to break up the monotony - but someone else might.
The same applies on a wet, cold day, when being alone at least means being warm - and youngsters with a bit more va-va-voom in their engines than sense are likely candidates too.
To entertain you
Not everyone has the viewer at front of mind, but if Sagan is to be believed, then sometimes a rider just wants to put on a show.
"The fans appreciate that [effort and ability], then I'm very happy to do that for the fans, it's nice."
"I don't care about victories, it's more about show," the former world champion said after three second places in Tirreno-Adriatico.
We're not completely sure we believe him - but it's nice to be thought about.
To win
Well, there is another motive for breaking away: a desire to win ahead of the bunch.
The most notable breakaway of 2018 has to be Chris Froome's 80 kilometre solo fight to win stage 19 of the Giro d'Italia. It was the stuff of Coppi and Merckx from days gone by.
It's not easy for a marked rider to succeed in this way, but when they do, it's spectacular.
Thank you for reading 5 articles this month* Join now for unlimited access
Enjoy your first month for just £1 / $1 / €1
*Read 5 free articles per month without a subscription
Join now for unlimited access
Try first month for just £1 / $1 / €1