Raleigh continue perfect start in the Pearl Izumi Tour Series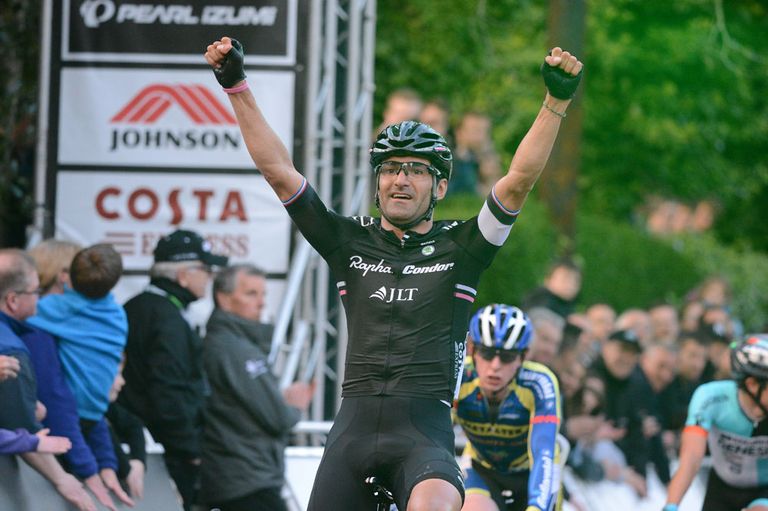 Raleigh continued their perfect start in the 2013 Pearl Izumi Tour Series by taking victory in round two in Durham.
They follow in the footsteps of Rapha-Condor-Sharp and Endura Racing, who won the first two rounds in the 2011 and 2012 series' respectively. Both went on to take the overall title.
Individual glory on the night went to Kristian House (Rapha-Condor-JLT) for the second year in succession, and just like last year, he delivered a brilliant solo performance.
House latched onto a move by Ian Bibby (Madison Genesis), who had recovered being wiped out in a crash in Tuesday's opening round in Kirkcaldy, before mechanical problems saw the 2011 Premier Calendar winner drop back.
Behind him, Tobyn Horton (UK Youth) led home a fragmented peloton of around 20 riders, but with Tom Scully, Evan Oliphant and Lachlan Norris finishing fifth, sixth and seventh, Raleigh were the night's best team.
Madison Genesis were runners up in only their second Tour Series round, with Hope's sixth and MG Maxifuel's seventh also notable results.
Round three takes place in Stoke-on-Trent on Tuesday, which also marks the start of the five-round women's Johnson Health Tech GP Series.
Results

Pearl Izumi Tour Series 2013 round two: Durham

1. Raleigh 10pts
2. Madison Genesis 9pts
3. Node4-Giordana 8pts
4. UK Youth 7pts
5. Rapha-Condor-JLT 6pts
6. Hope Factory Racing 5pts
7. MG-Maxifuel 4pts
8. IG-Sigma Sport 3pts
9. Metaltek-Knights of Old 2pts
10. Spin Rotor-Primal-C-Originals 1pt
Individual result

1. Kristian House (Rapha-Condor-JLT)

2. Tobyn Horton (UK Youth)
3. Roman Van Uden (Node4-Giordana)
4. Andy Tennant (Madison Genesis)
5. Tom Scully (Raleigh)
6. Evan Oliphant (Raleigh)
7. Lachlan Norris (Raleigh)
8. Ian Bibby (Madison Genesis)
9. Steve Lampier (Node4-Giordana)
10. Richard Handley (Rapha-Condor-JLT)
Pearl Izumi Tour Series 2013 standings after round two

1. Raleigh 20pts
2. UK Youth 16pts
3. Madison Genesis 15pts
4. Node4-Giordana 15pts
5. Rapha-Condor-JLT 14pts
6. MG-Maxifuel 8pts
7. Metaltek-Knights of Old 7pts
8. Hope Factory Racing 7pts
9. IG-Sigma Sport 6pts
10. Spin Rotor-Primal-C-Originals 2pts
IG Sprint Competition

1. Kristian House (Rapha-Condor-JLT)
Costa Express Fastest Lap Competition

1. Niklas Gustavsson (UK Youth)
Related links
Raleigh take the honours in Tour Series opener
Tour Series round one photo gallery by Andy Jones
Pearl Izumi Tour Series 2013: Cycling Weekly's coverage index