Rapha launches limited edition Crit range with ready made number pockets
Crit race range from Rapha features number pockets and reflective logos to 'pop' at night time races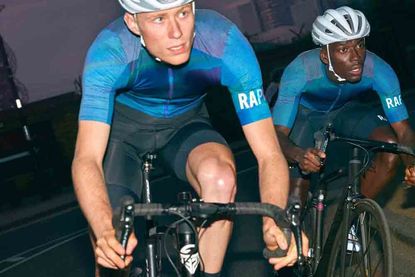 Rapha - the London based brand that rose to fame with its traditionally themed 'Classic' collection - has marked its intention to enter a new market with its new 'Crit' range.
The capsule collection - which is limited edition and consists of a men's aerosuit, men's bibs, two men's jerseys and one jersey for women - is designed to cater for fast and furious hour long races on closed circuits and features an 'oil slick' design.
The men's Crit Pro Team aerosuit (£230) and men's Crit Pro Team jersey (£120), in 'Pro Fit', are tailored to racing, with the addition of a number pocket, which protects the delicate material from numerous assaults from safety pins.
>>> Taking the plunge: how to nail your first race
There's also a men's and women's Crit Flyweight jersey (£100), both in 'Regular Fit'. These use high end, lightweight fabric but do not have the added mesh pocket.
Across the range - which also incudes men's Crit Pro Team bibshorts (£170) - reflective logos have been added, with the intention of creating a 'pop' at evening races.
The shorts feature the dual density chamois pad used on the Pro Team Bib shorts II, but with a focus on shorter, more intense efforts whilst the aerosuit shares the same fabric, with a slightly longer leg.
>>> 11 things not to do at your first crit race
All of the items are limited edition, with only 300 aerosuits in production. We do wonder how large the target audience is - since the British Cycling regulations (section 8, page 73, 'Dress') state: "When competing under these Regulations riders...shall wear Club or Region registered design and colours, as is appropriate", with the only exclusions being "Youth, Fourth and Provisional category licence holders and BC non licence holders".
However, with the growing fixed gear crit scene - which is not regulated by British Cycling - perhaps the focus is on those favouring bikes without brakes or gears.
Thank you for reading 5 articles this month* Join now for unlimited access
Enjoy your first month for just £1 / $1 / €1
*Read 5 free articles per month without a subscription
Join now for unlimited access
Try first month for just £1 / $1 / €1