Remove barriers to Get Britain Cycling, say MPs in new report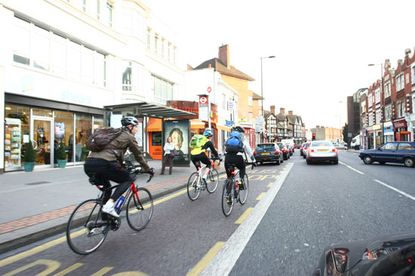 A report by MPs and peers released today calls to increase cycle journeys to 25 per cent by 2050, saying a "fundamental cultural shift" is now needed in how we think about travel.
The report, titled "Get Britain Cycling", concludes that there are "massive and unnecessary barriers" obstructing people in getting active and adds that we're in danger of "squandering the Olympic legacy and failing to create a healthier, more active UK".
Adding urgent action is needed to tackle Britain's ill health, poor air quality and congestion, recommendations are divided into five areas, around better and more coherent funding, "thinking bike" at each stage of road design, safe driving and safe speed limits - including more 20mph limits - training and education of adults and children, and political leadership.
One clear message is the need for consistent funding. While Dutch cities reap "massive economic benefits from consistent cycling investment", now at £24 a head, outside of London in England less than £2 is spent, it says, while Scotland and Wales recently increased cycling spending.
The inquiry saw a consensus among cycling organisations, local authorities, health professionals and others about what needs to be done to get people on bikes. Strong messages from witnesses included the need for transformation of our towns, streets and communities and the way we think about cycling.
The report calls to increase cycle journeys from the current less than 2% of journeys to 10% by 2025 and 25% by 2050, adding a national cycling champion and a national action plan are needed.
Published by The All Party Parliamentary Cycling Group, it follows an inquiry earlier this year titled "Get Britain Cycling", where expert witnesses gave evidence on cycling.
The report will now be presented to the government. Cycling Weekly joins charities and cycling organisations, led by the Times, in signing a Downing Street e-petition calling on the government to implement the recommendations, with the aim of producing a full debate in Parliament.
The full report is available here: http://allpartycycling.org/.
External link
Thank you for reading 10 articles this month* Join now for unlimited access
Enjoy your first month for just £1 / $1 / €1
*Read 5 free articles per month without a subscription
Join now for unlimited access
Try first month for just £1 / $1 / €1