RideLondon riders smash up Surrey Strava segments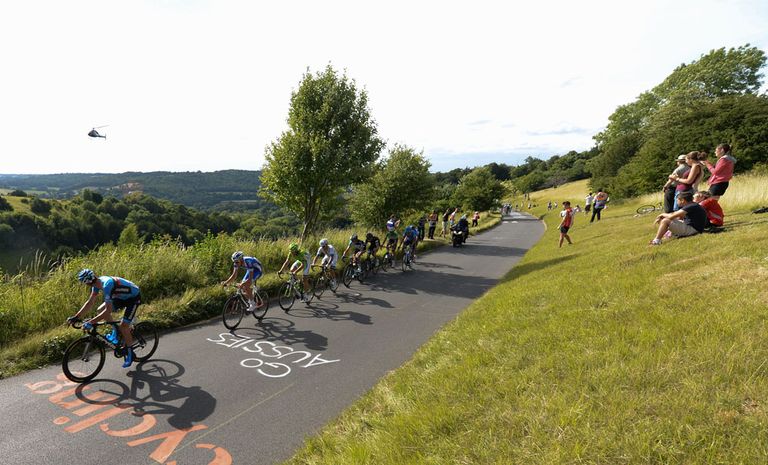 Surrey's Strava heroes will be rubbing bruised egos this morning after Sunday's RideLondon-Surrey Classic road race and 100 sportive.
Many of the riders taking part in the 140-mile road race and 100-mile sportive uploaded their ride data to ride logging website Strava soon after event finished, and set new fastest times on many of the 200+ segments they rode through.
Interestingly, it wasn't just the racers that set quick times - many of the riders taking part in the preceding 100-mile sportive also posted fast times, no doubt taking advantage of riding in a group and on closed roads.
Madison-Genesis rider Ian Bibby seems to have fared particularly well, now sitting on top of the leaderboard for the coveted 'Roundabout to Peak' full-length Box Hill segment. Bibby cruised through the 2.6-mile route from the very base of Box Hill to the top at an average of 20.4mph.
Times set by the fastest riders on Sunday were much quicker than those in both the Olympic Games road race and Olympic test event in 2011. Although it's worth bearing in mind that not every rider uploads their data to Strava, so we are denied seeing how fast David Millar (Garmin-Sharp) went up Box Hill during his attack.
Frenchman Geoffrey Soupe, part of the FDJ team of race winner Arnaud Demare, posted the fastest time on Leith Hill and second fastest time on Box Hill, and also took 25 KOMs along the way. He posted a slightly iffy maximum speed of 79.4mph and an average speed of 26.5mph for his ride as a total.
RideLondon riders didn't snatch everything, though. For example, Hill-climber Tejvan Pettinger's time up the section of Leith Hill used for the Kingston Wheelers John Bornhoft Memorial Hill Climb has remained intact. His mark is still one mile per hour quicker than Sunday's fastest time set by Yannick Martinez of La Pomme Marseille... but there's a world of difference between just riding one hill and having that hill as part of a 140-mile race.
Chris Opie (UK Youth) must also be a very proud new owner of the 2.3-mile 'school run' segment from Kingston-upon-Thames to Hampton Court. We look forward to seeing parents equipped with full laden child trailers trying to smash that one up after the summer holiday finishes. We should add that Opie also set the quickest time from the 38.2-mile run back to London from Box Hill, at an average of 29.4mph.
Whilst some Strava regulars think that pro riders shouldn't be uploading race data to Strava ("real racers don't use Strava"), others are more than happy to compare their best times to the pros in a virtual competition on their favourite roads.
Leith Hill (100 Climbs)
Leith Hill (Kingston Wheelers John Bornhoft Memorial Hill Climb Event)
Box Hill (roundabout to peak)
Box Hill to London
School run
Related links
Photo gallery: RideLondon-Surrey Classic
Demare wins Prudential RideLondon Surrey Classic