RiTMO: The number every cyclist needs to know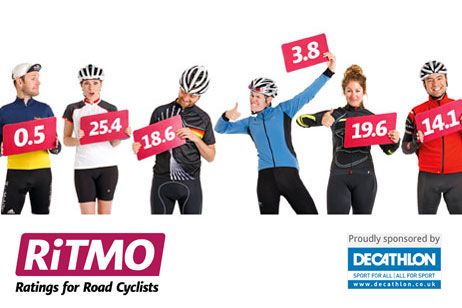 As part of our new Cycling Weekly Cycling Club, we've introduced a rating system that shows you how your cycling performance compares to everyone else's. We've called it RiTMO, and it's like a golf handicap system for road cyclists.
RiTMO is a kind of rolling average of your best three recent rides. The scale goes from 0 to 28, lower means better and only the best are good enough to reach 0.
One scale for everyone
Everyone, from elite athletes to occasional Sunday cyclists, are on the same RiTMO scale. A RiTMO Rating of 9 means the same in Dartford or Dallas, and lower always means better.
Track progress easily
Your RiTMO Rating is one simple number that tells you how you're doing. Like a golf handicap, if it's going down, you're getting better and if it's going up... well, it happens to us all sometimes.
Know who's best
Differences in routes are automatically factored in, so even if you ride super-hilly 80-mile routes but your friend prefers dead-flat 10-mile blasts, your RiTMO Ratings still tell you who's best.
Ride with others at your pace
RiTMO makes it easy to find new people to ride with who ride at your pace so you don't have to worry about being dropped on every hill or getting cold hanging around for slower riders.
Three best recent rides
To get your first RiTMO Rating, log three or more rides of over 16km (10 miles). If you have more rides saved just upload the lot or sync with STRAVA - your best performances automatically count towards your RiTMO Rating. Top up with at least one ride every two months...
Find out more about the RiTMO Ratings and how you can get yours...