Rob Hayles: in his own words, part three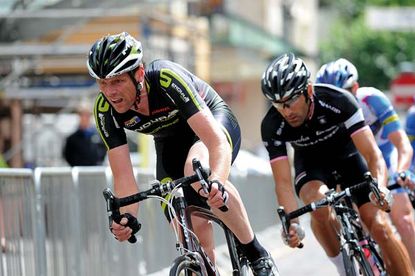 In the final part of our Rob Hayles special, he talks about the final days of his professional career, his love of making things and what's instore now he's stopped racing.
Ending with Endura
Hayles was an integral part of the Halfords-Bikehut team which won the inaugural Tour Series, before switching two Endura for the final two seasons of his career.
"The Tour Series was fantastic - I really enjoyed it. It has reinvigorated the domestic scene. I remember the the Scottish Provident Series in 1995, so I was looking forward to it. A lot of the others wanted to do the Ras and maybe one or two of the crits at most, but as soon as they saw what they were like they all wanted in.
Hayles and Ian Wilkinson take a one-two, Chester Tour Series 2010
"Endura offered me a riding/management role which was a different direction and because I could learn new things I took it. I was looking forward to the development/coaching side of things but I was doing a lot of the administration side of things, which is huge. There was a lot of stuff to go in place, so I'd do my training, head back home early and come 11pm I'd still be doing emails. I can go days without looking at emails normally.
"I phoned [Endura MD] Jim McFarlane to tell him I couldn't do the management job anymore. I wasn't prepared at the time to stop being a bike rider. [Julian] Winny was available, so although people now say if I'm going to be directing with Endura, all the good work they've done is with him. He's taken it forward to what it is now. Last year I was more involved than the other riders with decisions, whereas this year I've just been a bike rider."
Out of the saddle
TECH
"I love developing equipment, and I'd like to be able to continue making and building things, especially if it can earn a bit of crust opposed to me just tinkering around.
"That was a custom bike, the mould cost £15/16,000 alone. The geometry was my design, and I played around with the little things - I feel SRAM's the best groupset, I just made it better! I got Zipp to send me the white and gold decals to match.
Cavendish wins in a Hayles-inspired helmet
"For the road worlds this year, I knew it was going to come down to something simple. So I made Cav a helmet out of one of his old ones. I chopped the back out, wrapped it in carbon. I put a lot into that, I enjoyed it but it's bloody important. I'm passionate about that. We have lost out on world titles because of simple things like that."
THE PUNDIT
Alongside his racing career, Hayles has commentated on cycling for the last four years, and will continue to do so in 2012.
"It started with me doing the Tour of Britain in 2007. Shane Sutton put my name forward to it and I did the BBC highlights with Hugh [Porter]. Admittedly I wasn't very good at it. I went in and Hugh asked me if I'd done my homework. He had reams of information while I was going off what I was looking at. That was a steep learning curve.
Hayles and Ned Boulting at the opening round of the 2011-2012 Revolution Series
"It's grown since then. I did the 2009 road worlds with Hugh, I think I've done two or three track worlds with Eurosport now, and now the Revolution for ITV. I've got the BBC 5 Live role now which will mean I'll be going to the track worlds, BMX worlds and all the Olympic cycling next year.
"I wasn't so sure about radio at first; I felt a lot of the stuff with me came from my facial expressions. So I had a training day with BBC before the European Track Championships last year. I love it, and Simon Brotherton is fantastic too."
FASHION
Never one to take himself seriously, Hayles has been seen sporting old cycling gear at several races.
"The Newport Nocturne story? I had the old jerseys, had the sunglasses...it was all lying around, so I wore it for a joke. It's part of what I've been about. Things like painting the chain, they create a bit more enjoyment. If I can win, that's one thing. If I can't win, I want to leave someone with a memory."
One of many pairs of Oakley glasses Hayles still owns
Retirement
"I've had a call from America to DS, which came off the back of the press release we put out about my retirement. It made the Washington Post, Seattle Times, the press in Taiwan. That was incredible. I wasn't going to do anything. I honestly didn't think there would be much interest. It would have been a disappointment if nothing happened after we announced it!
"I was doing normal stuff around the house yesterday and it was weird not thinking I've got to go out on the bike today or tomorrow. It's been one of the things I've always said I'd look forward to - being able to wake up and not worry how my legs are feeling. I always found it difficult to switch off. Even on holiday, I always had that "next week, week after" thought on my mind. I could never let myself go.
"I've ridden a bike for 27 years, raced for 25 and trained on a track bike for eighteen months or so before that, so cycling in me."
Quick fire questions
Best win - The Madison at the 2005 Track Worlds.
Worst crash - Tour of Poland in 2002 is the one I don't remember. That was the worst physically. I cried in the mirror when I saw my face. It was horrendous. In terms of my career, it was when I broke my collarbone in Leazes Park in 2007. It really put me back.
Best day - 2008 road nationals
Worst day - The day in the hotel [March 26 2008, when Hayles was informed of his haematocrit test]
Worst bike - A Raleigh Chopper! How kids rode them I'll never know. I can't even lift mine now.
"Heavy" - Hayles' chopper
Related links
Rob Hayles: in his own words - bonus part one
Rob Hayles: in his own words - bonus part two
History of Hayles - magazine feature
Rob Hayles rider profile
Thank you for reading 20 articles this month* Join now for unlimited access
Enjoy your first month for just £1 / $1 / €1
*Read 5 free articles per month without a subscription
Join now for unlimited access
Try first month for just £1 / $1 / €1