Roberts hails best ever Tour of Britain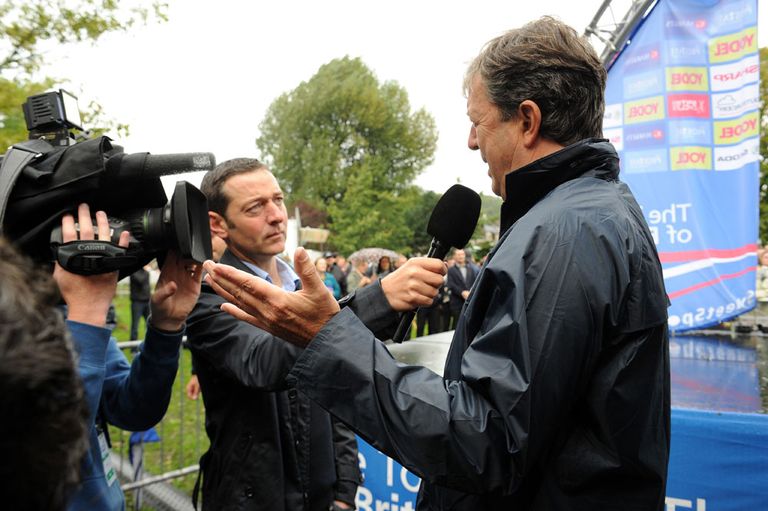 Tour of Britain chief executive Hugh Roberts has hailed this year's race the best in its eight-year history.
Speaking to Cycling Weekly in London on Sunday afternoon, Roberts said that the event had reached new heights this time around.
"We have a process of building on previous years and I think we'll look back and say 2011 was our best ever," said Roberts.
"I know we probably say that every year, but we always try to do the best for the fans and we had one of strongest fields to race on British soil for a number of years.
"Also, the feedback we've had from everyone on the race has told us that the crowds have been absolutely enormous. From Cheddar Gorge to Sandringham, they've come out in their numbers."
Cities, towns and villages welcomed the race with open arms
Planning for next year's race is well underway, and Roberts confirmed that the race will once again be eight days long.
"We've got all the stages lined up for next year. Each year we try to mix it up a little bit, for example this year we've varied from flat to arduous courses."
Encouragingly, the popularity of the race means that race organiser SweetSpot has received offers from several new towns and cities who are keen to bring the Tour to their areas.
"There are far more places that want to host the race than we've ever had before which is good but we don't want to be disloyal to those who have supported us over the years.
"I like the idea of starting somewhere fairly remote - outside a castle or beautiful gardens - so we can bring the race to life, and then finish in a big town or city where we can pack the crowds in as well."
Lars Boom in the IG Markets-sponsored gold jersey


2011 was also the first year in which all the jerseys on offer were sponsored; IG Markets backed the leader's gold jersey while Yodel, Prostate Cancer Charity and Skoda came onboard with the sprints, points and mountains classifications respectively.
"The introduction of new sponsors is part of our plans for expansion," said Roberts.
"We have had opportunities in the past to have a title sponsor, but we resisted this because we don't want the race dominated by a company who wants us to go past their factories or headquarters, for example. I don't think that's right for the race nor for the fans."
Roberts also admitted that the race is moving away from handing out long-term contracts with Regional Development Agencies and councils as they had done to establish the event in 2004.
"I think we're at a point where we can shift from a more regional stakeholder model to more conventional model where companies and brands sponsor the race. We're moving in the right direction, and it's a gradual process. We didn't plan to do this overnight and never will."
Tour of Britain 2011: Latest news
Renshaw thanks Cavendish after Exmouth excellence
House ready to attack again despite unsuccessful breakaway attempt
Team Sky fails to capitalise on numerical advantage in Stoke
Tour of Britain stage two cancelled due to adverse weather
Gale force winds set to batter Tour of Britain bunch on Monday
Cycling stars ready for Tour of Britain
Raleigh aim for top ten in Tour of Britain
Cavendish confirmed for Tour of Britain
Sky announces Tour of Britain team
Hushovd to ride Tour of Britain
Tour of Britain returns to central London for 2011 finale
Scotland getting ready for 2011 Tour of Britain start
Leopard-Trek sign up for 2011 Tour of Britain
Final day time trial for 2011 Tour of Britain
IG Markets sponsor Tour of Britain leader's jersey
Tour of Britain set for Scotland start
Tour of Britain 2011: Stage reports
Stage 8b: Booms wins overall as Cavendish takes final stage
Stage 8a: Dowsett takes time trial in London
Stage seven: Bagdonas wins from break
Stage six: Booms wins in Wells to strengthen overall lead
Stage five: Renshaw and Cavendish score HTC one-two
Stage four: Hushovd takes stage in Caerphilly
Stage three: Boom wins stage in Stoke to take lead
Stage two: Stage cancelled, riders parade in Kendal
Stage one: Cavendish wins opening stage of Tour of Britain
Tour of Britain 2011: Photo galleries
By Andy Jones
Stage seven photo gallery
Stage six photo gallery
Stage five photo gallery
Stage four photo gallery
Stage three photo gallery
Stage two photo gallery
Stage one photo gallery
Tour of Britain 2011: Press conference photo gallery
Tour of Britain 2011: Riders warm up photo gallery