Rowsell wins clash of world champion pursuiters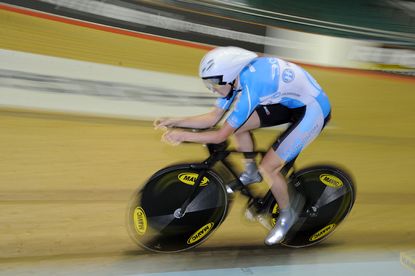 Day two photo gallery by Andy Jones>>
Joanna Rowsell (Horizon Fitness) took a hotly-contested women's national individual pursuit title ahead of fellow youngster Laura Trott (Moving Ladies)
Having qualified fastest, 2009 team pursuit world champion Rowsell had a nigh-identical ride in the final, finishing in 3.30-474 for the fastest time ever seen in this discipline at the national track championships.
"I'm really pleased with that. I wanted to do a PB, but I hadn't ridden an individual pursuit for two and a half years. I had no idea what sort of time to expect," Rowsell said.
"I thought I could back up well - at the Olympics, we'll have three rides, so I do a lot of training for that," she added.
The field was stacked with quality, boasting no less than six current or former world team pursuit
champions, showing Britain's impressive depth of ability in this area.
Rebecca Romero was a notable absentee.
Given the intense internal competition for places, this results bodes well for Rowsell's selection chances at the forthcoming European track championships in Apeldoorn.
Defending national champion Wendy Houvenaghel had to settle for bronze ahead of Sarah Storey. But that was no hardship for Storey, who set a new world record in the Paralympic C5 category with her time.
Women's individual pursuit podium (l-r): Laura Trott, Joanna Rowsell and Wendy Houvenaghel
Men's points race
Pete Kennaugh (Team Sky) won the men's 40km point race this evening, virtually leading from start to finish. Not bad for someone who earlier told CW he'd only been back on the track for two days.
Alongside several Academy riders, he was one of eight riders to gain a lap on the rest of the field early on.
From there, the Manx talent showed his strength, continuing to chip away with points. He added to his tally at virtually every sprint.
In the final half of the race, Kennaugh slipped away with Academy riders Jon Mould, Mark Christian and Simon Yates to steal another lap and safeguard the win.
Peter Kennaugh in men's points race
Men's kilo
From junior national champ to senior success in one leap. 16-year-old Matt Rotherham (Scienceinsport.com) surprised his more established rivals to win the men's kilo, beating Olympic hopefuls Steven Burke and Sam Harrison.
Rotherham clocked 1-03.671 to smash the PB that had gained him that junior crown five weeks ago by a second.
"I didn't expect this - I knew I'd gone well at the juniors, I thought I'd just see what my form's like. To turn it into the senior title is great," he told Cycling Weekly.
"To beat guys who are on the Olympic endurance squad is good too," Rotherham, whose dream would be to compete at the Rio
Olympics in 2016, added.
Looking to the much nearer future - these championships - with his form and morale evidently in good nick, don't be surprised if Rotherham pushes a bigger name close in the men's sprint and
keirin.
Matt Rotherham
Paracycling 200m flying start time-trial

Jon-Allan Butterworth made it two national titles and two world records in two days, as he blazed to victory in the Paracycling 200m flying start two time-trial with the first ever sub-11 second mark.
Junior runners-up Sophie Thornhill and Jessica Anderson also slashed the existing world standard.
Jon-Allan Butterworth sets a new world record
Results

Women's individual pursuit

1. Joanna Rowsell (Horizon Fitness) 3-30.434
2. Laura Trott (Moving Ladies) 3-33.272
3. Wendy Houvenaghel 3-32.283
4. Sarah Storey (Horizon Fitness) 3-33.246 WR
5. Dani King (Horizon Fitness) 3-36.694
Men's points race

1. Peter Kennaugh (Team Sky) 80pts

2. Jon Mould (100% ME) 66pts
3. Mark Christian (100% ME) 62pts
4. Simon Yates (100% ME) 57pts
5. Alistair Rutherford (Scienceinsport.com) 34pts


Men's 1000m TT

1. Matt Rotherham (Scienceinsport.com) 1-03.671
2. Steven Burke (Team UK Youth) 1-03.941
3. Sam Harrison (100% ME) 1-04.790
4. Bruce Croall (Edinburgh RC) 1-05.382
5. Jody Cundy 1-05.846


Paracycling 200m flying start time trial

1. Jon-Allan Butterworth (GB Paracycling) 10.897 / 101.909pts WR
2. Sophie Thornhill/Jessica Anderson (Sport City Velo/Maxgear RT) 11.481 / 101.690 pts WR
3. Neil Fachie/Barney Storey (Unattached/VC St Raphael) 10.332 / 99.516pts
4. Matthew Plested (Team Terminator) 15.123 / 98.360pts
5. Mazyar Ossmisaeed (Unattached) 15.726 / 94.589pts
Related link

Day two photo gallery by Andy JonesBritish track champs kick off in ManchesterBritish National Track Championships 2011: Results
Day one photo gallery by Andy Jones
Thank you for reading 20 articles this month* Join now for unlimited access
Enjoy your first month for just £1 / $1 / €1
*Read 5 free articles per month without a subscription
Join now for unlimited access
Try first month for just £1 / $1 / €1