Russell Downing wins Lincoln GP for fourth time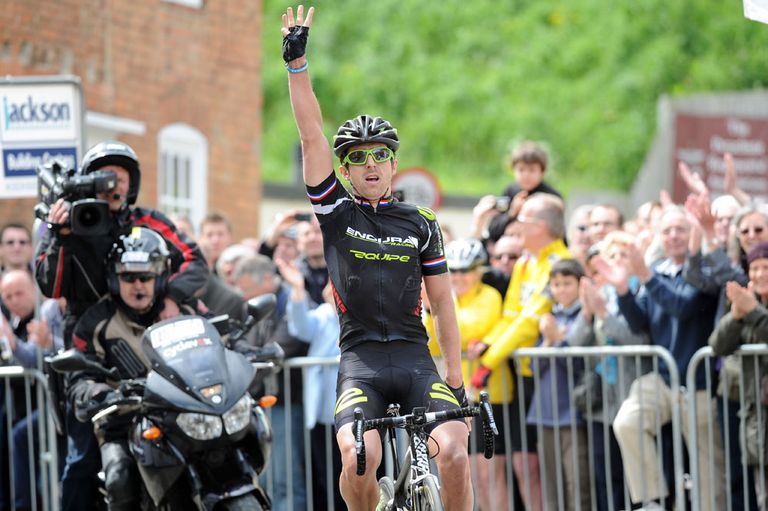 Lincoln Grand Prix 2012 photo gallery by Andy Jones>>
Russell Downing (Endura) won the 57th Lincoln GP breaking free from Marcin Bialoblocki (Node4-Giordana) on the final ascent of the legendary Michaelgate climb to win his fourth edition of the race.
Downing was active on the front of the race all day and, along with 'King of the Castle' winner Kristian House (Rapha Condor Sharp), was seldom out of the top few riders up each ascent of Michaelgate.
"There's only one race to win in the UK and that's the Lincoln GP. It's just great, it's like racing past your front door for me, everyone was shouting 'go Russ'," Downing said at the finish.
The decisive split formed on lap 10 of 13 when the two riders forged clear with Bialoblocki, Simon Richardson (IG Sigma) and Russell Hampton (Raleigh-GAC). After just one lap the time gap was up to nearly two minutes and it became clear the winner would be one of those five.
Downing played his hand on the penultimate lap, breaking free on the climb. Bialoblocki was the only
rider who could match his pace, eventually catching up with the Yorkshireman on the flat section of the course outside Lincoln town centre.
"Malc (Elliott) gave me a boost of confidence coming up to the final feed zone, he looked at Marcin and he looked at me and said; 'you're an animal.' I was like, 'cheers Malc.' That's always good coming from him," Downing explained.
It was only a matter of time before the cobbles of Michaelgate reared up again and the compact and punchy Downing duly finished off the job against the tall Polish rider. His jump at the bottom of the climb was enough to give him enough to give him a 15 second victory.
The win gives Endura their fourth Premier Calendar of the year; the Scottish team has now won every race and round of this years series.
Unfortunately star rider and current EuropeTour leader Jonathan Tiernan-Locke crashed heavily after colliding with a bollard and then a marshal. He was taken to hospital with a suspected broken rib although X-rays later confirmed that nothing was broken.
Rapha also had three riders taken to hospital. Mike Cuming, Luke Mellor and Felix English all crashed.
Results

Lincoln Grand Prix, 102 miles.
1. Russell Downing (Endura Racing) 3-55.38hrs
2. Marcin Bialoblocki (Node 4 Giordana) at 15 seconds
3. Kristian House (Rapha Condor Sharp) at 1-18 minutes
4. Simon Richardson (IG Sigma Sport) at 1-21
5. Russell Hampton (Raleigh-GAC) at 1-28
6. Pete Williams (Node 4 Giordana) at 2-38
7. Dan Craven (IG Sigma Sport) at 2-44
8. Dean Windsor (Endura Racing) at 2-47
9. Scott Thwaites (Endura Racing) at 2-50
10. Liam Holohan (Raleigh-GAC) at same time
Kristian House and Scott Thwaites
Simon Richardson has a dig
Russell Downing attacks
Make that four: Russell Downing celebrates
Bialoblocki, Downing and House on the podium
Related links
Lincoln Grand Prix 2012 photo gallery
Lincoln Grand Prix 2012: The Big Preview