Sam Harrison wins British under-23 time trial championship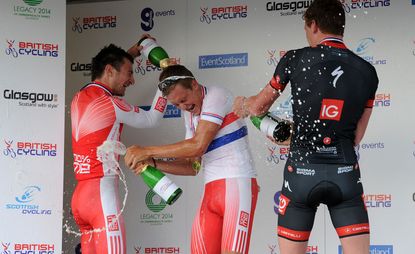 Sam Harrison (100% ME) turned in an impressive performance on what he described as a "flowing" course around Stewarton near Kilmarnock to win the 2013 Under-23 time trial championship on Thursday.
Harrison pushed recently-crowned National '25' champion Joe Perrett (IG Sigma Sport) into second place with his 100% ME team mate George Atkins in third.
On two laps of a rolling and rather grippy 17.6km circuit, Harrison was solid and steady, spending long periods in the saddle, keeping his cadence high and his shoulders steady. He was already up on Perrett inside the first lap.
"I heard that I was fastest on the PA at the end of the first lap," said Harrison later, "and I looked at my computer and reckoned I had about 25 seconds. Plus I could see the (IG Sigma) car in the distance at some points, so I knew I was going OK."
Harrison has had a tricky season so far, crashing and injuring himself in the Under-23 Tour of Flanders, then picking up a infection that required antibiotics and crashing again in the Fleche du Sud stage race.
"I seemed to spend a lot of this season going to stage races playing catch up, going to some races a bit short of form then finishing them tired. I was meant to go to the Thuringen Rundfahrt stage race but I opted out because I wanted to prepare properly for this. I suppose I was taking a bit of a chance but it's worked out OK," smiled Harrison.
In fact, Harrison declared that he had been on a really good day, something he realised from the start. "I glanced a couple of times at my SRM but I ignored it to be honest - that could have been a disaster - but I felt good and was riding a bit above what I thought I could do. The thing is, if you don't sometimes push yourself, how do you really know what your limits are? I was sprinting up the rises and recovering a little bit over the top, but, like I said, I just felt like I was on a good day and when I knew I had a lead I held a little back for the last few kilometers."
Harrison will ride the Elite road race on Sunday, then have a five days off before he starts the preparation for the Under-23 European championships, via the Tour of the Czech Republic. Between this win and input from his new coach Paul Manning, the second half of his season has started a lot better than the first.
"Hopefully I'll get selected for the World's under-23 World's in Verona, I hear the course is a bit hilly, which would probably suit me OK." On his Stewarton form, it probably would.
Result

Under-23 men time trial
1. Sam Harrison (100% ME) 35.2km in 44-47.965
2. Joseph Perrett (IG- Sigma Sport) at 23 secs
3. George Atkins (100% ME) at 1-25
4. Daniel Mclay (Lotto-Belisol U23) at 2-04
5. Jonathan Dibben (100% ME) at 2-42
6. Jon Mould (UK Youth) at 2-56
7. Joshua Teasdale (Terra Footwear-Bicycle Line) at 3-26
8. Liam Glen (Wheelbase Altura MGD) at 3-41
9. Elliott Porter (Rapha-Condor-JLT) at 3-42
10. Edward Laverack (Rapha-Condor-JLT) at 3-42
George Atkins
Joe Perrett
Sam Harrison
Twitter: @KenBobPryde
Thank you for reading 20 articles this month* Join now for unlimited access
Enjoy your first month for just £1 / $1 / €1
*Read 5 free articles per month without a subscription
Join now for unlimited access
Try first month for just £1 / $1 / €1