Scotland welcomes new sportive, Ireland prepares for An Post Cycle Series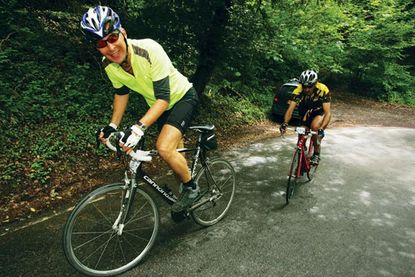 >>>Cycling Weekly's full 2012 cycle sportive calendar
Get on your Bike - An Post Cycle Series
March saw the launch of the latest An Post Cycle Series which will see five events take place across Ireland between May and September in 2012. The series which has been going since 2009 has seen a very popular growth form year to year, with over 13,500 riders taking part last year. Kicking off from Sunday May 6 with the An Post Tour of Sligo, then Tour De Burren in Clare on Saturday June 23, Meath Heritage Cycle Tour will be the mid point of the series on Sunday July 29, followed by Sean Kelly Tour of Waterford taking place on Sunday August 26 and finally Rebel Tour of Cork on Saturday September 15. Each round will host four rides ranging from 10km to 150km. For more information about the series check www.anpost.ie/cycling
Bike Bath
Are to host a cycling festival in the City of Bath with a whole host of activities beginning with a "Celebration of Cycling" evening on Friday June 22 at the Bath Pavilion used as the launch of the weekends proceedings. Guest speakers including Rob Penn and Ben Rockett will take you through the evening and this will give you the opportunity to sign on for the sportive on the following day - either a 30, 60 or 100 mile route to choose from on Saturday and Sunday. You can become the Bath Gladiator if you can cover 200 miles within the 2 days whilst other prizes will be awarded during the weekend.
Web: www.bikebath.co.uk
Whisky Trail Sportive
Its not often you hear of a brand new sportive in an uncharted area especially an area renowned for Malt Whisky. Moray, is set to receive a brand new sportive for the first time in 2012 and organisers plan to make it an annual event. The new sportive based in Moray, Scotland is said to be a celebration of Scotland's Malt Whisky Trail, which will incorporate three routes; 10, 40 and 80 miles. The trail has over 50 distilleries including many of the famous malt whisky distillers. Start and finish at Elgin's Cooper Park kicking off between 7.30am to 9am for the longer routes and 10am for the family route, remember try not to drink to much!
Web: www.thewhiskytrailsportive.com
Nottinghamshire Bike Ride
Entries have open for the 31 Great Notts Bike ride. The event will be the climax of a weekend long cycling festival called Cycle Live. A range of cycling activates will be taking place from Friday 13 to Sunday 15 July, which will include circuit racing, try it sessions and shows with heritage bikes to the latest thing on the market. The ride starting later than usual brings three new routes with approximately 100, 48 and 19 miles in Nottinghamshire countryside.
Web: www.greatnottsbikeride.com
Princes Risborough Sportive
The Princes Risborough St George's Sportive on Sunday April 22 is heading for a sixth consecutive sell out year. The 800-rider event has been popular early season ride and has nearly reached its limit. The 130km circuit through the Chiltern Hills promises to be a tough lung opener. There is a short and mid distance options too, if you haven't found your legs just yet; find out more and book up at www.southernsportive.com
Sportive photography
Southern Sportive are offering £1 rider photographs at their events this year, with all proceeds going to local charities. Photography at the Sunday April 1 Joker was provided by students from the Wiltshire College, in support of Salisbury based EdUKaid, and local photographer Jason Swain will be covering the Wight Riviera Sportive on May 20 in aid of the Isle of Wight's Earl Mountbatten Hospice. Details for further events in the season will be announced soon.
Web: www.southernsportive.com
Spotlight on..... The Rutland CiCLE Tour
The Rutland weekend has created a name for itself over the years for having a tough Northern France or Belgium classic feel and in 2012 we see a double helping of cycling coming from Rutland, which takes place at the end of April with the Rutland CiCLE Tour and Classic.
Kicking off on Saturday April 28 with the fourth consecutive sportive sees two routes to choose from either 100mile or 50mile. Both routes have been chosen to cater for all abilities with the latter for the more experience cyclist. The 100mile route with over 5000 feet of climbing offers many rewards after the leg burning climbs including Harringworth Viaduct and Belvoir Castle.
Why not stay over night and watch the pro's in the CiCLE Classic the following morning. Attracting a huge field of talented riders from home and abroad this one day international race is a toughly fought contest. The race takes place on Sunday April 29 and will kick off from Oakham Town Centre at 11am. The race usual gets over 100 riders.
Further details and entries can be found here www.itpevents.co.uk/
Upcoming events
Sunday April 15: Wiggle Motion in Mercia - Midlands
Sunday April 22: Three Shires Sportive - Derby
Sunday April 22: Cycling Weekly Sandown Cyclone Sportive - Surrey
Thank you for reading 10 articles this month* Join now for unlimited access
Enjoy your first month for just £1 / $1 / €1
*Read 5 free articles per month without a subscription
Join now for unlimited access
Try first month for just £1 / $1 / €1
Symon Lewis joined Cycling Weekly as an Editorial Assistant in 2010, he went on to become a Tech Writer in 2014 before being promoted to Tech Editor in 2015 before taking on a role managing Video and Tech in 2019. Lewis discovered cycling via Herne Hill Velodrome, where he was renowned for his prolific performances, and spent two years as a coach at the South London velodrome.