Scott Thwaites exploring career options outside of cycling after crash injuries
The 28-year-old says the opportunity to race the Yorkshire World Championships could sway his decision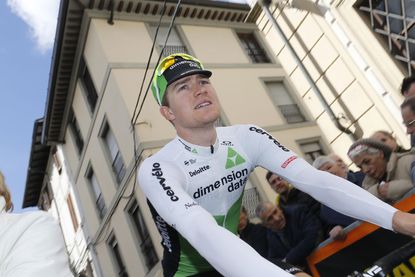 Yorkshire rider Scott Thwaites says he's exploring options outside of cycling, having re-evaluated his priorities following a training crash in March.
The 28-year-old spent much of the spring immobile, having sustained multiple fractures.
The Commonwealth Games road race bronze medallist has not renewed his contract with Dimension Data, the team he joined in 2017, and says he has 'lots of options', including one off-the-bike.
Thwaites fractured his spine, breaking bones in his neck, ribs and sternum earlier in the year. He was able to race come July, but told the Yorkshire Post that he is considering a job offer from 'outside the cycling world'.
In an interview with the paper, Thwaites expressed his gratitude to the NHS for returning him to full health, adding that "it was a great buzz to be back in the races."
However, he explained that the experience had reinforced the importance of health and happiness.
"In the end I just want to be happy with what I'm doing, especially after the accident, the main aim was being able to function in normal life again, to have a normal life outside, whether I cycle or not.
"There's more to my life than cycling and I didn't want cycling to take over. I also didn't want to put too much pressure on myself to come back because my health was worth more than that," he said.
This considered, Thwaites recently joined British Cycling in Harrogate, riding sections of the route for the 2019 UCI Road World Championships, in Yorkshire.
"It was a nice experience, it was nice to be with that group and I can't imagine there's going to be many chances to race things like the worlds... and Tour de Yorkshire. You've got to take those opportunities whilst you can, and that will definitely factor in the decision that I make."
"I've got a lot of options going around … so I haven't firmly set anything in stone at the moment, but it is getting quite late in the year so I'll have to make a decision fairly soon," Thwaites admitted.
Thank you for reading 20 articles this month* Join now for unlimited access
Enjoy your first month for just £1 / $1 / €1
*Read 5 free articles per month without a subscription
Join now for unlimited access
Try first month for just £1 / $1 / €1