Sell-out Urban Hill Climb on Thursday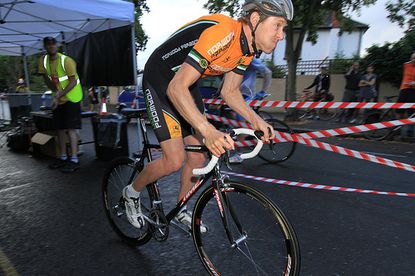 The third Rollapaluza Urban Hill Climb takes place this Thursday evening (July 19), when 230 riders will take on a timed ascent of Swains Lane, Highgate, London.
Although the event sold out just 10 minutes after entries were made available online, there's still a chance to watch riders blast - or pootle - up one of London's toughest climbs as it's completely free to watch.
The first rider - Adi Gaskell - starts at 6.30pm, with the last rider expected to finish at around 9.15pm.
Neither 2011 winner Michael Smith nor runner-up Germain Burton take part this year. Waller Pain hill-climb 2012 winner John Storms is one of those taking part - he was tenth overall last year, and first-placed veteran.
The full list of riders and start times can be found on the event website.
Watch the video below to get a flavour of the Urban Hill Climb.
Urban Hill Climb from rollapaluza on Vimeo.
Event details
Urban Hill Climb 2012
Presented by Rollapaluza
Thu 19th July, 6.30pm - 9.30pm
Swains Lane, London N6
Free to enter and spectate
External link
Thank you for reading 20 articles this month* Join now for unlimited access
Enjoy your first month for just £1 / $1 / €1
*Read 5 free articles per month without a subscription
Join now for unlimited access
Try first month for just £1 / $1 / €1