Shimano declares record sales year for 2022
The company expects to see a similar net sales performance in 2023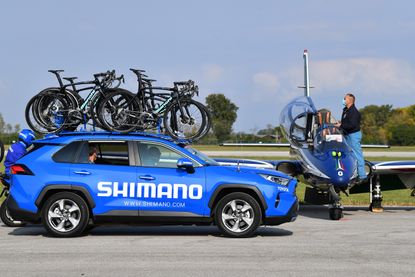 (Image credit: Getty)
Japanese component manufacturer Shimano recorded its highest annual sales in 2022, the company's Q4 financial report has revealed.
Published on Tuesday, the report (opens in new tab) detailed a total net sales from its bicycle division of 517,436 million yen (£3.2 billion). This marks an increase of 16.6% on 2021, the previous record-breaking year.
The operating income for cycling products was up 15.9% over the same period, to just under 145,000 million yen (£900 million).
"Although the strong interest in bicycles during the COVID-19 pandemic showed signs of cooling down, demand for bicycles remained above the pre-COVID-19 levels," Shimano said in a statement.
According to the company's financial report, sales growth has slowed year-on-year, following the boom in cycling products during the Covid pandemic. In 2021, Shimano declared a total net sales increase of 44.6%, which now stands at 15.1%.
"In terms of market inventories of completed bicycles, those of high-end class bicycles remained at a low level," the statement continued. "Meanwhile, inventory levels of middle-class bicycles rose, following those of entry-class bicycles."
The company went on to highlight two particularly well-performing products, its 105 road groupset and e-bike STePS (Shimano Total Electric Power System) components, which it said both enjoyed "brisk" order-taking.
In Europe, the company said that sales of bicycles and bicycle-related products "remained firm", in spite of inventory shortages. It added that sales performance was similar in the North American market, where market inventories were "higher than appropriate levels due to the supply adjustment of completed bicycles."
In Asia and South and Central America, Shimano said that interest in bicycles waned, citing high inflation as a cause.
Company-wide sales, also comprising those from fishing tackle products, came in at a total of 628,909 million yen (£3.9 billion) for 2022.
For the current year, the company is forecasting slightly lower net sales figures of 500,000 million yen (£3.1 billion). It expects that around 80% of these sales will come from bicycle components, with the remaining 20% coming primarily from its fishing tackle line.
Founded in 1921, the Japanese company previously also produced golf and snowboard gear alongside its flagship cycling and fishing ranges. While bicycle components form Shimano's main products, the brand also sells footwear, pedals and apparel.
Thank you for reading 10 articles this month* Join now for unlimited access
Enjoy your first month for just £1 / $1 / €1
*Read 5 free articles per month without a subscription
Join now for unlimited access
Try first month for just £1 / $1 / €1
Tom is one of Cycling Weekly's news and features writers. In 2020, he started The TT Podcast, covering both the men's and women's pelotons and featuring a number of British riders.
An enthusiastic cyclist himself, Tom likes it most when the road goes uphill and actively seeks out double-figure gradients on his rides.
He's also fluent in French and Spanish and holds a master's degree in International Journalism.