Shimano Steps E6100 system: first ride
Shimano's newest Steps system promises greater ease of use: has the Japanese brand succeeded?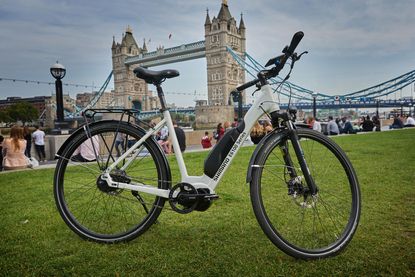 There's no point denying it: elsewhere in Europe, battery powered bicycles are becoming commonplace, and though only around three per cent of Brits own one, they're increasing in popularity.
E-bikes offer a solution to many of the elements of cycling which can be off-putting to some people: fatigue or requirement of physical fitness, inclines, distances that feel impossible on the steam of the rider alone, and sweat.
However, they've entered the market carrying with them their own set of dissuaders: weight, and cost being pretty high on the list for many perspective customers.
In addition, the UK government's decision to restrict road-going e-bikes to 25kph/15mph means that whilst they're a huge help on the hills, those able to reach the maximum on the flat will find they're quickly faced with an unassisted, yet heavy bike.
That - and there is still an air of stigma hanging around assisted cycling - but many will be happy to overlook that in favour of an extra 250 watts when they need it.
Manufacturers creating e-bike battery and groupset systems can't overcome government restrictions or social perceptions on their own - but weight and cost are surmountable.
Japanese fishing tackle supplier Shimano own the bulk of the market share when it comes to rider powered drivetrains, and it's eager to do the same in the e-bike market with its STEPS (Shimano Total Electric Power System) set-up.
>>> Best electric bikes: a buying guide
First introduced in 2013, the newest iteration of STEPS – E6100 – borrows many of the innovations seen in its mountain-bike-ready E8000 system, yet with a focus on road and casual countryside riding.
E-bike buyers are traditionally less likely to buy a frame and built it up - so E6100 is mostly designed to be fitted to built bikes from the major manufacturers. There's two versions of the system - one for trekking and on for city riding, with a 38 tooth chainring for off-roaders and 44 tooth for city rides, plus crank lengths of 170mm or 175mm.
Noting the issues around the heft of e-bikes, Shimano has cut the weight by 210g, to a system weight of 2.88kg. That means, with the whole caboodle fitted to a stock bike, I can lift the 15kg bike when required, something not possible with all e-bikes.
I'd still struggle to lift it over my head or to carry it up the 20 step to my door at home, though - but it's progress.
Shimano has also trimmed the surface area of the system down, reducing drag by 20 per cent and thus increasing the duration per charge of the Li-Ion battery, which will carry you about 170-180 kilometres between plug-ins.
There's two choices of battery size: 418Wh or 504Wh. The greatest power output you'll reap is 500 watts, but Shimano has to stick to an average of 250 watts - which means you can get a notable boost as you move off or approach a hill, but this will settle down as you ease into a rhythm.
>>> Electric bikes and the UK law
You don't need to worry that charging will become less effective over time, drying up to just 20km after a few years use: Shimano says that even after 1,000 charges, max charge remains at 60 per cent of the original capacity and you can boost up to full juice in under three hours.
The biggest change the brand has made, in my opinion, is the newly reduced q-factor - the pedal to frame width has been cut down, which creates a more natural ride feel that has been lacking in previous e-bike offerings.
The system provides four different modes: high, normal, eco and walk. The difference between 'high' and 'eco' is palpable and 'walk' mode is pretty handy - and allows you to stroll along next to the bike with just a little bit of power taking the pressure off your arms, which would be handy if you came across a steep and unrideable section, such as within a pedestrianised area.
Data can be displayed on a bar mounted computer, using a Garmin or Sigma device. However, to cut down on the overall outlay of an e-bike, Shimano has allowed its users to forgo the additional cost of a dedicated computer and download the Steps app to a smartphone, with a handlebar mount and Bluetooth as well as Ant+ compatibility.
You can opt for the 11-speed Di2 option, which has the added benefit of 'Start Mode' which auto shifts down to a low gear when you stop - giving you an easy push off from the lights.
In terms of shift options, the cherry on the top is Shimano's new NEXUS Inter-5 - an e-bike dedicated internal gear hub which, paired with Di2 electronic shifting, does all the thinking for you with automatic gear changes and adjustments.
Shimano Steps E6100: the ride
Having last tried an e-bike several years ago, the Steps system was a pleasant surprise when Shimano invited Cycling Weekly to test it on the busy streets of London.
Most notable to me was the combination of dropped weight, and reduced q-factor. Where in the past, I've found electric bikes to feel somewhat cumbersome and tractor-like, Shimano's stock hybrid with the Steps E6100 fitted felt comparably nimble and natural to ride.
Using the handlebar mounted computer to swap between modes, the 'high' mode provided a clear boost - moving away from the lights yielded minimal input from the muscles I'm accustomed to putting to work, providing a float-feel that is otherwise only made possible with the help of 50mph gusting tail winds (which always bite back at the turn).
Whilst the system kicked in and made moving off easy, it took a fraction of a second to do so. Without this delay, a surge in power as you move off can feel a little off-putting, making steering feel jittery.
When the road turned upwards, again the benefit was tangible - it's the inclines where e-bikes are most renowned for offering a helping hand, making them popular amongst riders who still wish to explore terrains they've always enjoyed as their bodies grow older.
It was only on flat roads where the system became less appealing: e-bikes are limited to 25kph, so as soon as you reach the magic speed, the power drops and you're left powering a very heavy bike. However, over the course of several easy hours spinning around Town, there was only one brief stretch where this bothered me. If you want to enjoy a speedy commute, regularly nudging higher speeds, it's probably not for you.
Electric bikes still have some way to go before they reach the evolved state of the traditional bike market - the weight still needs to be further reduced for ease of use and transportation, but with its Steps E6100 system, Shimano has narrowed the gap between reality and the dream.
Thank you for reading 20 articles this month* Join now for unlimited access
Enjoy your first month for just £1 / $1 / €1
*Read 5 free articles per month without a subscription
Join now for unlimited access
Try first month for just £1 / $1 / €1