Study shows e-bike riders sweat three times less than normal bike riders
Shimano has looked at how hot and sweaty riders got on a 30 minute simulated commute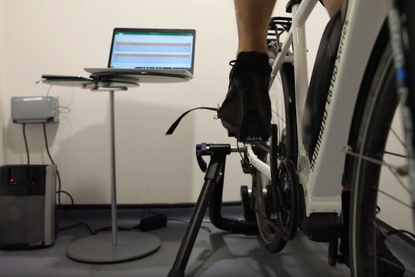 Commuting by bike is great for your fitness, zaps pollution and often gets you there faster than in a vehicle. But the side effect is that you can often arrive at work hot, sweaty and in need of a shower.
Now Shimano, working with the Sports Science Agency in Manchester, has compared the degree of exertion for e-bike riders to that of commuters who don't get an electric push on their ride.
>>> 15 benefits of cycling: why cycle for exercise?
It recruited six riders, four male and two female, aged between 24 and 36. They each rode for 30 minutes in a heat chamber set at 28C, once on an e-bike powered by a Shimano Steps E6100 motor and once on a normal bike.
>>> Seven of the best e-bikes for 2018
Wired up, their heart rate, core body temperature, power output and perceived exertion levels were recorded. Volume of sweat produced was found by recording weight pre- and post-ride. Riders were also inspected for sweat patches on their clothing.
>>> Embarrassing cycling problems and how to prevent them
According to Shimano, riding an e-bike resulted in an average of 350ml less sweat being produced – that's over three times less than on the regular bike. Their clothing also looked a lot less sweaty, with few or no damp patches.
https://www.youtube.com/watch?v=qn0PrV-1eFo&feature=youtu.be
As you'd expect, finishing heart rate was also lower after riding the e-bike – by an average 63 beats per minute. Core body temperature averaged just 37.5C as against 38.4C on a normal machine. Riders classed the simulated e-bike commute as "light to easy" as against "hard" on the normal bike.
>>> Cycling and heart health: should you worry about pushing your heart too hard?
Commenting on the study, the Sports Science Agency's lead scientist on the study, Jack Wilson said: "The main findings of this study show that using an e-Bike as opposed to a regular bike, commuters can complete their ride to work without concerns regarding sweat and physiological strain.
"It's fair to hypothesize that the benefits of exercise remain and that e-bikes may be a good introduction to those who feel they're not sufficiently fit enough to attempt to cycle to work."
Thank you for reading 20 articles this month* Join now for unlimited access
Enjoy your first month for just £1 / $1 / €1
*Read 5 free articles per month without a subscription
Join now for unlimited access
Try first month for just £1 / $1 / €1