Shimano extends huge Hollowtech crankset inspection programme to Europe amid injury fears
760,000 Hollowtech road cranks recalled in USA and Canada originally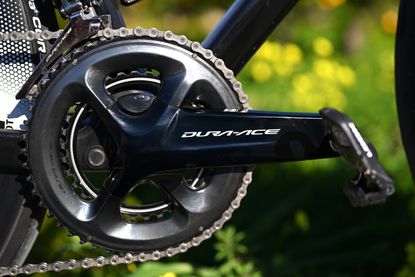 (Image credit: Getty Images)
Shimano has extended its "inspection and replacement program" for 11-speed Hollowtech II road cranksets to Europe, due to "potential fall and injury hazards to consumers".
All 11-speed Hollowtech II road cranksets produced between June 1, 2012 and June 30, 2019, need to be inspected, with Shimano saying that it "expects only a very small percentage of these cranksets will need to be replaced".
An announcement affecting just the USA and Canada was made on Thursday, where 760,000 cranksets were recalled after a reported 4,519 incidents of cranksets separating. This has resulted in six reported injuries, "including bone fractures, joint displacement and lacerations", according to the United States Consumer Product Safety Commission.
The affected products are Dura-Ace and Ultegra branded cranksets with the following model numbers: Ultegra FC-6800, FC-R8000 and Dura-AceFC-9000, FC-R9100 and FC-R9100-P. Affected cranks are printed with a two letter code, you'll find the full list of these codes at the end of this story.
Shimano's 105 chainsets are not affected by the recall, because they are manufactured in a cold-forged process. No 10-speed or 12-speed components are affected either.
People with an affected crankset have been advised to contact an authorized Shimano dealer.
In a statement Friday, Shimano's European arm said: "Reports received by Shimano indicate that the bonded parts of the crank arm could separate and break.
"To remedy this situation, Shimano will have any applicable crankset inspected. Shimano will replace any crank arm that fails the inspection process.
"This inspection is designed to determine whether the crank arms show a possible bonding separation issue and to swiftly remove any possible safety hazard to our consumers. Not all Ultegra and Dura-Ace cranksets need to be inspected. Only cranksets produced between June 1, 2012, up to and including June 30, 2019, need to be inspected.
"Shimano will replace any cranksets that fail the inspection process free of charge."
The bike part company has developed an inspection process to be used by Shimano dealers, and will provide "clear instructions and tutorials" to bike shops in order to address the issue
Shimano said: "The dealer will inspect the crankset for signs of bonding separation or delamination. Consumers whose cranksets show signs of bonding separation or delamination during the inspection will be provided a free replacement crankset from Shimano that the dealer will professionally install.
"If your crankset needs replacement following the inspection, please do not use it. If a replacement crankset is temporarily unavailable, Shimano will notify you through your dealer when the replacement is ready.
"The replaced crankset will be a special version, which may feature a different cosmetic appearance while maintaining the same level of performance."
Consumers with third-party power meters built into Shimano cranksets which fail to pass the inspection, such as those from Stages, Pioneer or 4iiii, will be given a rebate.
"Shimano products that are modified by 3rd parties are not covered by warranty, but as an exception they will be subject to this inspection. Any items that are found to fail during inspection and that are sent back to Shimano will be replaced free of charge without the 3rd Party Power Meter attached. Shimano will be providing a rebate in the form of a check to the consumer where the consumer can use that towards the replacement of the 3rd party power meter."
The timeframe of replacements is yet to be set out. Shimano said that it "will do its best to expedite the replacement crankset" but cannot guarantee it will have stock right away.
A worldwide helpline has gone live, which consumers can use to ask related questions. It is open from 09:00-21:00 CEST Monday-Friday and 09:00-17:00 on Saturdays.
Crank codes
Owners should check whether their crank arms are stamped with the following codes: KF, KG, KH, KI, KJ, KK, KL, LA, LB, LC, LD, LE, LF, LG, LH, LI, LJ, LK, LL, MA, MB, MC, MD, ME, MF, MG, MH, MI, MJ, MK, ML, NA, NB, NC, ND, NE, NF, NG, NH, NI, NJ, NK, NL, OA, OB, OC, OD, OE, OF, OG, OH, OI, OJ, OK, OL, PA, PB, PC, PD, PE, PF, PG, PH, PI, PJ, PK, PL, QA, QB, QC, QD, QE, QF, QG, QH, QI, QJ, QK, QL, RA, RB, RC, RD, RE, and RF.
More information can be found at bike.shimano.com.
European helpline numbers
International: +31792077017
The Netherlands: +31792077018
United Kingdom: +441174094110
Germany: +4923129295084
Belgium: +3233187827
Spain: +34936096836
France: +33173071925
Thank you for reading 20 articles this month* Join now for unlimited access
Enjoy your first month for just £1 / $1 / €1
*Read 5 free articles per month without a subscription
Join now for unlimited access
Try first month for just £1 / $1 / €1