Sid Barras: Famous Last Words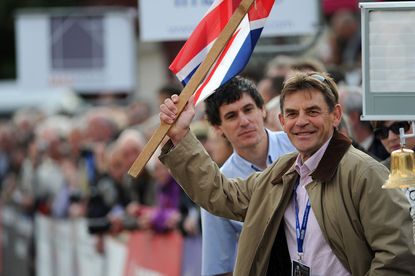 The British racing legend they call 'Super' Sid Barras is always on the move with his motorhome, his wife and son, and his special set of German carbon wheels
My earliest memory of cycling would be standing in Bill Beattie's bike shop in Middlesbrough with my dad buying me my first bike. I was quite small, and I remember being quite cross about getting a short stem, because all the racers had longer stems!
I'm really fortunate that I get to ride most days. In fact, I'll be going for a ride when I've finished this interview!I often go to the Cavendish Pavilion cafe; the staff know us and there's a good mixture of young and old riders that meet there.
It's more healthy to go out riding with the young guys! They take the mick out of me a little bit, and Tom [his son] often rolls his eyes at some of the things I say, but it's certainly good for my fitness.
I've got a couple of titanium bikes that I ride now, and a pair of Lightweights [wheels]. I wish I'd had them when I was racing - they're brilliant! I suppose everyone would have had them if they'd been around.
Hanging up in my garage is an old frame from 1970, which was one I rode with my first team. I haven't the heart to take it to the tip; it's got all the memories of the racing, but more importantly the people.
I loved football when I was growing up not far from Ayresome Park [Middlesbrough FC's old ground] in the days of Brian Clough. I listen to the matches on Radio Tees. The manager now, Tony Mowbray, is from the area and they're doing quite well, so normally I feel happy on a Saturday afternoon!
Travelling around with my wife and our younger son in our motorhome is great. It's the moving on from place to place that I love - I think it's something to do with being a cyclist.
I like to go up to the North-East coast and I've been to the Alps a lot. We'll drive to the bottom of a col, Linda [his wife] will sit outside with a book and I'll go off and ride. It's perfect, really! I've done the Galibier loads of times.
I'm sure Team Sky will be able to make it work next year. It will take some working out, but they've got some good knowledge with Shane Sutton and Sean Yates. I wish them all the best - but they know they've got to get it right.
The most impressive rider for me has to be Mark Cavendish. I saw him win the last stage of this year's Tour of Britain in the rain. I'd love to know the size of the gap he closed after he came round that final corner. When I saw that, I knew that if he could get to the finish [of the World Championships], he'd win.
Thank you for reading 20 articles this month* Join now for unlimited access
Enjoy your first month for just £1 / $1 / €1
*Read 5 free articles per month without a subscription
Join now for unlimited access
Try first month for just £1 / $1 / €1