Sir Chris Hoy strikes late for keirin victory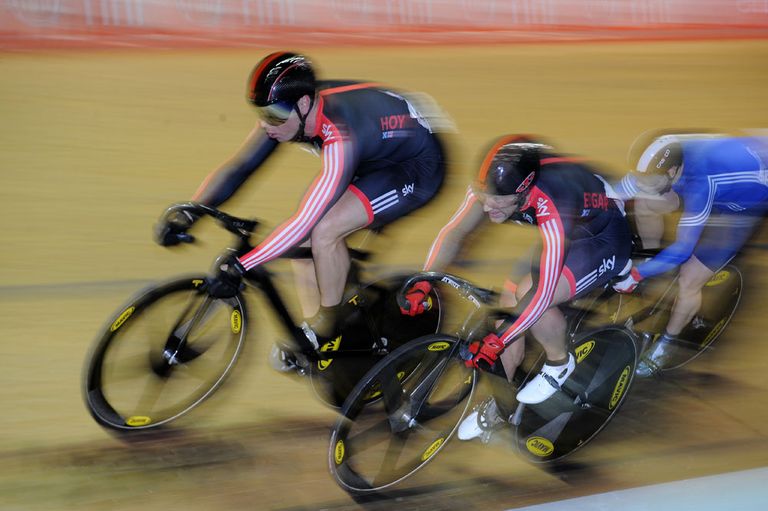 Day three photo gallery by Andy Jones>>
The pick of the action on day three of the National Track Championships was Sir Chris Hoy's win in a fiercely-contested keirin.


The Olympic star showed that he's lost none of his sharpness or speed in the off-season, but he had to wait till the final straight to snatch victory, going high on the banking, ahead of David Daniell (Motorpoint) and Phil Hindes (Unattached).
"They made me work hard for it, that's for sure," Hoy said afterwards. "With a lap to go, I was fourth or fifth. It's a great feeling to start the season as I mean to continue."
It sets up Hoy nicely for tomorrow's sprint competition, where he is likely to receive a more thorough examination from Jason Kenny, who was squeezed out of the medals in fourth.
Women's sprint

Welsh talent Becky James took her first senior sprint title this evening, seeing off rival Jessica Varnish 2-0 in the final.
James qualified comfortably, whereas Varnish was pushed all the way in three tight semi final heats
by Victoria Williamson.
This is the latest step in the rapid progression of 19 year old James, who was a sprint silver medallist twelve months ago at the Commonwealth Games.
Yet there is the impression that James, who is competing with Varnish for the coveted first team sprint spot at London 2012, is merely keeping the throne warm.
Nine-time national champion Victoria Pendleton opted out of the sprint, as well as tomorrow's keirin, as she focuses on strength training with an eye on the European track championships.
Becky James beats Jess Varnish in the women's sprint final
Men's scratch race

Jon Mould (100% ME) took his first senior national title in the final event of the night.
The bunch broke up several times, with Academy riders well represented. It ended up beating a battle between 100% ME and Scienceinsport.com, as two riders from each team took two laps.
Victory went to Great Britain's production line and Mould, who held off Adam Duggleby's late charge for victory.
Jon Mould wins men's scratch race
Women's points race

Lizzie Armitstead (Garmin-Cervelo) won the women's points race with a virtuouso performance.
She was one of five riders to gain a lap, bridging across to Joanna Rowsell (Horizon Fitness) mid-race, alongside Laura Trott, and then powering across the gap to the group by herself.
The national road race champion kept in the thick of the points throughout the race, tying up the win on the penultimate sprint.
"I was surprised with my speed actually. I didn't really have a gameplan, I thought I'd race relaxed. It's quite nice to react to the race as it went along," Armitstead said.
Lizzie Armitstead wins women's points race
Paracycling pursuit
Aileen McGlynn and tandem pilot Helen Scott scorched to victory, narrowly missing out on a new world record in the process.
Scott and McGlynn


Results

Men's keirin

1. Sir Chris Hoy (Sky Track Cycling)
2. David Daniell (Motorpoint)
3. Phil Hindes (Unattached)
4. Jason Kenny (Sky Track Cycling)
5. Matt Crampton
6. Ross Edgar (Sky Track Cycling)


Women's points race

1. Lizzie Armitstead (Garmin-Cervelo) 58pts
2. Laura Trott (Moving Ladies) 50pts
3. Joanna Rowsell (Horizon Fitness) 36pts
4. Dani King (Horizon Fitness) 31pts
5. Corrine Hall (Team Corridori) 28pts


Women's sprint

1. Becky James (Abergavenny RC)
2. Jess Varnish (Halesowen A & CC)
3. Victoria Williamson (Welwyn Wheelers)
4. Jessica Crampton (Sport City Velo)
5. Rosie Blount (Derby Mercury CC)


Men's scratch race

1. Jon Mould (100% ME)
2. Adam Duggelby (Scienceinsport.com)
3. Adam Yates (Scienceinsport.com)
Paracycling pursuit

1. Aileen McGlynn (Royal Albert CC) / Helen Scott (Halesown A & CC) 3-37.974 / 99.260pts
2. Shaun McKeown (GS Avanti) 3-39.326 / 98.882pts
3. Lora Turnham/Fiona Duncan 3-40.657 / 98.054pts
4. Jon-Allan Butterworth (Para-T Paracycling Team) 4-47.227 / 96.519pts
5. Jody Cundy (Para-T Paracycling Team) 4-53.085 / 95.835pts



Related link

Day three photo gallery by Andy JonesNational track championships 2011, day two round upNational track championships 2011, day one round upBritish National Track Championships 2011: Results