Swift looks to step things up for 2011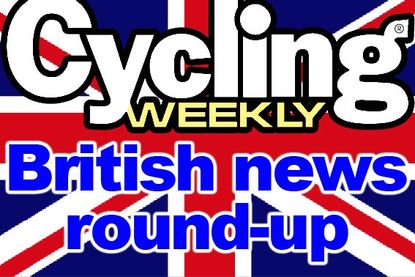 Swift underlines targets for next year
Team Sky talent Ben Swift is ready to step up his performance in 2011, after a season affected by contract wrangles, injury and bad luck.
"My big target is the Track World Championships in Apeldoorn [at the end of March]," he told Cycling Weekly.
"I feel in a better position now after all the problems last year with Katusha, I was a lot more comfortable with Sky."
A first-year pro with the Russian team in 2009, Swift was quick to impress, winning a Tour of Britain stage and finishing third in a Giro stage.
However, in the winter, as he sought to join Sky, he became the middleman in a lengthy contract dispute that embroiled Katusha, Sky, bad blood, agents and the UCI.
"I've got really good motivation for next year; I was cursed with a few injuries and illnesses - as soon as I got going, I'd get sick. But it was good for my confidence to win the Tour of Picardy.
"This year, Swift plans to target the Tour of California in May ("there's a nice gap after the track worlds to get my road legs back"), the Tour of Poland and the Vuelta, after last year's abrupt end to his season.
"I was building up to the Vuelta, it was the main goal of my season. I felt I rode pretty well last year. To get it taken away like that was a bit disappointing," he said, referring to Sky's withdrawal from the race due to the sudden death of soigneur Txema Gonzalez.
Soon to be moving to the Isle of Man, Swift won't have to put up with the snow for much longer. He heads to Australia just after Christmas to complete a four-week Australian campaign.
Starting with the popular Bay Crit Series, he will go on to race the Australian national championships, before kicking off his season at the Tour Down Under.
"I just hope I don't bring the weather with me," he joked.
Swift after winning the opener at the recent Revolution 30 meeting
Oldham reflects on "easy points"-chasing Belgian influx in National Trophy cross'

This year's National Trophy competition has seen a slew of Belgian cross' racers crossing the Channel for the C2-ranked races.
When asked for his thoughts on it, defending champion Oldham said: "They get easy points. It's good for the racing side of it, whether it's good for the sporting situation..."
The Belgians are not eligible for the National Trophy overall standings, but have had a big steer on the results. Kevin Cant was second at Mallory, and Chris Lapere and Steven De Decker were third in Abergavenny and Ipswich.
He continued: "It almost takes it away: the National Trophy could have been finished in Southampton, we had nine Belgians among us [sic - five Belgians finished in the top ten]. You've got to finish at the front though; people lose interest in the overall if they're too far down."
The competition is down to a two-horse race now. Former national champion Jody Crawforth leads Oldham by just five points, with the fifth and penultimate round of the series taking place at Bradford on Sunday.
"At Mallory, I was a bit worried. It'll be okay hopefully," Oldham said.
While several cross' races were cancelled last weekend due to the deluge of snow, nine inches of white stuff couldn't stop the North of Englnd Championship from going ahead.
On a picturesque Lake Winderemere-adjacent course blanketed in snow and treacherous ice, Oldham slipped away to beat Rob Jebb (Wheelbase) by two minutes.
"It's a bit different, but it were good. I've been training on studded tyres on my cross bike, so I was able to go out last week," he
"It's dangerous, snow on ice, but it's similar to riding sand: you just have to sit back and power through it."
CyclePremier.com-Metaltek galvanise for 2011
The British CyclePremier.com team is bolstering for next year, with several additions to its roster.
Tom Barras and Dale Appleby make the move from the revamping Raleigh team, while Ross Creber (Endura) and former European junior champion Matt Rowe also join to make a 10-man line-up.
Going the other way, Andy Magnier joins the Motorpoint team, while James Millard is set to ride for Corley Cycles.
Sponsored by an online cycling retailer, the CyclePremier.com-Metaltek team was a fringe player on the British scene this year.
Its best moment arguably came at the Tour Series opener in Canary Wharf when team leader Tony Gibb sprinted to race victory.
CyclePremier.com-Metaltek went on to finish in the country's premier criterium series; Andy Magnier notably also took second at the York elite circuit race.
More new signings are expected to be announced in the coming weeks.
Tour Series triumph for Gibb at Canary Wharf
Back on track: Moses looks forward to Six Days

There's no rest for the Academy lads at the moment, with several rides in the six-Day UIV Cups lined up.
It's been a particular baptism of fire for Academy newcomer Tom Moses. The 18 year old hadn't ridden the track for several years before November. Next month he'll find himself mixing it with U23 European track talent.
"I just went straight into the track and onto it; straight into the deep end and I could manage fine," he said.
"I'm enjoying it a lot more than I thought I would; Six Days are different to what I've been used to."
Moses is scheduled to race the Six Days of Rotterdam (January 6-11) before going on to Berlin (January 27-Feb 1).
Thank you for reading 20 articles this month* Join now for unlimited access
Enjoy your first month for just £1 / $1 / €1
*Read 5 free articles per month without a subscription
Join now for unlimited access
Try first month for just £1 / $1 / €1