'The Day is Mine': Quinn Simmons promises his team to win more races
The American opens up about his mantra, his highly competitive family and his role as teammate and athlete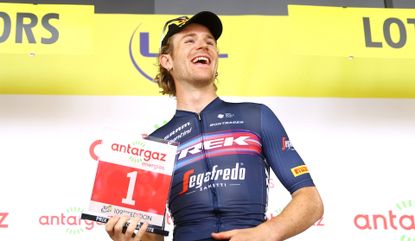 (Image credit: Getty Images)
Get The Leadout Newsletter
The latest race content, interviews, features, reviews and expert buying guides, direct to your inbox!
Thank you for signing up to The Pick. You will receive a verification email shortly.
There was a problem. Please refresh the page and try again.
Stage six of the 2022 Tour de France was a hilly, windy day. Yellow-jersey-wearer Wout Van Aert seemed on a mission to reestablish his team's place in the race after the previous day's crashes, bike changes and costly lime loss. Tradition out the window, he was hell-bent to go up the road.
After several failed attacks and with 148 kms of racing still to go, Jumbo Visma sent a rider to the front who wound up a full lead out that served as a springboard for Van Aert who launched an attack like he was sprinting for the finish line. Four riders were able to scramble their way onto the back of his wheel. Van Aert looked over his shoulder urging someone else to take up the pace. Perhaps unwilling but more likely unable, the riders behind looked at eachother. Unphased, Van Aert put in another wicked turn on the front. Again, he looked back signaling for someone else to step up and take the lead. No one did until the last man in the group, in his first breakaway at his first Tour de France, American Quinn Simmons of Trek-Segafredo put his head down and took his pull on the front.
Simmons would end up the last rider able to withstand Van Aert's blistering pace. He too would eventually have to drop off of Van Aerts wheel but not before commentator Phil Liggett could make note that "Quinn Simmons is starting to impress very much."
Win More Races
At the start of 2023 Simmons made a promise to his Trek Segafredo team: win more races. Though he failed to secure a victory, 2022 saw Simmons regularly off the front with the best riders at the biggest races. Simmons' aggressive racing style earned him the mountains classification jersey at both the Tour de Suisse and Tirreno-Adriatico, he notched an impressive top ten result at Strade Bianche and proved to everyone that he's a serious contender in the WorldTour.
"I don't care to race for second place," Simmons told Cycling Weekly in a phone interview.
And two months into his fourth season on Trek-Segafredo, Simmons is already making good on his promise, having netted an impressive victory on stage 3 of the Vuelta a San Juan in Argentina in January.
We spoke to Simmons as he was cooling down from a workout on his trainer at his home in Durango, Colorado, where he's been preparing for what he hopes to be his best season yet.
It's unusual perhaps for Simmons to be opting for his snow-covered home when many of his American peers migrate to Europe to pursue pro life to its fullest, but Simmons says times are changing.
His team allows him to split time between Durango and Girona where he shares an apartment with fellow American WorldTour rider, Kevin Vermearke.
"I'm in this new situation that wouldn't really be accepted too well before where I can be at home. You can monitor training and everything so well that everyone knows that I'm not just sitting on my ass. I'm here working," Simmons says.
The efforts Simmons is busy putting in his leg are aimed squarely at performing for his team specifically at the Spring Classics and the Tour de France.
"For me, if I could take on Flanders, it's not in my ability yet to go there for a result but if I could be in the last man supporter role there with Mads [Pedersen] that's a good step for my Spring. And then the goal is obviously to return to the Tour and get that stage win."
The Day is Mine
Fortis Fortuna Adiuvat — fortune favors the bold. Simmons wants to win. To do that, he knows he has to take chances. He won't win a full peloton sprint and he can't stay with the best climbers. No, Simmons is a rouleur. It's on the punchy parcours where raw power, steadfast grit and pure racing instinct are the tools needed for victory and Simmons isn't afraid to shoot his shot.
Simmons views professional cycling as the opportunity he was given to be among the best in the world, and he doesn't want to miss his chance.
"I want to always remember that I train this hard, spend this much time away from home, and have this much dedication for one thing, it's to put my hands in the air. I'm not here to settle. Maybe you take a risk and it doesn't work, but I believe that eventually it will work, he says."
Simmons fought his way into six breakaways at last year's Tour but failed to come up with a victory. This year, Trek Segafredo will return with the goals of chasing stage wins and getting Danish superstar sprinter Mads Petersen into the green jersey.
Simmons will do his job to support Pedersen and when the chance comes for him to hunt a stage victory, you can bet that he will go for it. " In top shape, [Mads] is a green jersey competitor. We don't have a GC rider so minus the high mountain days, that leaves five or six opportunities in the middle for a rider like me."
Throughout stage three of the Vuelta a San Juan, Simmons repeated a mantra to himself: "The day is mine." His coach had sent him a video of a previous edition of the same finish in which fellow strongman Zdenek Stybar launched a late solo attack and stuck it to nab the stage victory. Simmons visualized the final in his head. There was a right, a left, then a bank back to the right. He was decisive."I knew right there that the grade picked up a little bit and I was on autopilot at that point." The peloton was storming from behind. Simmons held on to the gear and held off the chase, taking his second professional victory.
Speaking to Simmons is a bit like hearing Lance Armstrong speak. Perhaps not as outspoken as the Texan, Simmons is undoubtedly all-American. He's irreverent, furiously competitive and shares a certain determination.
"There's a reason why [Armstrong] was the best. It comes down to mindset," said Simmons.
And this mindset is one that was bred into him.
The Simmons are not "a finisher medal family"
For the Simmons, cycling is a family affair.
Quinn Simmons' younger brother, Colby, is currently in his second year with the Jumbo Visma Development Team.
Together, the two grew up chasing their parents Holly and Scott around the San Juan Mountains of southwestern Colorado. Skiing in the winter and riding mountain bikes in the summer, the Simmons brothers grew up around sports and a mentality that you never give up.
"It's not an option to give up. Whether in a race or a hard set of intervals. I chose to do this and that's just in the family," said Colby Simmons, speaking from his team's headquarters in Sittard, Holland. "I love training, I love racing, this is what I want to be doing."
Quinn Simmons echoed his younger brother's views on where his toughness comes from. "I think it was born into me and fostered in the way we were raised. My brother might not show it as much but he has that desire in there. My dad is super competitive. And my mom, we'll all be down in Tucson together training and she'll come back from riding Mount Lemmon mad because some guy passed her. It's just how we do it. We're not a finisher medal family."
Father Scott owns a construction business. As Quinn Simmons moved up through the junior ranks, he was also working for the family business.
"When I started racing, the deal was that anything I wanted to do, I had to pay half of it," he reveals.
Simmons came to realize what a privilege it was to be putting his physical effort into the pedals rather than swinging a hammer.
"After a few hours of ripping drywall or pouring concrete, your training ride seems pretty easy. I may be suffering on the bike but at least I'm not doing manual labor jobs all day," said Simmons.
Performer and Entertainer
Simmons views professional cycling as a job where he's both performer and an entertainer, and it's therefore little surprise that his first hero in the sport was none other than Peter Sagan.
"He's a rider that has more of an athlete personality- not just a robotic bike racer. I think that's important both for sponsors and for the sport," Simmons shares.
"As an American we have a different view of what sport is. Of what an athlete is. At the end of the day, our job is to perform but we're also supposed to be entertaining. If people aren't watching us, we have nothing to sell, we're useless to sponsors."
To that end, Simmons wishes cycling could learn from other sports like car racing and hockey.
"You watch an F1 press conference or NHL, those guys are athletes with personalities and little kids want to wear their jersey. I grew up playing hockey and was a huge fan of Zetterberg. First he's a great athlete but second, he had something that was entertaining to watch. I think bike racing misses that a lot."
Simmons did acknowledge that the resistance is real. But he knows that he simply has to push past it.
"I'm not going to pretend like I don't have those days where I don't want to do it. I've been reading David Goggins book and taking a lot of his mentality. Just telling your body to shut up. You're only at 40% of your limit."
Of course if you want success, you have to practice. Simmons understands the critical concept of process over outcome.
"To win the big goals, you have to win every day. To do that you have to win every interval. When I'm suffering on like a V02 set, I just tell myself 'you have to win this interval, then you can quit.' Once I get through that, I tell myself to win the next one. When you do that, you've won the training. Then hopefully that adds up to winning a bike race."
Having crashed out of Unbound Gravel in 2021 we asked if Simmons would be back for another crack.
"It's unfortunate that the biggest gravel race is right before the Tour. I just can't risk getting hurt again," says Simmons. "It's funny sitting on the sidelines and reading the gravel drama. Those guys think that a WorldTour rider wouldn't come smash it. It's definitely in the back of my mind that some day I have to come leave my mark."
For now, all focus is on the road where a young American contingent is making a mark all over the world, and could well be in contention for the rainbow jersey later in the season.
"I hope [Colby] has a good season and earns his place in the WorldTour and we get that chance to race together. On the American side, we have an amazing group going so far," he says, pointing to early season success by his peers Mateo Jorgenson and Neilson Powless.
"It's only February. I look forward to when the National team gets together for Worlds later this year. I think we're in a great place. I'm excited for it with the group we have. I think it forces everyone to be better and it's great."
Thank you for reading 20 articles this month* Join now for unlimited access
Enjoy your first month for just £1 / $1 / €1
*Read 5 free articles per month without a subscription
Join now for unlimited access
Try first month for just £1 / $1 / €1
Get The Leadout Newsletter
The latest race content, interviews, features, reviews and expert buying guides, direct to your inbox!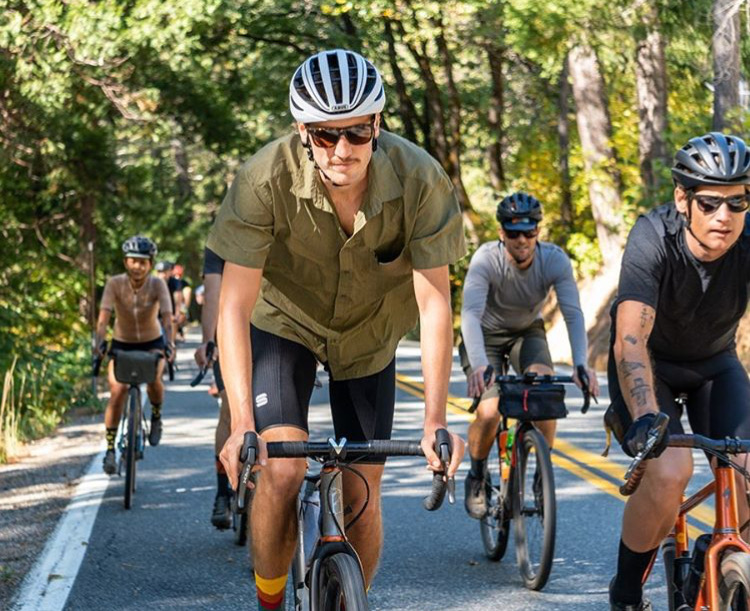 Marshall is a freelance writer from Missoula, Montana. He road raced throughout the U.S. and Europe with the US U23 National Team. Marshall has worked as a bike tour guide, brand marketer, and promoter of two wheeled stoke. In 2019 he traveled the U.S. racing, riding, and reporting on the sport of gravel. Marshall's aim is to help grow the sport of cycling by telling stories that hold the door open for people to become riders.