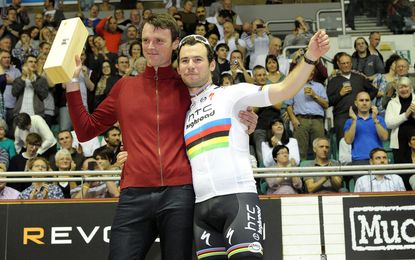 Within five minutes of sitting down with Rob Hayles, it's clear he has no regrets about retiring.
"It's been one of the things I've always said I'd look forward to - being able to wake up and not worry how my legs are feeling," he said.
"This time last year I couldn't imagine myself not going through a winter and gearing up to race next year. Now, there are lots of things that I want to do."
"I consider myself unemployable, having been a bike rider for so long, and yet I think I'm in a privileged position as I'm having to turn down offers."
We meet just two days after the National Hill-Climb Championships - the last race of his illustrious career - at his home in Derbyshire, and end up talking for some five hours about his life in the saddle.
After 16 years of riding at the top levels of road, track and time trialling, the charismatic rider has a lot to look back on.
Hayles pictured at his North Derbyshire home, November 2011
Hayles won his first senior national title in the kilo in 1993, and finally became world champion 12 years later. A part of the GB set-up until 2009, Hayles was an integral part of the team who went from nowhere to become world beaters within the matter of years.
However, he confesses early on that he never dreamed about becoming Olympic or world champion.
"Whereas Brad [Wiggins] was inspired by seeing Boardman win in Barcelona, I never had that thought process. I was just immersed in riding," he admits.
By 1998, Hayles had amassed 11 national titles - four in the Madison, three points and two apiece in the kilo and individual pursuit - but a successful year with the short-lived Brite team on the road nearly contributed to him abandoning the track.
"Once the road became a viable option, I really wanted to have a go at it. It got to the point around 1998/1999 time where I though we had achieved all we could on the track. I thought I'd had enough of it - constantly not being quite there. I didn't think we were ever going to crack it."
Therefore Team GB's performance at the 2000 Olympics was as much of a watershed in the development of the sport in the country as it was Hayles' thinking.
"I can remember watching team pursuit qualifying in the Sydney Olympics with Jonny Clay. That was the realisation that as a group we were on it. And that was when I was starting to think this isn't the end of my track career."
In the days before marginal gains, the thinking at British Cycling was radically different to what it is now.
This was evident when Hayles, aided by David Millar, secured a contract with the French Cofidis team for 2001.
"BC didn't want me to go and race abroad and come the end of my contract in 2003 they wanted me back.
"I had to ride that year's World Cup meeting in Moscow to show I was committed to the track because they didn't believe that you could go away for three years and then slot straight back into the team pursuit squad. Now, if you don't go and ride the road, you won't be on the squad."
Hayles and Millar, 2002
Having satisified the coaches that three years of racing on the continent hadn't hindered his ability to ride the team pursuit, Hayles was a member of the silver medal-winning squad (alongside Wiggins, Steve Cummings and Paul Manning) in the Athens games.
A huge disappointment, he admits, particularly as they had been runners up in the World Championships three out of the previous five years.
Hayles finally took his first world title in the team pursuit in Los Angeles in March 2005. He was also scheduled to ride with Geraint Thomas in the Madison, but a 19-year-old Mark Cavendish stepped in after Thomas crashed during a pre-Worlds training camp.
"I was aware of Cav at that time - I'd heard stories about the whole Academy life - but I'd never ridden with him. The first hand-sling we ever did was after three or so laps in the race," Hayles said.
The Championships had already been successful for GB; Vicky Pendleton beat Tamilla Abassova to take her first sprint title, while Jason Queally, Chris Hoy and Jamie Staff were team sprint champions.
Cavendish had impressed in the scratch race, as he narrowly missed out on a medal.
Hayles' team-talk before the Madison was incredibly concise: "I said to him: 'let's get you a stripy jersey.' He replied with that nervous laugh he had back then."
In the early stages of the race, Hayles admits that he wasn't sure if he could fulfill his aim. "Halfway through I shook my head at Jonesey [GB coach Simon Jones] to say 'nope...I'm f**ked.'"
Fortunately for the British pair, the race stayed together. "I knew we'd have to get a lap," he said. "The Americans attacked, and everyone was shot. Cav threw me in, and I had a carrot to chase."
"Their coach told [Marty] Nothstein to swing up, I went straight underneath him and he didn't come with me. We took a lap within 12/13 laps. I remember thinking: 'this is really going to hurt.' It was absolute purgatory," Hayles recalls.
"Cav threw me in with a couple of laps to go, and I grabbed him, shook his hand and said: 'well done mate.' He barely responded - he wanted to wait until we'd crossed the line. There was real emotion there."
Cavendish leads the tribute to Hayles, Revolution meeting, November 2011
Within the space of a few days, Hayles had become a double world champion. I ask him at the end of the interview what the favourite win of his career was. Without hesitation, he replied the Madison.
"The team pursuit celebrations were more to do with relief; I was choked as I'd finally done it.
Although I intended to do something special for the Madison, I just felt cooked. That showed me what kind of rider Cav was and still is because he just buried himself."
"At the Olympics you get a medal. If you're world champion you wear your medal all year. That's one of the great things about being a world champion in cycling, and these days they downplay it. It's almost a blooding ground for younger riders, which is a real shame.
"Then again, at the time there weren't that many options - we didn't have eight or nine guys vying for the spots. Now we options, which is shit for the riders but great for the programme!"
No dream - Hayles makes the most of the rainbow stripes
"It was really odd for quite a while looking at photos. I had to remind myself it wasn't my head photoshopped on someone else's body. I wore the jersey as much as I could. I wasn't a road world champion but I wore it out training to make sure I made the most of the fact. It wasn't easy to come by so I didn't take it for granted. That's why I was so disappointed in 2006 as we were so close to retaining the team pursuit title."
"We got so close on a few occasions, and looking back there are two or three more medals and titles we could have had for nothing. Just little things we could have changed - like the clothes we were wearing."
For all of his success and longevity on the track, had those marginal gains have come around sooner, you cannot help but feel Hayles would have enjoyed even more glory.
Olympic pain and glory
Hayles competed at three Olympic Games - Atlanta in 1996, Sydney in 2000 and Athens in 2004.
"Other than Atlanta, I never finished outside top four in six Olympic events. Would I swap my medals for one gold? I don't know. I probably would. OK, if I'd have been Olympic champion it would put me into another stratosphere, but there are not many people who are multi-Olympic medalists in their own right.
KNEE-JERK ROMANCE
Hayles met his wife Vicki, a former Olympic swimmer, at the 1996 Games.
"At the Atlanta Olympics, the swimmers and the cyclists were at a holding camp at Tallahassee together. We used to stop and watch them training on the way back from riding. We were all shacked up in a baseball stadium for the opening ceremony. The swimmers had to go past us to get drinks, so as she walked towards me I put my knee out and she bumped into it. I made a big thing out of it. She knew we were cyclists and I told her she'd hurt my leg. So it kicked off from there. I proposed to her just before the Sydney Games, and the wedding was basically a big post-Olympic party. It was the first wedding I'd been too, and I think a few of the others were like that too. Brad, Chris [Newton], Jason [Queally], Craig [MacLean] were all there. It was mental, and ever so rowdy."
Mr and Mrs Hayles in Athens
SYDNEY
"After the team pursuit qualifying [which Hayles sat out with Jonny Clay], I phoned GB coach Simon Jones to tell him I wanted to be in the team. I felt with me in there, with the way I was going, we could have won it. Jonny and I rode versus the Ukraine in the semis but we just missed out on the final. We were going to ride off against the French, who we knew we were going to beat. So Jonny and I were pulled back out. We eventually got our medals at a meeting in the harbour. I think we had the presentation on the quayside, which was probably as good, if not actually being on the Olympic podium."
ATHENS
"Silver in the team pursuit was a massive disappointment. I was having a bit of a battle over the gearing. It was like sh*t or bust, and I told them it didn't have to be that way. Grudgingly we put a bigger gear on, which probably suited the others and not me. I can remember the bikes went up on the line, the wind was blowing us and I remember thinking it was never going to happen for us.
"I crashed halfway through the Madison, and when I got on the spare bike my left foot was hanging. I usually ride heel in but my cleat had been ripped. I remember thinking my knee's going to go, and if it was any other race I would have stopped. We fortunately got the bronze, which gave Brad a full set which was pretty special."
Hayles and Wiggins take bronze in the Madison
The worst day: March 26, 2008
Hayles hit the headlines after recording a haematocrit reading of 50.3 per cent (the limit was 50 per cent) in a UCI health test on the first morning of the World Track Championships in Manchester. After a two-week suspension, his licence was restored.
"Going into the worlds, I felt OK and on form. We had our blood taken in the morning. That evening I was lying there in my hotel room with [Steven] Burkey, and the door knocked. It was Brailsford. We went straight to his room, he sat me down and told me straight off. 'You're blood's gone over,' he said. I was numb. That was it, I thought. I'm fucked. Dave said: 'It's happened. But how?' I was crying, as I do nearly every time I talk about it. 'I haven't done anything,' I said. I'm trying to think what the bloody hell was going on. Dave was going: 'I need to know. We're in my room. I need to know. It's going to come out. If you've done anything I need to know.' I said to him: 'It's over for me. I'm not taking anyone with me. I've not taking anything. I promise you that.' Dave kept on saying: 'I need to know. I need to know. I'm going to be going in front of the BBC. I need to know.' I swore on my kids' lives I hadn't done a thing."
Honest: Hayles doesn't shy away from the events of March 2008
"I later said to Brailsford that the 50 per cent limit comes from the road - but track's a different sport. How can the same set of guidelines be used here? Going into the Worlds, I probably spent two or three hours on my bike. The rest of the time, I was recovering on my bed. What happens when you do that? Your levels go up. When the testers knocked on the door, I ran up the stairs to the room, which is the wrong thing to do. They opened the doors when I got there, so I just went straight in. If I'd have sat down for four or five minutes I wouldn't have gone over. The protocol now - learnt off the back of me - is different. You sit in the corner of the room with the legs out flat and do nothing.
"That was an awful time, and I didn't cope well at all with it. Half the reason was because I was trawling the internet. Of all the people who came up to me face to face, none of their comments were negative. But it never goes away - you still stumble upon it. I've got to live with it, and I'm as fine as I can be about it. It's just not nice when you look at your Wikipedia page and see it on there. The instant reaction of people is: 'he doped'.
"I've always wondered if it stopped me from going to the Beijing Olympics. I have asked them and they said no."
Technology
"I love developing equipment, and I'd like to be able to continue making and building things, especially if it can earn a bit of crust as opposed to me just tinkering around.
Hayles and his pimped out ride
"That was a custom bike - the mould cost £15/16,000 alone. The geometry was my design, and I played around with the little things - I feel SRAM's the best groupset, I just made it better! I got Zipp to send me the white and gold decals to match.
"For the Road Worlds this year, I knew it was going to come down to something simple. So I made Cav a helmet out of one of his old ones. I chopped the back out, wrapped it in carbon. I put a lot into that, I enjoyed it but it's bloody important. I'm passionate about that. We have lost out on world titles because of simple things like that."
Hayles and Helicopters
"In 1998, we had the National 10 and the
Lincoln GP on the same day. I won and Team Brite locked out the top four
so we got the team prize but no-one was going to be at the
presentation. I won so I stayed while the others had a helicopter to
take them to Lincoln, so I missed out on that one. The next helicopter
ride I had was in September 2001 after a car crash. I was in it, but
don't remember it. Then at the 2002 Tour of Poland, I went down and
cooked my face off. I remember seeing the rotors going around the
windows and that was it. So I've had two helicopter flights I don't
remember, and the one I would have remembered I never made."
Dressing up
Amidst
the reaction to of his retirement, David Millar tweeted his
recollection of Hayles' career. One thing he mentioned was
cross-dressing.
"Any given opportunity to wear fancy dress I do
it. It's just funny. I don't think there's anything dodgy going on! This
New Year we had a pop stars past and present party. I went as Rihanna. I
researched it right down to her tattoos. I had the red hair, little
top, tutu and big boots. I was packing the car, I was bent over and
everything was on show. Some guys walked along and gave me wolf
whistles. I turned round and said: 'Alright guys, you want some?'. They
looked horrified."
The teams
1993-1994
Team Haverhill-Taylor's Foundry
Hayles won the closely-fought inaugural National 10 title in Northamptonshire, beating Richard Prebble and Stuart Dangerfield by four and 10 seconds respectively.
1995
All Media-Futurama
Hayles took his second successive National Madison title; having won it with Bryan Steel in 1994, this time he successfully teamed up with Russell Williams.
1996-1997
Team Ambrosia
The beginnings of a successful road career, 1997 saw Hayles take the Grand Prix of Essex, March Hare and Girvan Premier Calendar rounds.
1998
Team Brite
Hayles took his third National 10 title alongside his first - and only - '25' crown.
1999
Tony Doyle Ltd-Clarkes Contracts
In the build up to the Olympics, Hayles won his fourth successive points race title and his third successive Madison and pursuit crowns.
2000
Hayles rides in the Olympic team pursuit semi final but is left out the line-up as GB take third. He later receives a bronze medal at a ceremony in Sydney harbour.
2001-2003
Cofidis
Hayles races at the top level of the sport for three years, although experiences the unsympathetic management the team are noted for.
2004
Team Persil
Hayles rejoins BC's World Class Performance Programme, and takes a team pursuit silver and Madison bronze at the Athens Olympics.
2005
Recycling.co.uk
He finally becomes a world champion on the track, taking the team pursuit and Madison titles.
2006-2007
Team KLR
2006 sees Hayles win team pursuit gold at the Commonwealth Games.
2008-2009
Halfords-Bikehut
2008 is a year of highs and lows as Hayles fail a UCI Health Test before the World Track Championships in March, but having proved his innocence dominates the National Road Race Championships. A year later, he plays a big part in the team's success in the first Tour Series.
2010-2011
Endura Racing
Having initially taken on a part-management role within the team, Hayles solely focuses on racing in 2011 before retiring in October.
This article originally appeared in the November 10 issue of Cycling Weekly
Thank you for reading 20 articles this month* Join now for unlimited access
Enjoy your first month for just £1 / $1 / €1
*Read 5 free articles per month without a subscription
Join now for unlimited access
Try first month for just £1 / $1 / €1