The Pedaller: Cycling around Portmeirion in North Wales
Portmeirion in north Wales was the setting for late-Sixties TV show The Prisoner, in which a British agent leaves his job and — in very mysterious circumstances — finds himself stripped of identity and under perpetual surveillance in a strange seaside community. CA's freelance am-dram luvvie Matt Lamy pays a visit and slips straight into character — in the lead role, naturally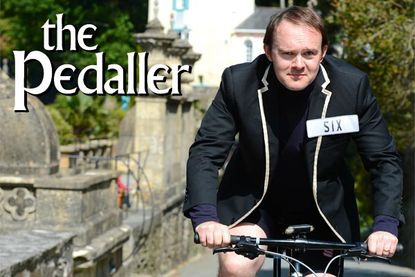 Get The Leadout Newsletter
The latest race content, interviews, features, reviews and expert buying guides, direct to your inbox!
Thank you for signing up to The Pick. You will receive a verification email shortly.
There was a problem. Please refresh the page and try again.
Photos Andy Jones
Why did I resign from Cycling Active? The reason was private and personal. But it seemed not everybody felt that way.
I remember the day clearly. I had cycled into work along my normal route, taking in the local disused runway, then through a deserted central London, before riding into the underground offices of Cycling Active Special Information Division. I was one of CA's intelligence officers (we use the term loosely). I walked with purpose to LE-E's office. I said what had to be said, handed over my notice, and left. When I arrived home, I packed a bag ready for a long-awaited holiday.
Except I never went. At least not to the destination I expected. Some manner of nerve agent was diffused into my apartment and I passed out.
When I came round, although the room looked familiar, something felt not quite right. A glance out of the window sent my mind reeling. I was no longer in my home in the capital, but some kind of bizarre Italianate seaside Village surrounded by high peaks. Before I had chance to make sense of the situation, a speaker on the shelf barked into life.
"Number Plate Six, you are instructed to see Number Plate Two," the clipped voice instructed. Number Plate Six? Were they talking to me? I looked down at my chest where a badge had been pinned. Sure enough, it said 'Six'.
Stepping outside the door, the Village was stranger still. The few inhabitants I encountered were sitting at tables gorging on food and drink, or watching television, or playing computer games, or tapping on their phones. I asked one person where Number Plate Two could be found. "Up in the green dome," she said, barely able to tear her eyes away from the screen in front of her.
Arrival
I walked up the hill. The door to the green dome building opened automatically. I was led into a round room, in the centre of which was a spherical chair. In it sat a fellow dressed in a blazer, scarf, slacks, and wearing driving gloves. A badge saying 'Two' was pinned to his lapel.
"Where am I?" I demanded.
"In the Village," the man replied impassively.
"What do you want?" I asked.
"Sedentation and motorisation."
"Whose side are you on?"
"That would be telling. We want sedentation and motorisation; sedentation and motorisation; sedentation and motorisation."
"You won't get it."
"By hook or by crook, we will."
"Who are you?"
"Number Plate Two."
"Who is Number Plate One?"
"You are Number Plate Six."
"I am not a number plate! I am a free man!" I shouted.
This 'Number Plate Two' coolly looked at me while I caught my breath, regaining composure.
"Now calm down, dear boy. It's really very simple," he continued, sounding almost reasonable. "We just want to know why you resigned. And we want you to stop promoting the benefits of bicycles.
"We can't have you going off and spreading the message of cycling. You see, on a bicycle people are free. We can't control them and we don't know where they are. If they're watching television, if they're surfing the web, if they're playing a computer game, if they're using their phone, if they're riding on a train or a plane or a bus, we know what they're doing and we can control them. The motorcar is even better, thanks to traffic cameras and car insurance and road tax and petrol prices and MOTs.
"So be a good chap, tell us why you resigned, forget your bike, and perhaps we can come to some arrangement. Perhaps you'll be able to leave the Village. We might even give you something nice to drive off in. Otherwise you'll remain here for ever. No activity, no cycling."
Whom was this man working for? Who would want me off my bike? Rivals from another publication trying to discover the inner workings of CA? Or perhaps former colleagues worried I was about to switch sides?
Reason was out of the question. Anger took hold. "I will not make any deals with you," I erupted. "I've resigned. I will not be taxed, registered, fined, ticketed, seat-belted, helmeted, insured, uninsured or number-plated. My bike is my own."
I stormed out.
Hammer into anvil
Over the following months, I was taunted and manipulated to accept their pedal-free lifestyle. They tried to break me but I refused to crack. I made various attempts to escape the Village, but each time I was foiled. Sometimes I was double-crossed by brainwashed, sedentary fellow Villagers — "A still leg makes a happy life," they would drone. And I never could discover the identity of Number Plate One.
Then, following my disastrous escape attempt using helium-filled inner tubes, a familiar face appeared in the Village. Smythe, one of CA's finest sub-editors, was wheeled into the hospital ward alongside me. As he slowly came round, he began to explain what had happened to him.
"It all started when I accidentally capped-up the brand name 'Hoy'. It was against house style," Smythe stammered, barely able to hold back the tears. "The team leader said I was losing my grip, I wasn't focused on the job anymore. They thought I was working for the other side.
They sent me home and the next day I woke up and I was here, in the Village."
Smythe was a good egg, a trusted fellow, and I felt sure he must have suffered a similar fate to me. So, despite the betrayals I had experienced during my stay in the Village, what he said next I took at face value.
"But I've heard there's a way out," the nervous former pen-pusher revealed under his breath. "It's a secret labyrinth of unwatched routes. It's called the National Cycle Network. Perhaps if you can find it, you can make an escape."
I needed no more encouragement, and once discharged from hospital I returned to my chalet to plot the breakout. Despite the 'no cycling' intent of the Village, they never actually banned bicycles — in fact, every resident had one; that was part of the mental torment — so I still had my trusty machine ready to be ridden.
At first light the next morning, I was aboard and pedalling for the hills. Just as the picturesque appearance of the Village had camouflaged a less than benign master-plan, I was aware that the beauty of the surrounding countryside was there to lull any escaper into a false sense of security. Even so, after the enclosed nature of the Village, I was struck by the expanse of the landscape. Before me, flat green fields shimmered in the sun, while towering, craggy mountains stood in the distance.
I spotted a National Cycle Network secret sign in a small town — which I ascertained was called Miniffordd — and pedalled onwards, along rolling roads, under bridges and through small settlements. I was still wary of the populace. I assumed each vehicle planned to run into me, each pedestrian was there to step in
my way. Yet motorcars gave me room, and even two bare-chested, lager-swilling youths in the street politely let me pass. Actors in a bigger game to break me? Perhaps.
Change of mind
I'd believed Smythe, but I was ready for this to be yet another ruse to destroy my spirit. So it was no surprise when the mental battles began at a place called Penrhyndeudraeth (what manner of country had I been taken to with names such as this?). The NCN signs seemed to dry up in the heat. Which way now? I could only guess, and found myself pedalling along a fast A-road. Still, it felt safe, and I wanted to put as much distance as possible between me and the Village.
After a few miles, the signs returned, and I started to doubt myself. Perhaps I had simply missed a waymarker back there somewhere? Perhaps they really did show the best escape route? Had Village life made me too eager to distrust? I decided to give the NCN route another chance and turned right, off the main carriageway, into a small settlement. Almost instantly I regretted the decision.
Around the corner the road ramped upwards and a one-in-five slope lay ahead. Pure rage now coursed through my veins as psychological and physical torture united as one. I tugged at the handlebars and pedalled against the gradient. Then a van overtook me only to pull in front and roll backwards into my path. "Sorry boyo," the driver muttered, feigning good-natured incompetence as I passed. If this was all an attempt to get me to abandon my bicycle for good, it was very nearly effective. But while the road still rose and the sweat dribbled down my back, I quieted the negative thoughts by focusing on one thing: why was 'Number Plate One' putting me through these ordeals?
Finally, after more than a mile of serious climbing, I was at the summit. Whether it was the sweet smell of air unsullied by stilted Village life, or the welcome intake of oxygen after physical exertion, I felt a literal and metaphorical high. A high that only a bicycle can provide. But there was no time to soak in the moment, or the awesome vista.
Onwards, and soon a bizarre sight hove into view. Of course, living in the Village for so long I was used to unusual images, but this one exuded a particular, latent menace. The two huge concrete blocks of a decommissioned nuclear power station stood like omnipotent sentinels on the banks of a lake — looking as out of place among the surrounding hills and natural beauty as my roll-neck-and-blazer combo did on a sweltering summer's day in 2013.
Free for all
I had to get off the prescribed route and find my own way. After all, what is freedom if one slavishly follows other people's signs? In my previous life as a cyclist living in Greater London, I had always actively avoided main roads. But here, in this foreign land, they seemed different: pot-hole-free, wide, and used by drivers who gave more than six feet of clearance as they passed. It had to be worth a chance.
I made good time on the smooth, fast surface, spinning between mountain ranges. Then, unexpectedly, I spotted a different kind of sign, and it had an off-road bicycle displayed above it. A fast descent had me travelling at such a speed that within moments I came upon a place called Coed y Brenin — a forestry centre that welcomed cyclists. Another trap? I was intrigued.
After the manufactured peace of the Village, here was a natural nirvana. A truly life-affirming venue where cyclists could ride free and easy. There were routes for every level of rider, and the bicycles lay around unchained while their riders enjoyed drinks, food, even showers. I went for a spin, revelling in this bike-welcoming woodland enclave: the antithesis of the Village.
Here, nobody seemed to care who you were, or what you were doing.
I retired to the Coed y Brenin cafe and ordered some food — after a unique morning, it was time to catch up with my nutritional requirements. What arrived tasted better than anything I had expected. Was that the taste of freedom, or just the result of an appetite-inspiring spin on a bicycle?
But even now, safely away from the Village, something still bothered me. Who was behind that attempt to stifle my cycling? Who had been stopping me riding my bike? Who was forcing me to choose the car, or sofa, or TV screen over a life-invigorating cycle? And as I sat down at the Coed y Brenin cafe and ate my food, something caught my eye.It was my order number: number one...
Be seeing you.
STOP!
Accommodation
Portmeirion Village
Portmeirion is essentially a unique and large holiday venue with accommodation spread over the entire village. Visitors can choose to stay at the seafront hotel, the hill-top castle, or self-catering cottages on the cobbled streets. Oh, and there's a dedicated 'The Prisoner' TV channel for guests too.
01766 770000
Blaen Cefn Leisure Park
For those seeking only slightly less luxury, the Blaen Cefn Leisure Park is found just outside Penrhyndeudraeth and is a thoroughly civilised camping experience. Pitches for tents start at £14 a night, caravans £20, and 'eco-pods' at £50.
07788 822003
Porthmadog
With the Snowdonia National Park on its doorstep, there's also no shortage of excellent accommodation options in nearby Porthmadog.
Road book
Follow the road out of Portmeirion. When you reach the main road in Miniffordd, head straight over on to a narrow lane. Bear right and follow the lane as it passes through the countryside. National Cycle Network signs will take you to Penrhyndeudraeth but when you come to the junction opposite the car park, you should turn left and follow the NCN up the hill.
We missed the sign and turned right, ending up on the A487. It's a fast and moderately busy road, but it's also flat and wide so drivers pass leaving plenty space. Eventually you will bear right and cross a bridge over the Afon Dwyryd — this is where we picked up the NCN route again and turned right, into Maentwrog and up the mother of all climbs.
Keep climbing for a mile and a half then drop down slightly to Gellilydan, turn right and find the track that heads around the back of the imposing Trawsfynydd nuclear power station. Leaving the power station, head right on to the southbound A470, another nice wide A-road, and follow all the way to Coed y Brenin. Alternatively, a short distance out of Trawsfynydd, pick up the NCN again, on the right, and follow quieter back lanes to Coed y Brenin.
Coed y Brenin Forestry Commission Centre
Portmeirion is an excellent gateway to the endless roads and routes through the Snowdonia National Park, but purpose-built cycling facilities should be applauded. So the Forestry Commission deserves great credit for the facilities at Coed y Brenin, which are impressive, eco-friendly, and suitable for all.
There are more than 85 miles of singletrack trails, from red trails for hardened mtb'ers to simple routes for family cyclists. What's more, there are also showers, a cafe and cycle shop. And it's not only for cyclists — Coed y Brenin also hosts family walks, a Go-Ape centre and all-ability play area.
The FC has performed similar wonders at venues around the country. To find your nearest, click on the website: www.forestry.gov.uk
Thank you for reading 20 articles this month* Join now for unlimited access
Enjoy your first month for just £1 / $1 / €1
*Read 5 free articles per month without a subscription
Join now for unlimited access
Try first month for just £1 / $1 / €1
Get The Leadout Newsletter
The latest race content, interviews, features, reviews and expert buying guides, direct to your inbox!