The time trial day: Like no other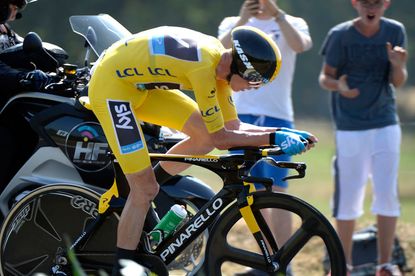 A time trial day is very different for the riders - because everyone starts at different times, each of them is on an individual schedule. Pinned up at the Team Sky bus was a table of what time every rider was to leave the hotel, arrive at the bus, have their bike put on the turbo trainer, start their warm up, finish their warm up, ride to the start house and, finally, when they were to roll down the ramp.
Most of the riders spent exactly 25 minutes on the trainer. Chris Froome started his warm-up just over a minute early... and he finished it a minute early as well.
Warming up outside the bus meant a sizable audience, all agog to see a very thin man riding to nowhere on a turbo trainer. They were able to enjoy a gradual winding up of the pace over the first ten minutes or so of the warm up, to something that appeared to be around time trial pace.
That was followed by a couple of minutes of easy spinning. Next came a quick build up into an effort of maybe 20 seconds in a big gear, at a cadence of around 70-80 rpm, tackled out of the saddle. Then two sprints at a high cadence, each about five seconds long, then two more big gear efforts. All of this had been carefully worked to provide enough stimulation to get him ready for the ride, without incurring any significant fatigue.
Finally Froome took a couple minutes to spin the pedals easily, then he was off the bike and into the bus again to have a quick towel down and put on his helmet. (Unlike some others teams, Sky all wore their skinsuits for the warm up - they're of a material that's so thin it's almost impossible to pull them on when the riders are sweaty).
Then he was onto a spare bike to ride the two minute ride to the start - with a minder on riding alongside to protect him from over eager fans - where the mechanics had his race bike already passed as legal by the commissaires and ready to go. And finally, it was down the ramp and away.
Related links
Tour de France 2013: Coverage index
Read Cycling Weekly magazine on the day of release wherever you are in the world with our iPad and iPhone edition - International digital edition, UK digital edition. And if you like us, rate us!
Thank you for reading 10 articles this month* Join now for unlimited access
Enjoy your first month for just £1 / $1 / €1
*Read 5 free articles per month without a subscription
Join now for unlimited access
Try first month for just £1 / $1 / €1
Michael Hutchinson is a writer, journalist and former professional cyclist. As a rider he won multiple national titles in both Britain and Ireland and competed at the World Championships and the Commonwealth Games. He was a three-time Brompton folding-bike World Champion, and once hit 73 mph riding down a hill in Wales. His Dr Hutch columns appears in every issue of Cycling Weekly magazine