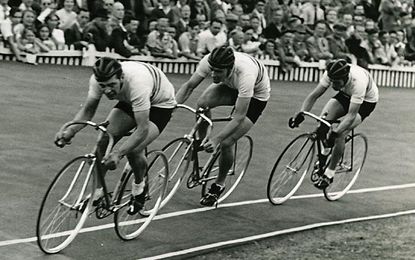 Get The Leadout Newsletter
The latest race content, interviews, features, reviews and expert buying guides, direct to your inbox!
Thank you for signing up to The Pick. You will receive a verification email shortly.
There was a problem. Please refresh the page and try again.
Double 1948 London Olympic bronze medallist Tommy Godwin died on Saturday, November 3 2012, aged 91. Prior to the 2012 London Games, Cycling Weekly's Keith Bingham talked to Godwin about how cycling at the Games has changed in the last 64 years...
When 27-year-old Tommy Godwin won his two bronze medals in the 1948 London Olympic Games in the team pursuit and kilometre time trial at Herne Hill Stadium, there was no state of the art indoor velodrome, no custom made athletes' village.
The '48 Olympics became known as the "Austerity Games" and the BBC archives paint a fascinating picture of how they came to be organised and of the athletes taking part.
1948 came three years after the end of the World War and London remained seriously bomb damaged from the blitz and money was scarce.
The government scraped together £730,000 for the Games budget. Compare to that the estimated £7bn likely cost of the 2012 Games.
Competitors stayed in military huts or were billeted with families. Competing countries sent food - the Dutch tons of fruit and vegetables, Denmark eggs, Czechoslovakia mineral water.
Britain welcomed 4,099 competitors (including 385 women athletes). They came from 59 countries, but not from Germany or Japan who were not invited. The Soviets were invited, but did not come.
Despite the frugal outlay, the Games were seen as a triumph, a joyous coming together of nations and peoples emerging from six dark years of war.
Team GB netted a healthy medal tally - ranking 12th with three golds, 14 silvers and six bronze.
It seems like only yesterday
It is 64 years since that great occasion. But Tommy Godwin, now 91 and the proud winner of two Olympic medals in '48, it seems like only yesterday. He is light of foot and still the slim build of the post-war pursuiter.
Six decades have failed to dim his memories and his vivid recollections provide a fascinating comparison of an austere Games compared to this year's extravagant affair.
There was a world of difference, too, between the selection criteria 60 years ago, not to mention the training methods. Godwin recalls no one gave them any advice and that the pursuit coach for the Olympics was 1920s tandem sprint gold medallist Paddy Ryan who hadn't got a clue about pursuiting. Not that that put Godwin off, he saw a once in a lifetime opportunity and got stuck in with gusto.
And that's one thing that hasn't changed, the enthusiasm of the riders, the spirit of adventure, same now as ever it was.
When I met Godwin at the opening ceremony of the London Velodrome last year, he was full of beans, a happy individual who delights in his achievements of the past, and compares those far off days with a chuckle and no hint, no suggestion, that they had it harder. He's excited by the exploits of today's Olympians and the media attention they get.
Godwin has always possessed a happy nature, as if nothing troubled him.
In the foreword to the story about Tommy Godwin's life "It wasn't that easy", Hugh Porter, MBE, the former four times professional world pursuit champion, recalls Godwin as a British team manager, and his boss at the 1964 Olympic Games in Tokyo.
"Every day was the best day of his life and he (Tommy or TCG) ran the Olympic squad training sessions with unbridled passion," writes Porter. "He was also," says Porter, "a strict disciplinarian, a virtue I very much admired and followed during my career."
2012 Ambassador
When Godwin was presented to the crowd at the Track World Cup meeting at the London Velodrome in February, he cheerily showed his two medals to the packed stands.
But Godwin is no armchair historian, locked in the glorious past. He's proud of what he achieved of course, but delighted and excited at British cyclists this past decade have risen to become the best in the world.
He's actively involved in the promotion of the 2012 Games as Birmingham's 2012 Olympic Ambassador. And he's also a leading figure in the campaign to revitalise the rundown Herne Hill stadium, where he won his medals in '48.
He's in great demand. This year he's been honoured with an honorary degree by Loughborough University. He's included in the Midlands Hall of Fame alongside Football maestro Stanley Matthews.
"I'm as busy as ever, three functions in one day this coming weekend," he told me only recently.
"I've just been reassembling my track bike used in the '48 Olympics, to show at a club dinner I'm invited to.
"Lord Coe says he's got a special job for me. No idea what it is yet. I've got a couple of tickets for the track."
Sky TV also recently featured Godwin in a programme about the 1948 Olympics.
So what can Godwin tell us about the 1948 London Games? "At that time we were strictly amateurs, racing for watches and clocks, furniture, canteens of cutlery. Not allowed to take money as prizes," he explained.
"We worked 49 hours a week in a factory, did our job and just raced weekends."
He laughs now at the thought of it, compared to the full-time preparation expected of athletes today. In '48, the riders only got a few months' notice.
It was decided to pick the cycling team and from about May of 1948 they started to work different teams at different tracks. Different combinations of riders came together through May, June and July, and on the 24th of that month, the possibles were announced.
On August 4 Godwin was told he was riding. The full line up was: Godwin, Dave Ricketts, Alan Geldard and Wilf Waters.
Fantastic time
Sixty four years on, this coming August, Britain's team pursuiters will be riding to a 3-52 minute schedule. In August 1948, the target was to beat five minutes.
Godwin recalls a team he rode with getting down to 4-59. Remember, too, that the '48 Games track programme was on the large exposed outdoor track at Herne Hill, not a smooth wooden bowl indoors.
"That was a fantastic time then," Godwin says. But they clocked a poor qualifying ride of only 5-12, he recalls. "It was a shocking ride, because we'd been doing 5-2s, 5-4s, 5-9s."
Disarray among the British team officials was very much to blame, for the riders had no idea of the starting order. Manager Bill Bailey had walked out in protest over the Reg Harris affair. Harris, who went on to become Britain's most famous world pro sprint champion, had declined to train with the team. Bailey walked. In came Ryan, a sprinter, who knew nothing about pursuiting.
"We just got on our bikes. We picked out who would start, who would ride second, and third and fourth. And we did 5-12. Then in our second ride we improved to 5-2, to beat Denmark."
This performance raised the roof - metaphorically that is - as reported in "The Bicycle" August 11, 1948.
"Britain is not considered to be a demonstrative nation, but when the national team beat Denmark in the quarter final match, people went mad with excitement. Herne Hill echoed and re-echoed to the surging roars of encouragement and congratulations, many handkerchiefs were in evidence to wipe tears of joy, and we must admit we had lumps in our throats as the British team rode round afterwards, waving their crash helmets in acknowledgement of the cheers."
However, the British team lost to France in the semi-finals, beaten by five seconds.
They then made amends by winning the bronze in the third place ride coming back from three seconds down to win in a superb 4.55 to beat Uruguay.
"The Bicycle" again: "The Englishmen seemed tired, but then Godwin went through to put in a steaming half-lap, then Walters - another flyer - and the margin was reduced... and closed. The home riders were riding like demons and in lap six had more than one second in hand. Then a gain of three seconds - the Uruguay was cracking fast - and in lap eight another gains of 2.5 seconds made.
The bell and all four Englishmen went to the finish in grand formation, winning by the length of the straight, and with a superb time of 4-55.8."
Godwin smiles at the memory. "In four rides we improved 17 seconds. And now, these guys - the 2012 guys - pick up three tenths of a second in four different sessions, it's down to fractions they are so well trained."
No celebration
Of course, today's riders have got the backing, but Godwin is not comparing. "In 1948 it was very austere. There was no village as such. We stayed in a private house, which belonged to Bill Mills of The Bicycle. He turned the house over to us."
Godwin's mother came down to cook for them, and keep house. The riders walked to the stadium, got on their bikes, did the rides, and walked back.
"Somebody asked me once, how did you celebrate winning medals?" Godwin laughed at the memory. "You didn't celebrate in those days. You just went back home.
"And I said after I won two medals I went back to my job at BSA (one of the biggest bicycle manufacturers of the day) the following Monday and somebody there said, oh, you won a medal.
I said, yes. And he said, oh. The job we're doing today is so and so. That was it. There was no media to any great extent. But it was a completely different world, you can't compare.
The first bike he bought in 1938 had wooden rims and cost £10/19/06. (That was when the average weekly wage was £1.13 shillings - £1.60 in today's money). He paid 10 bob (50-pence) down and two bob weekly until it was paid for.
In 1939 he proudly won the 1000m Olympic trial event for the Midlands, and a gold medal.
He was at Herne Hill for the final trials that September when war broke out on the third. Everything stopped. There were no 1940 Olympic Games. He started racing again when the war ended in 1945, in Paris with Reg Harris, and then to Denmark, earning his international spurs.
"And we get to 1948 and I am fortunate to get picked for the pursuit team for the London Olympics."
But you also won a bronze medal in the kilo, I said. Tell me about that.
"Well, I was just going to say.
"The team pursuit finished on the Saturday and the kilo was on the Wednesday. And on the Monday night the officials came to me and said, Tommy, you're riding the kilometre! "
So, not much notice. "No. I hadn't practised. I hadn't ridden one in training.
"Wednesday was a bad night, it was getting dark. I've got a picture which shows it was pitch black.
"There was only the light from the stadium which was showing across the track. And in the flash photograph you can't see the people at all. All you can see is me.
"And the flags on the pole had gone from hanging down to blowing right out. And at the 200 mark I was exactly the same as the winner, and I lost a second and a half in the last 200 metres. That's how bad the conditions were. You couldn't do anything about it. So basic and amateurish.
"But then again, you see, the French, the Belgians and the Italians, were all fully-trained boys backed by their federations. They were paid by all the cycling industry, trained with the pros all the time. And they were amateurs!
"And we were just amateur lads, you know, and we thought it was wonderful. I did. My father had asked me as a boy of eight, would I run in the Olympics for him. And I rode a bike instead and won two bronze medals and when at 27 years of age I went to see him, he broke down crying because his son had won two medals. Quite amazing.
"And then today, they win a gold medal and they say they are a millionaire. And then Chris Hoy wins three gold medals and he's knighted. It's wonderful."
Related links
1948 Olympian Tommy Godwin dies
Thank you for reading 20 articles this month* Join now for unlimited access
Enjoy your first month for just £1 / $1 / €1
*Read 5 free articles per month without a subscription
Join now for unlimited access
Try first month for just £1 / $1 / €1
Get The Leadout Newsletter
The latest race content, interviews, features, reviews and expert buying guides, direct to your inbox!
Keith Bingham joined the Cycling Weekly team in the summer of 1971, and retired in 2011. During his time, he covered numerous Tours de France, Milk Races and everything in-between. He was well known for his long-running 'Bikewatch' column, and played a pivotal role in fighting for the future of once at-threat cycling venues such as Hog Hill and Herne Hill Velodrome.